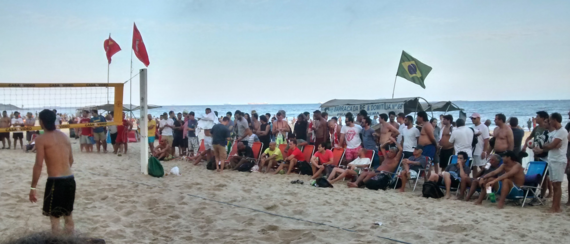 The evening of July 2nd I headed to Rio with no team to root for.
Italy, my soul team, didn't make it out of their group, all discussion of the matter since banned from my household (Note: my husband is Italian).
USA. Okay, fine, I had thought. I'll root for the USA. I'll chant the chant, if only for my nephews, representatives of the new generation, the football generation. So the song goes.
I sat breathless while they played Belgium, thinking that if they made it through, my whole trip to Rio would be reignited. I'd have someone to root for, to believe in, because that's what it's about, isn't it? Believing. I even posted my nephews' we believe chant on my social network pages, reminding myself once again that I am an American.
U.S. in the final? Why not?
Because the football Gods define football destiny, and the U.S. is not represented. I wasn't feeling so much disillusioned as guilty. I'd been rooting with my heart not my soul.
Brazil, that's who. Or so said my husband for reasons quite simple, if not petty. There are only two countries who have won the World Cup more than four times, each victory denoted by a star on the national team's jersey: Italy (4) and Brazil (5). Theirs is an exclusive, elite club to which there can be no new members. So if Italy is out then Brazil MUST win. But in this case, there was a further complication. If Brazil went out in the Round of 16 (two days before our Rio arrival date) they might have been rioting instead of dancing; we might be mixing the caipirinhas ourselves. So there I found myself again, gasping my way through another tense match, rooting for a team for the most obscure of reasons, as if my life depended on it.
Two nights later I was on the red-eye to Rio, trying to sleep sitting up on a fan-packed plane, everyone proudly wearing their shirts of all colors and nations, my husband one of them, clad in his Brazil jersey, the one with the FIVE stars. But who would I root for now?
You might wonder why an Italy fan would root for France, one of their greatest rivals. But France it would be, for this is what the World Cup is all about. Its essence. Its core: that unspeakable connection. That strange bond that reignites every four years between people from all stratospheres: family, friends, acquaintances, bartenders, busboys, taxi drivers, suddenly there are text messages coming in from all over, the Dutch, the Australian, the Ecuadorian, the Spaniard, those two or three words, a piece of trivia, insight, empathy, sorrow (sorry for your loss, as if someone had died).
Our Italian cousin married a Frenchman, and part of this trip to Rio was about sharing his destiny against the Germans in the quarterfinals, his fate, in the arena of all arenas, the temple of football, the magnificent Estadio do Maracana, where players and fans sit alike, as one, beneath the eye of Christ himself.
Electric, that's how it starts, entering the stadium; despondent is how it ends. A buzz kill, our French cousin sitting with his head in his hands surrounded not by his brethren, but by two Italians and one American. Was it us, I can't help wondering? Did I make this happen?
Our French cousin walked home after that game. Alone.
His football widow (with every match there are thousands more), myself, and my husband, joined the exodus from the stadium, which led us onto a jam-packed subway heading in some direction unknown to us, to an open air bar, we hoped, one with a TV because in two hours Brazil would play Colombia, as if the fate of our trip had not already been decided, if Brazil lost now, we might as well go home.
The seedy district of Lapa is where we found ourselves, wandering down abandoned streets lined with decrepit colonial buildings re-styled into bars and restaurants. Hyperbolic warnings about safety came to mind, the favelas hovering, we kept checking the map on our phone until a bar beckoned, we ordered drinks; we watched and prayed. Brazil was all we had in that moment.
And Brazil is what we got, in the second uninspiring game of the day. Brazil, mourning for Neymar, praying for Holland to beat Costa Rica because Holland had a better chance against Argentina and if, God forbid, Brazil ended up losing the final, it would be better to lose to Holland than Argentina. The idea of Argentina winning the World Cup against Brazil in Brazil...well, it would be the end, worse, possibly, than 1950.
This is what the owner of a restaurant in Jardim Botanico pleaded to us after we'd stumbled into his bar to watch the game that next night, rooting for Costa Rica because they had become the guys who wouldn't quit, the team of the tournament, heroes. Could just one of our heroes win?
No. They could not. At least not on penalties.
So Argentina vs. Holland it will be. Holland, which might have been the USA in a different, perhaps dreamlike scenario -- with caipirinhas come many "what ifs." Like if Italy had brought another team to the tournament, another coach, if Marchisio's card had been a yellow and not a red, perhaps gli azzuri would be the ones playing Argentina. Perhaps France would be the ones playing Brazil...
At a bar in Leblon our conversation meandered, until someone brought up Russia in '18, Qatar in '22, the possibility of the U.S. in '26, the hope of World Cups to come. I'll bring the tickets if you bring the private jet, someone proposed for '26. That's two World Cups and twelve years from now. (Apparently, from now on, years will progress in multiples of four).
And so, after too many caipirinhas, my husband and I stumbled back to our hotel in Ipanema that night, he already mourning about no football tomorrow, no witching hour of one and five, a day of idleness, of pristine sand and sumptuous surf, perhaps a late afternoon stroll along the boardwalk to watch the locals play foot-volley against a setting sun, Cannavaro, Veron and Vieri watching from their beach chairs, smiling for the people who come to take their photo.
Jackie Townsend's second novel, Imperfect Pairings, was released in May of 2013. Her new novel, I've Loved You So Long, will be out in the fall. Find out more about her books at http://jackietownsend.com.
Related
Popular in the Community