"We are ready to fight with you," a young Darfuri refugee living in Chad tells us in early June, 2014. His homeland, Darfur, has again exploded with violence. Actually, the violence has not stopped since 2003, when the world first started paying attention to that isolated region of Sudan. It was declared "genocide" by the U.S. government in 2004, after hundreds of thousands were killed and millions displaced. The chaos and destruction continued for ten years, yet the world moved on.
In 2013, there was a spike in violence, with approximately 460,000 people displaced. In 2014, another 215,000. Chad, Sudan's neighbor to the west, is now home to over 300,000 Darfuri refugees, and more are arriving every day, at the same time that conditions and food insecurity in the camps have become more dire and extreme. Mahamat, the young man that is "ready to fight," is one of the earlier arrivals, having lived in one of the 12 original camps since he was 14-years-old. He is ready to fight -- but not with a gun. He is ready to fight on a soccer field at the World Cup. No, he is not in Brazil. He's at the ConIFA World Football Cup in Sweden -- a cup for groups of people that are united in identity but not represented by the mammoth International Federation of Football Associations, FIFA.
Darfur United, an all-refugee team made up of the best players from twelve camps that dot the Chad-Sudan border, was created in 2012. The team was taken to compete in the Viva World Cup in Iraqi Kurdistan. More recently, they participated in the ConIFA World Football Cup in Sweden in early June, 2014. It has been an inspiring journey. All the young men who made the squad grew up as refugees. They fled Darfur in 2003 and 2004, after seeing their villages destroyed, family members killed, mothers and sisters raped. They left their camps in one of the most remote and isolated parts of the world, and took international flights, stayed in five star hotels, and played football (for the first time on grass) to represent Darfur. They did not win any games, but they were "the story" at both tournaments. As a result, the people in the camps now have a team of their own and something positive to rally around. One refugee leader said, "We are now a part of the world."
Chad is at the logistical center of multiple crises, including but not limited to Darfur. The country and the UN Refugee Agency (UNHCR) have been responding to horrific events in South Sudan and the Central African Republic (CAR), at the same time that tens of thousands of Darfuris continue to arrive at the border. With the humanitarian community stretched to its limits by Syria, UNHCR is scrambling to meet the demands in Chad. The conditions of the 11-year refugees from Darfur are no longer seen as an emergency -- and a soccer team might be even less of a priority.
The "older" refugees from Darfur are being asked to tighten their belts and move towards self-reliance. Food rations have been cut by half. Officially, they now receive between 900 and 1,100 calories per person, down from the standard 2,100 the previous years. Even that standard was often not met, and malnutrition is evident in refugee children. A baseline study done for a pilot preschool program, Little Ripples, showed that stunting, wasting, and severe malnutrition is common among children ages three to six -- and this was before the cuts in rations. In a May 2014 Little Ripples survey of 117 primary caregivers of 170 refugee preschool students, 96% responded that they "always" worry their household will not have enough food (4% responded "often"), and 91% said that they had gone at least one day without eating in each of the previous two weeks. The survey was based on the USAID's Household Food Insecurity Access Scale. Based on USAID's definition, 100% of the 117 families surveyed are severely food insecure.
While food is being reduced, education is also being hit with drastic cuts. As the student population is increasing in the camps, non governmental organizations are being asked to operate with less funding--between 1/4 and close to 1/2 reduction, depending on the camp. Medical services are also impacted. Refugees are having to go to the market to purchase medications they previously received for free, including medicine to treat malaria. The last malaria season was one of the worst, with most families being affected.
As the move to self-reliance and possible integration into Chadian society is taking place for the "older" refugees from Darfur, tens of thousands of new refugees are arriving from different areas at different points along the Chadian border and even in the capital, N'Djamena. CAR is experiencing a catastrophic emergency. Over 2 million people (half of its population) are in need of humanitarian aid. Over 650,000 people are internally displaced, and more than 290,000 have crossed borders as refugees, many of them into Chad. South Sudan, the newest country in the world, is experiencing its own implosion. After months of ethnic violence, approximately one third of the population is in desperate need of life-saving assistance.
Lost in the shuffle of these multiple crises, Darfuri refugees in Chad feel abandoned. One Darfuri refugee mother we visited before taking the team to Sweden in late May told us that her six children had not eaten since the day before, and all she had left from the food distribution was a very small amount of grain. Her children appeared to be severely malnourished and much smaller than what you'd expect for their ages. With her husband being gone for more than two years, the mother was desperate. She had already sold all her possessions; her donkey died because of lack of food; and she exhausted all possibilities for a job at the camp and the nearby village. In speaking with the Darfur United players that come from eight of the twelve camps in eastern Chad, they said that this mother's story would be repeated over and over again if we were to walk their camps, which are experiencing the exact same food assistance reduction.
Amidst this context, Darfur United came together once more to play a game of soccer. To the refugees, it's much more than a game. Mahamat, Darfur United's midfielder, says, "We have dreams, we have hope, we have passion, we have talent, but the world forgot us." He believes that his team and their participation in international tournaments gives his people moments of joy and some hope for the future.
The team has served to bring positive attention to Darfur. In Sweden, Darfur United players, coaches, and staff were constantly followed by international media, producing numerous reports that went out around the world. It has also served to create long-lasting support for the camps. The Darfur United Soccer Academy has launched in refugee camp Djabal. It is now serving almost 1,000 boys and girls, with trained refugee coaches offering a safe, positive place for children.
At the World Football Cup in Sweden, Darfur United lost every game -- by many goals. Nonetheless, their spirit was strong, and they never lost sight of the bigger goal of putting Darfur back on the map. Many players did not return to Chad and are currently deciding whether to seek asylum, while their visiting visas are still valid. They see no hope in the refugee camps they call "open prisons." For all of them, not returning would mean immeasurable emotional pain, being away from their families and friends in a strange and far away land, but it might just give them more of an opportunity to help.
When we, the world, have failed to work effectively with Sudanese to bring peace, protection, and justice to Darfur -- having also failed to provide adequate support for the displaced to live in dignity and thrive after more than eleven years of living in camps -- it is now time to remove obstacles and stand with them. In the more immediate term, the international community must increase food assistance to meet the World Food Program standard of at least 2,100 calories per day per person. At the same time, all sectors of refugee society must be included in conversations about their opinions on integration and possible strategies for the future. And last but most importantly, the root cause behind the mass displacement of Darfuris over the last eleven years, violence, must be addressed. The players and I have not lost hope that some day we'll be able to experience the joy of kicking a ball and playing soccer inside of a united and peaceful Darfur.

Don't miss these photos: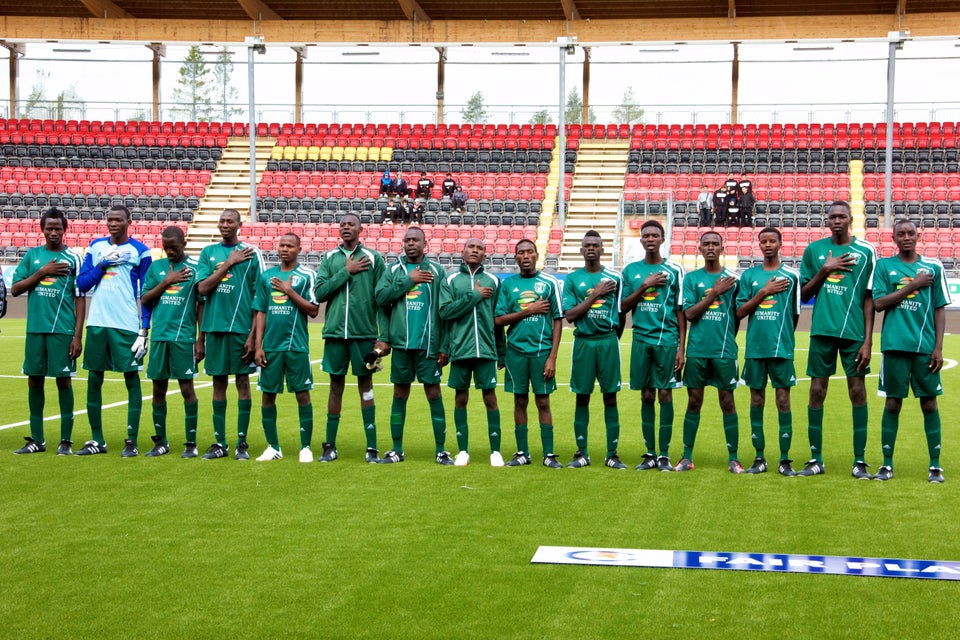 World Cup Soccer, In The Land Of The Hungry
Related
Popular in the Community