"Chicken out or keep going." Those are the two options that cyclist Missy Erickson figured she had last July when she first lined up to race again after a devastating 50 mile-per-hour crash less than two months before.
The crash had left her with a Level 3 concussion-the most severe kind of concussion -- a fractured wrist and a broken collarbone. Her wrist was sealed in a cast that held her palm upward, making it challenging to hold onto a handlebar. Her doctors told her she shouldn't start training again, let alone racing. Yet, Erickson is one of America's top track cyclists and needed to compete in the July 25 race in order to keep her dream of riding in the 2016 Olympics alive.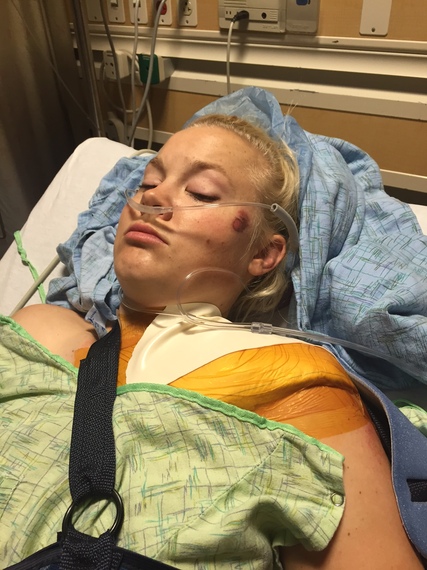 Erickson's solution? She broke the cast to allow her to race. At the start line, she felt intimidated and scared. She recalled that, during the crash, she opened her eyes as her head slid face down across the track. Getting back into a race was a fearsome prospect.
But chickening out isn't what Erickson does. A lifelong competitor, from pageants as a preschooler through driving junior dragsters, nordic skiing and then bike racing, she has harnessed an inner drive to meet and beat goals all along the way. She chose to ride the July 25 race, and won.
The July win was a great comeback, not just for Erickson's career in racing but emotionally. "I realized that, at the snap of a finger, everything I dreamed of could be gone," she said. "The crash was my first traumatic accident, but going through something like that challenged me-it made me a better person."
Just three years ago, Erickson announced her goal of riding in the 2016 Olympics in Rio de Janeiro, despite having raced for just over a year. "We're full on, full speed. The big goal is Rio," the native Minnesotan said of her herself and teammate Madalyn Godby in March 2013.
Early in 2015, Erickson became the first American female to win a World Cup sprint medal in six years. Then, in May of that year, her drive toward Rio was interrupted when another rider made a move and she didn't react fast enough. It was a huge setback that put in motion a series of events that ultimately quashed her dream of riding in Rio.
USA Cycling sets time standards in order to pay a racer's expenses in World Cup events. Erickson met the standard in 2014. However, she was unable to do so in 2015 due to the crash. Although there was no date specified to meet the standard and USA Cycling could have elected to support Erickson, they chose not to. "I felt USA Cycling did not believe in me," she said.
Travel to the events in four countries would take $20,000. Erickson was already in debt: she had $300,000 in medical bills from the crash, and the amount she had to cover on her own, $20,000, was money she didn't have. "It was really disappointing. I was eating peanut butter and jelly for dinner," she said. "I couldn't go to Worlds because I couldn't afford it," not because she didn't qualify.
Erickson had competed in the three prior Worlds events and only needed 47 more points to get to Rio. Participating in the World Championships would have gotten her 30 points, and success in the events would likely have garnered the remaining 17 points to guarantee her a spot in Rio. The crash didn't dash Erickson's dreams, the lack of her country's financial support did.
With Rio out, Erickson stopped riding. She needed to let her body properly heal from the crash, including additional surgery on her collarbone. She took on four jobs to pay off her medical debts.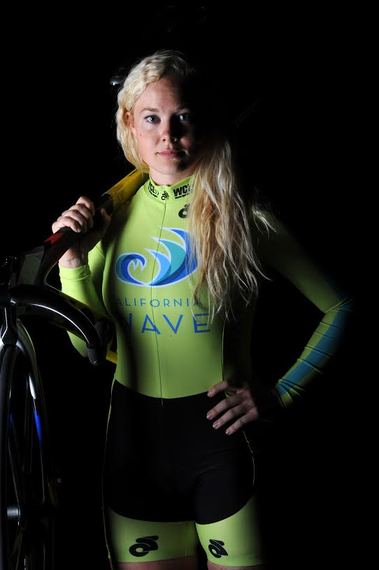 Nevertheless, with Erickson out, there will be no American female sprinters competing in Rio's Olympic track events.
"Friends joked that I was retiring," she said. "I am proud of what I have accomplished. With all the training, it was easy to lose the ratio of 'people life' to 'athlete life.' It was important to have fun again."
"The break made a really big difference," she said. "I got stronger and healthier. But my bike grew cobwebs."
When the World Cycling League invited Erickson to join the California Wave team, she jumped at the chance. She started training five weeks ago. Of the WCL, she told me: "It's great to be part of a positive, supportive environment."
Encouragingly, she is as fast today-less than a year after the accident-as she was at her prime. With more training, 25-year-old Erickson still has ample time to become the world's fastest woman on a bike.
Even though you won't see Erickson in Rio, you can catch a glimpse of her this weekend at the WCL's debut at the Velo Center in Carson. She'll be rider number 12 with the California Wave.
After that, "the 2020 Olympics in Tokyo are on my favorite track," she said. "I want to be there."
Popular in the Community