I'm inundated with numbers, statistics, percentages, charts and graphics that explain how digital the world has become and where it's heading in the next few years.
So I must be reading the "World Digital Media Factbook 2013-14," a 202-page compendium of the advertising landscape, media usage trends, tablets and apps, the magazine industry and how it's being affected, newspapers, and, the broadcast business.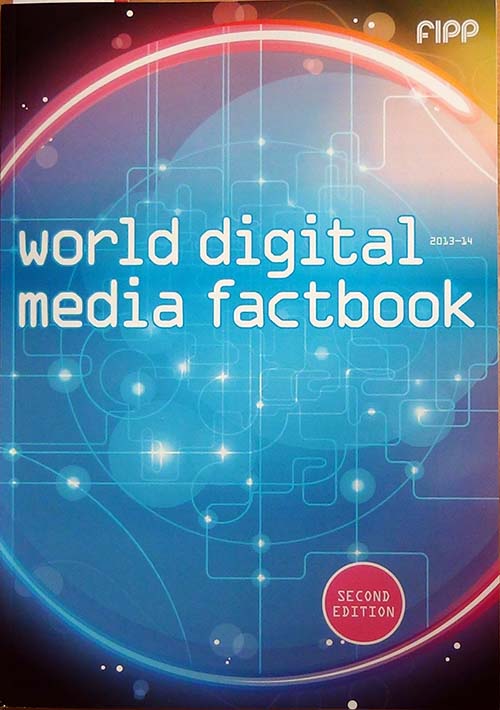 FIPP World Digital Media Factbook (courtesy FIPP)
It's no small undertaking to capture all these facets of the media today in their fast-paced metamorphoses.
But FIPP, the worldwide magazine association, and World Newsmedia Network, a not-for-profit research firm, managed to pack their second edition of the book with invaluable information to help media, advertisers and content consumers better understand the trends, costs and shape of all things digital.
A chapter entitled "Big Data for Media Strategies" sheds light on the term which industry insiders summarize as the Four Vs: Volume, velocity, variety and value.
According to its most recent figures, a graphic on big data in the book indicates streaming video takes up more than a third of Internet traffic during normal TV viewing hours, more than 1.4 billion of online consumers are spending 22 percent of their time on social platforms and 1.3 exabytes of data are sent and received by mobile Internet users each month.
"Big Data is set to more than quadruple from 2015 to 2020, as mountains of data are shared through video, social media, photos, audio, texts, films, games, e-commerce, music, apps and much more," it said.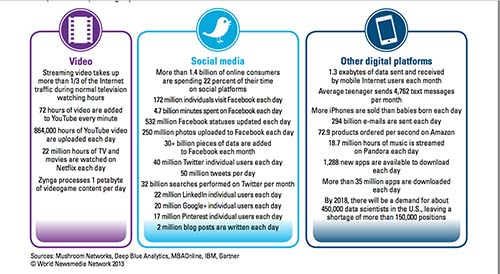 Big data (courtesy FIPP)
In much of the world, television is still the prime medium of choice for viewing news, entertainment, and advertising, given illiteracy rates.
But digital penetration figures reflect some hard financial realities.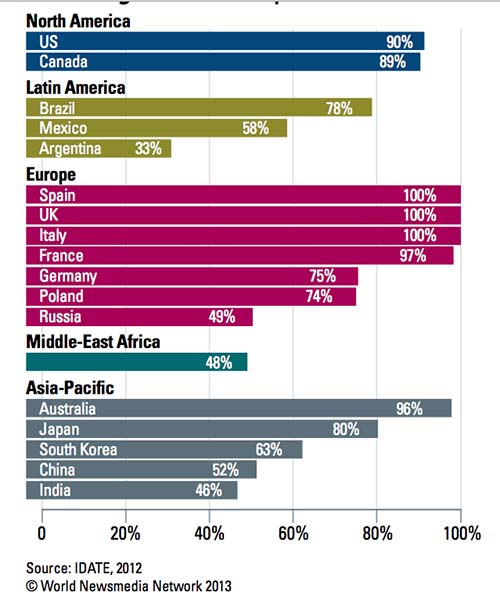 Global digital television penetration (courtesy FIPP)
Broadcast companies worldwide must allocate sizeable budgets to underwrite, train and digitize their operations across various platforms, which the book said was stretching resources for mostly already sparsely staffed businesses.
For their part, newspapers have taken the brunt of cutbacks, dropping circulation, and tighter advertising print budgets.
So increasing numbers are turning to different paywall models for their online content, with varying degrees of success.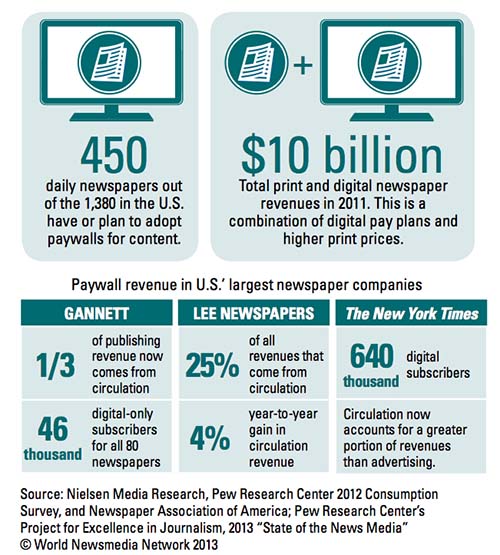 Digital paywalls' impact on US newspaper revenue (courtesy FIPP)
As more newspapers seek multiple revenue streams to keep them afloat, paywalls will undoubtedly become more common and acceptable.
"According to the 'State of the News Media 2012' research by Nielsen, PEW and the NAA, about one third, or 450 U.S. newspapers have a paywall or are planning to construct one," the study said.
A map marking Internet and mobile penetration (a/k/a digital hot spots) around the world and based on the Central Intelligence Agency's 2013 Fact Book, shows the U.S., Canada, Australia, Scandinavian countries, some Asian states, a few South American countries, only one African country and one or two Middle Eastern states leading the way.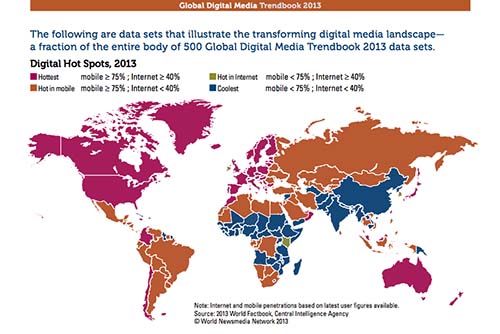 Digital hot spots 2013 (courtesy FIPP)
A September 2012 survey on social media engagement patterns by gender and age conducted by Global Web Index presents an interesting set of data: the most socially engaged countries include China, Indonesia, India, Vietnam, the Philippines, Turkey, Malaysia and Brazil.
The least socially engaged countries on the Internet include Japan, France, the United States, the United Kingdom, Sweden, Australia, the Netherlands, Italy, Germany and Canada, it said.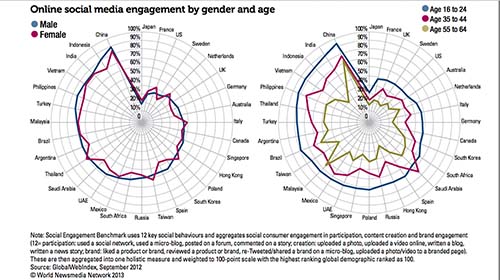 Online social media engagement by gender and age (courtesy FIPP)
Such engagement invariably involves mobile devices, not least of which is the exploding tablet (and increasingly "phablet") market.
Respondents to a study by IDATE and IHS iSuppli cited the devices' portability, the "cool" factor, more user friendliness than mobile phones, serving as a second computer, and tablets replacing desktops or laptops as reasons for buying them.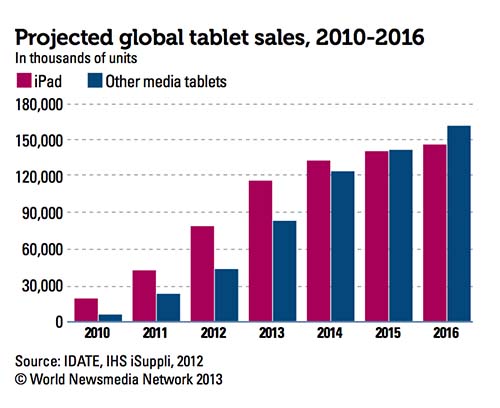 Projected global tablet sales, 2010-2016 (courtesy FIPP)
Another data set focuses on e-commerce, notably global mobile Internet purchases versus PC Internet buying.
As recently as February 2013, a survey found that while PCs remained the e-commerce device of choice, in some countries the reverse was true.
"In 2013, sales are projected to grow more than 18 percent to $1.298 trillion, with Asia Pacific surpassing North America to be the top e-commerce market in the business-to-consumer category," the factbook said.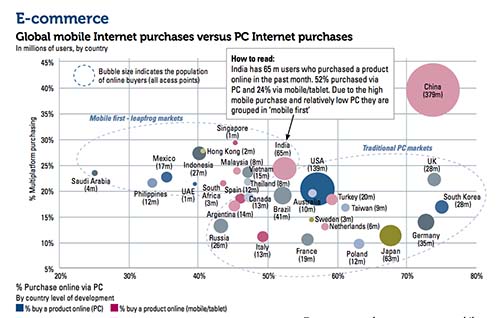 E-commerce global mobile Internet purchases versus PC Internet
purchases (courtesy FIPP)
As indicated in the FIPP factbook's executive summary:
"The multimedia landscape continues to exist in a state of perpetual disruption during 2013, particularly in the smartphone, tablet and video sectors. The double-digit growth of these platforms in both usage and revenue patterns present profound opportunities if publishers and broadcasters rework their internal organisations to embrace a fast-changing media landscape and develop new partnerships with technology companies and networks to enable quick mobile and video product roll-out and monetization."
Related
Popular in the Community