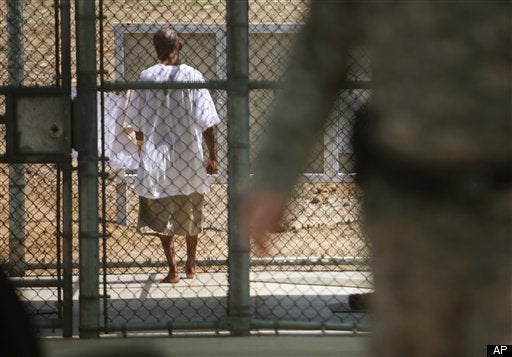 With the transfer to America soil of Guantanamo detainee Ahmed Ghailani, the Obama administration is doing something the Bush administration virtually failed to do for years: bring a dangerous terrorist to justice. For his role in the 1998 al Qaeda bombings of U.S. embassies in Kenya and Tanzania, the evidence against Ghailani is overwhelming. But instead of bringing him to trial and convicting him for his crimes (as his co-conspirators Wahid el-Hage, Mohammed Sadiq Odeh, Mohammed Rashed al-Owhali, and Khalfan Khamis Mohammed were, with all them now serving life terms in the Supermax prison in Florence, CO), the Bush administration decided to cast aside the constitution, our rule of law, and detain Ghailiani in Guantanamo Bay, thus denying the victims of the Embassy attacks and American people justice. With his transfer and subsequent trial, the Obama administration is remedying this vagrant violation of common sense, American values and ultimately justice.
But Conservatives still want to wield the fear card and play the blame game. John Boehner's misguided response to this reclamation of justice was that "this is the first step in the Democrats' plan to import terrorists into America." In reality, bringing Ghailani to trial is a crucial first step in restoring the rule of law that has kept America safe in the past. Instead of seeing an opportunity for justice, Conservatives continue to pursue a blind path of political opportunism and empty rhetoric that would actually make bringing terrorists to justice harder to achieve.
Despite fear-mongering from the right, the American justice system has proven that it is more than capable of trying and holding dangerous terrorists. The Federal system has housed and continues to house some of the most dangerous terrorists, including Ghailani's cohorts in the East Africa embassy bombings. This sentiment is shared by a bipartisan consensus, including Defense Secretary Gates, a career intelligence and defense official, who dispelled this fear mongering from conservatives: "We've never had an escape from a supermax prison, and that's where these guys will go; and if not one of the existing ones, we'll create a new one." He added that conservative counterarguments were historically baseless, saying "This started 20 years ago when I was at CIA, and we captured a Hezbollah terrorist who had been involved in killing an American sailor on an aircraft that had been taken hostage in Beirut. We brought him to the United States, put him on trial and put him in prison."
Simply put, the Federal prison and criminal justice system safely holds or has held for extended periods of time a large number of convicted terrorists: including other perpetrators of the East Africa Embassy bombings, the perpetrator of the first World Trade Center attacks, 9/11 conspirator Zacharias Moussaoui, the Shoe Bomber, and Timothy McVeigh. These include:

Ramzi Yousef. The mastermind of the 1993 World Trade Center bombings was convicted and sentenced in 1998 by the Federal District Court in Manhattan and is being held at ADX Florence, the supermax prison in Florence, Colorado.

Zacharias Moussaoui. Convicted of conspiring to kill Americans for his role in the 9/11 attacks, Moussaoui is currently serving a life sentence at ADX Florence.

East African embassy bombing perpetrators. Wahid el-Hage, Mohammed Sadiq Odeh, Mohammed Rashed al-Owhali, and Khalfan Khamis Mohammed are all serving in ADX Florence.

Richard C. Reid. The so-called "Shoe Bomber," Reid was convicted for trying to blow up an airliner over the Atlantic with explosives in his shoe. He is currently serving a life sentence at ADX Florence.

Timothy McVeigh. Convicted of killing 168 people by blowing up the Alfred P. Murrah Federal Building in Oklahoma City, McVeigh was held in ADX Florence until his execution on June 11, 2001.

Ali Saleh Kahlah al-Marri. The only person known to be held as an enemy combatant in the continental United States, al-Marri spent six years in the Naval Consolidated Brig in Charleston, South Carolina and is now being held in the Federal Correctional Institution in Illinois.

Sheikh Omar Abdel-Rahman. Responsible for plotting a series of bombings and assassinations, Omar Abdel-Rahman is currently serving a life sentence at Butner Federal Correctional Institution in North Carolina.

Muhammad Salameh. Convicted for his role in the 1993 World Trade Center bombing, Salameh is serving a life sentence in ADX Florence.
Last week in Cairo, President Obama reaffirmed his intention to close the facility; and opinion polls in the Muslim world show that closing Guantanamo Bay would greatly improve people's opinions of the United States. But closing Guantanamo is not simply about restoring the image of America in the world's eyes. It will make us safer and advance America's security interests. The facility at Guantanamo, along with Abu Ghraib and the Bush administration's use of torture have served as tremendous recruiting tools for Al Qaeda.
While Conservative argue that closing Guantanamo will harm Americans, in reality, closing Guantanamo actually will most directly hurt Al Qaeda.
A bipartisan panel of former Secretaries of State made up of Secretaries Kissinger, Albright, Powell, Baker, and Christopher agreed. As James Baker, Secretary of State for George H.W. Bush, said: "Close Guantanamo...we all agreed, one of the best things that could happen would be to close Guantanamo, which is a very serious blot upon our reputation."
And Guantanamo has not just damaged America's image - it has also directly cost American lives. Retired Air Force major who goes by the pseudonym Matthew Alexander - the interrogator who used legal means to locate the notorious terrorist Abu Musab al-Zarqawi - says that these programs are responsible for thousands of Americans' deaths, "I listened time and time again to foreign fighters, and Sunni Iraqis, state that the number one reason they had decided to pick up arms and join Al Qaeda was the abuses at Abu Ghraib and the authorized torture and abuse at Guantanamo Bay... The number-one reason foreign fighters gave for coming to Iraq to fight is the torture and abuse that occurred at Abu Ghraib and Guantánamo."
The bottom line is conservatives that oppose bringing Ghailani to justice seem to lack faith and trust in the American justice system, the men, women and military officials who run these facilities and seem oblivious to the dangers to our security caused by keeping Guantanamo open.
It is about time that Ghailani was brought to justice.