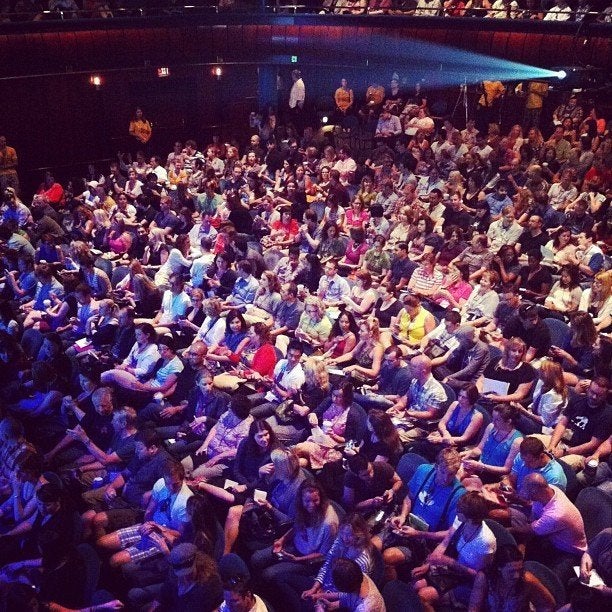 The second annual World Domination Summit (WDS) was held in Portland, Oregon, this past weekend. It was a real eye-opener for me. I know, World Domination Summit sounds scary, right? It turned out to be 1,000 men and women, most in their twenties and thirties, who gathered for a weekend of inspirational speakers and workshops, mainly geared towards making the world a better place to live. The young man with the vision who put this conference together is Chris Guillebeau, author of The $100 Startup.
I registered for WDS somewhat out of curiosity, but primarily because Owen Marcus and I were selected to present a workshop on micro-communities, or in Boomerspeak, men's and women's groups. Emotional connection seemed a bit sketchy to these young folks, and the message that Owen and I gave them was welcomed by most, and dovetailed with Brene Brown's talk on vulnerability a few hours before. That's been the basis of my work for decades.
It was a very hip crowd whose focus was social justice and environmental issues, not only in the U.S., but globally. There was a young man who'd been a partier and nightclub hustler for liquor companies who now dedicates his life to bringing clean drinking water to Africa. He's invented creative ways to raise corporate and private funding and his group has already purchased the trucks needed to dig wells for clean drinking water for thousands of people who previously walked eight hours round trip to fill a jerry can with fetid water.
A young woman runs a charity that raises money to send young girls to school in Liberia, where they previously had no opportunities for education. There was a young married couple that has spent the past five years travelling around the world in a low-key style called couch surfing. Their message to the audience based on their deeply personal exchanges with locals around the world was simple: Before the US.. bombs anyone again, we need to consider that these are people we're killing, not governments.
I don't recall any speakers talking about making money beyond following your dreams and hopefully making a few bucks. The speakers preached being doers, not talkers. These young men and women already know something I only discovered in my sixties: Life isn't just about stuff. They could teach their parents something about that.
For the first time in a very long while, I felt hopeful about America's future. With men and women like those attending the WDS Conference, perhaps there's hope after all. Their global approach to problems on a very personal level feels like a huge shift from the apathy that abounds in America regarding Third World people.
I admit I felt uncomfortable at times. I felt invisible to to many of the attendees. Maybe it was my salt and pepper goatee and mustache, I'm not sure. Or maybe I reminded them too much of their parents or, God help me, their grandparents. At 67, I was old enough to be either. I noticed perhaps a couple dozen other Boomers out of the 1,000 people, and wondered if they felt out of place occasionally too.
Owen and I felt confident our workshop would be well received since it was about vulnerability, a hot topic for the weekend. But there's a bit of a disconnect between people applauding a speaker who advocates vulnerability and our workshop attendees actually making themselves vulnerable. Still, most got the point, and while I wasn't sure how many actually did, the next day, several attendees came up to me and thanked me for helping them understand the practical application of vulnerability.
By Sunday evening I was exhausted from the unusually hot Portland weather and the non-stop youthful exuberance and energy. I was grateful for having spent time with a generation I rarely interact with.
I would advise Boomers to listen to their 20 and 30-something children with respect. I have felt for a while that Boomers are far too fat and happy, especially since we were hippies with social values. Your children aren't buying into your dreams and goals, but rather are creating their own. Theirs are about advancing social and environmental justice in the world. They see this as their mission and responsibility. They aren't interested in corporate careers, but prefer to identify entrepreneurial opportunities in which they're in charge of their lives. I respect that enormously.
The WDS Conference is run as a non-profit, and doesn't accept any corporate sponsors. Their dedication to keeping this event pure in every sense is exemplary. Every speaker and workshop began and ended on time, and they were held in several locations in downtown Portland. Their focus on punctuality was remarkable, as was their execution. While this was only the second year for WDS, it had double the number of attendees of last year's event. They also had nearly 5,000 people on a waiting list for tickets.
So you would think they're going to really explode it next year and sell tens of thousands of tickets, right? Wrong. They are not all about the money, but rather about creating as intimate an experience as possible. They understand the economies of scale, but aren't beholden to them. And, to ensure each attendee is guarantied a ticket to next year's event, they offered reservations for 2013 for the next 24 hours to those who don't want to get shut out.
Next time my fellow Boomers think America is going to Hell in a hand basket, I recommend they drop in on their children and listen to what they're talking about. They're smart, focused, unpretentious and determined to make a difference in the world. I'd proud to be their father or their grandfather.
Related
Popular in the Community