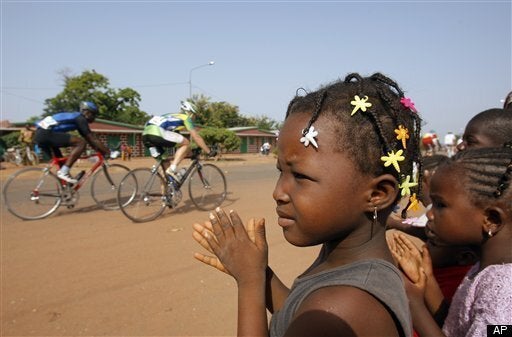 So the regional meeting of the World Economic Forum has a completely different feel to Davos. One would hope so. No snow boots, fewer world leaders, less glitz, less glamour. The bell that calls us all back into session though, I note, is the Davos cow bell.
As different as you'd expect this to be from Davos, I like the realism. There seems to be more conversation, more discussion and somehow, more hope and a higher sense of excitement, idealism. The opening session discusses the opportunity of Africa and somehow again, we all grapple with trying to not reduce the debate about 53 countries to meaningless speculation.
The many strands of conversation intertwine, politics, corruption, African foreign direct investment, the need for education, empowerment of women and children. This morning the issues on people's lips are the death of the Nigerian leader, Mugabe's surprise appearance and of course, what impact Greek riots will have, as well as idle speculation about the new occupants of Downing Street.
Discussing female genital mutilation in this environment has its hazards - questions from "business people" who wonder why this human rights issue has a presence (via myself) at WEF. Questions from African women about why I have a right to be here. Questions from the media about what is needed to change this issue.
Above all else, what I welcome is the dialogue - is the opportunity to discuss why this issue is still so hidden and so taboo. And even when it is raised, the scale of it is under-estimated, its funding is under-resourced.
This is one of the things I really appreciate about the World Economic Forum meetings. The variety of people that you meet who are open to discussion - so one minute, I'm talking with Olukemi Abimbola Akeju, a Global Changemaker (a British Council programme) running projects with young people in Nigeria. The next minute, I am shaking hands with Graca Machel, an incredible, serene, powerful woman who has worked her whole life towards empowerment of women and children. She is also Nelson Mandela's wife. As one woman says from the audience "Mama, you inspire us to climb higher, you show us the stairs are there."
Tomorrow, I will appear on Kenyan TV talking about why this is an urgent human rights issue and why it matters so much that the World Economic Forum would consider discussing it earlier in the year at Davos. I'm grateful to the wonderful Eddy Gicheru Oketch, a 19 year old powerhouse of enthusiasm, delivering projects that assist Kenyans. He reminds me of the Ngugi wa Thiong'o book, The River Between which tackles FGM. It is on the secondary school curriculum reading list and has brought FGM as an issue to every household in Kenya with an in-school child. Wa Thiong'o expresses the conflict and battle around cultural tradition and modern society far more eloquently than I can and it is a wonderful prompt to know. The book was written in 1965. I wonder really how much has changed since then.
Last night, a dinner with Morgan Tsvangarai, talking about "The Responsibility to Protect." One of the guests, a Kenyan stands up to tell a story. He says that young men from the Maasai undergo a rite of passage - they are sent out to kill a lion. This ceremonial stance requires three important things that are required of a man, across his life. What is needed, he says solemnly, is courage, wisdom and humility. The man next to me leans across and whispers - "and a lion."
REAL LIFE. REAL NEWS. REAL VOICES.
Help us tell more of the stories that matter from voices that too often remain unheard.