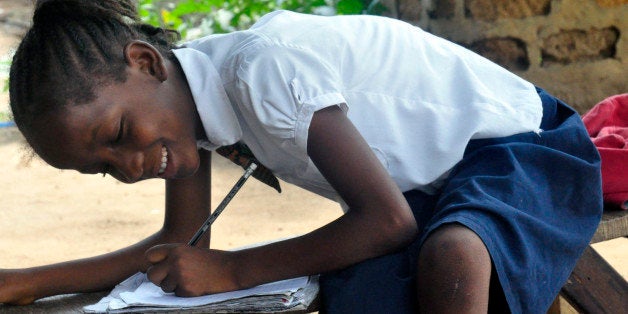 Every child across the globe will be entitled to 12 free years of education by 2030, thanks to a bold U.N. move.
UNESCO wrapped up the World Education Forum on May 22, but amended its declaration the following week to clarify that countries will commit to completely funding 12 years of education for every child, at least nine of which will be compulsory.
The initial draft stated that the first nine years of schooling would be free, but 10 through 12 would be "publicly funded." That would've presented a vastly different scenario, according to an Education for All blog post. Under those conditions, countries may have only been obliged to provide government grants for the latter years, which could've covered anywhere from 1 percent to 100 percent of school expenses.
While cultural restrictions, safety threats and the need for kids to help provide for the family are among the key issues that keep kids out of school, financial strains are frequently just as much to blame.
When schools in Liberia prepared to reopen in February after the Ebola outbreak, for example, many educators feared that a sizable number of students wouldn't return due to the precluding school costs.
Alex Wou, acting principal of St Lawrence Catholic School in Nimba County, Liberia, said at the time that he expected no more than half of students to come back, according to Plan, a nonprofit working in Liberia.
And eradicating school fees has already proven to work.
Over the course of a decade, the number of out-of-school kids in several sub-Saharan African countries dropped by 30 percentage points, a boon mostly attributed to abolishing school costs, according to UNESCO.
Numerous studies have shown that education is also a sound financial investment.
"A big win for education and an even bigger win for the millions of children who would have had to drop out of education because they couldn't afford it," the Malala Fund wrote in a blog post. "It is also a win for education campaigners across the world."
To take action on pressing education issues, check out the Global Citizen's widget below.
Clarification: Language has been amended to indicate that the original draft of the declaration called for the first nine years of education to be free and the next three years to be publicly funded, rather than calling for public funding for all 12 years, as was originally suggested.
Calling all HuffPost superfans!
Sign up for membership to become a founding member and help shape HuffPost's next chapter
BEFORE YOU GO
PHOTO GALLERY
Satellite images of Boko Haram massacre