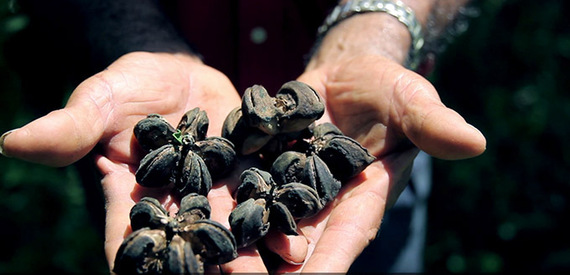 The humble sacha inchi nut is transforming lives in South America. Credit: ITC
Today is World Environment Day, a day that should warrant some reflection on how we relate to our surroundings. For me, working in trade, it is an occasion to think a little bit harder about how we can make international commerce greener without compromising on its potential to improve people's livelihoods.
Is that possible? I certainly believe so. And I am not alone: governments and business around the world are cleaning up their acts when it comes to the environment, though perhaps not fast enough.
Most people - including business leaders - want a healthy future for their children.
In my experience, what is often missing between intent and action is the knowledge and the means to actually change the way we do business or make consumer decisions.
Consumers need more insight into the goods and services they purchase. Businesses need to produce those goods and services more sustainably.
For a big multinational, change naturally takes time: more often than not it requires investing in change across a long and complex value chain. For small and medium-sized enterprises (SMEs), on the other hand, the barriers to going green are often insufficient access to technology, knowledge, and finance.
Policy incentives, dropping costs, and growing trade are driving a welcome acceleration in the adoption of green energy technologies in developed and developing countries. This trend would get an important boost from an agreement at the World Trade Organization to cut trade barriers on environmental goods and services.
But while transforming our energy mix is central to a more sustainable future, it is not the only environmental challenge we confront. Habitat loss and pollution threaten biodiversity, with scientists estimating that 150 to 200 species of plants, insects, and other animals become extinct every day, a rate hundreds of times higher than what is natural. Scarce water and other resources threaten economic instability and conflict. Even the response to climate change cannot just be about windmills, solar panels, and electric cars: energy efficiency is critical, as is helping communities in poor countries adapt to an already-changing climate.
The International Trade Centre, which I head, is working with thousands of people and businesses across developing countries, providing advice on how to trade better, but also on how to trade greener.
Take for example the Makomboki Tea Factory, about 60 miles outside Nairobi, Kenya. We have worked with farmers supplying this company to train them in agricultural techniques that save water and help them cope with warmer weather and new pests. The factory itself has received support to reduce the energy it uses to dry and process tea leaves.
Wearing python and crocodile skin isn't for everyone. But managed sustainably and traded legally, these valuable animals can be saved from extinction while generating a crucial income for impoverished communities.
Economic desperation often drives wildlife destruction like poaching or illegal logging. But trade can help create powerful financial incentives for communities to preserve the biodiversity around them.
Sacha inchi, for example, is a nut native to the tropical areas of South America. Touted as a 'superfood' for its high protein and omega-3 fatty acid content, it is often turned into a light, herby-tasting oil, which can be eaten raw like olive oil. The plant had been enjoying a growing reputation among health-conscious gourmets in the United States.
This is now set to jump: the US Food and Drug Administration last year granted sacha inchi oil a key food safety approval (with the rather unappetizing title 'Generally Recognized as Safe) that will make companies feel more relaxed about retailing the still-exotic ingredient or using it to make granola bars. Companies like Villa Andina are now eyeing an export boom - one that would give communities in Peru's Amazon region an economic stake in protecting the fragile ecosystems in which sacha inchi grows.
While the relationship between trade and sustainable development can be complex, there is lots of scope for 'win-win-win' scenarios: good for environmentally conscious consumers, good for job creation in developing countries, and good for our planet. Because we only have one.
REAL LIFE. REAL NEWS. REAL VOICES.
Help us tell more of the stories that matter from voices that too often remain unheard.