The United Nations has a "day" for everything, and food is no exception: World Food Day is observed annually around the world on October 16. And this year, on October 14, at the Iowa State Capitol building in downtown Des Moines, dignitaries from more than 65 countries will gather to recognize the laureates of the 2010 World Food Prize.
"World Food Day" and "World Food Prize" may sound like reasons to celebrate the culinary arts or feature contestants from TVs Top Chef series in a bake-off, but these commemorative occasions have little to do with cooking and everything to do with the humanitarian game changers who are working to find solutions to the world's hunger problem.
Did you know that one in eight Americans don't have enough food to eat? Or that worldwide one person dies from hunger every 3.6 seconds? And of those deaths, many are children under 5 years of age?
2010 World Food Prize laureates David Beckmann (an ordained Lutheran minister who's also a former World Bank economist and now President of the Christian hunger-fighting organization Bread for the World), and Jo Luck (former CEO and current President of Heifer International), aren't happy about the statistics -- which is why they've both devoted decades of their lives to lead grassroots movements to end hunger.
While Heifer's efforts are primarily donor and gift-driven (read more about Heifer's amazing work to "Pass on the Gift" here), Bread for the World mobilizes its citizen advocates to support legislation to change the policies, programs and conditions that allow hunger and poverty to persist. Thanks in part to Bread's letters, emails and meetings with elected officials, Congress has tripled poverty-focused development assistance during the past decade; U.S. aid to Africa has quadrupled; and reforms in the United States Farm Bill have provided greater opportunity for struggling families in rural America and rural areas of the developing world.
Since 1991, David Beckmann has been instrumental in strengthening Bread's advocacy arm as well as the political muscle of fellow poverty and hunger-fighting organizations, including the ONE Campaign, World Vision and Feeding America, among others. He also founded and is President of the Alliance to End Hunger.
On the eve of his receipt of the 2010 World Food Prize and the release of his latest book, Exodus From Hunger: We Are Called to Change the Politics of Hunger (with an excellent foreword by Archbishop Desmond Tutu), I caught up with Reverend Beckmann to find out more about his belief that political will is one of the keys to ending hunger in our time.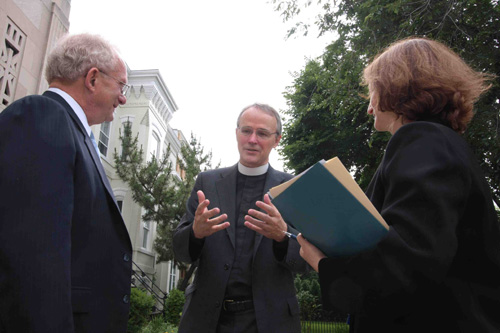 David Beckmann lobbies for policy change to alleviate hunger.
(Photo courtesy of Bread for the World)
As a 2010 World Food Prize Laureate and after decades of fighting to end hunger, what is your proudest moment so far?
There have been many wonderful moments, but what strikes me most, is the reality that ordinary people can make a difference in the lives of hungry and poor people. Many [Bread for the World] members have discovered that the simple act of writing a letter can make a difference; they can help save a life with just the cost of a stamp. Studies have shown that in this digital age, a hand-written letter is the best way of making your voice heard in Congress. President Obama asks his staff to bring him 10 hand-written letters every day -- not copies of emails -- as a way of staying touch with people.
Do you think that the World Food Prize will bring more awareness to the (United States) general public about hunger and poverty?
Winning the World Food Prize is a big honor, of course, and I think it's really recognition of the work of Bread for the World's members and churches across the country. On another level, the World Food Prize affirms what we have known all along: Ending hunger requires effective advocacy, like what Bread is doing, and on-the-ground aid like that of Jo Luck and Heifer International. At another level, it is also a challenge that we need more people of faith to provide the political oomph so that hunger and poverty are on top of our legislators' agenda.
What is one step that an average citizen can take to fight hunger and poverty either in the United States or around the world?
Write a letter to your member(s) of Congress and let them know that you care about poor and hungry people. Tell them to support the reauthorization of the child nutrition program so that hungry children in this country will get enough to eat. Let them know that balancing the budget is important but it should not be done on the backs of hungry and poor people. I think that our citizenship is part of discipleship, and Bread for the World makes that possible. The world's made a lot of progress against hunger, poverty, and disease over the last few decades. More progress is possible.
For more information about the World Food Prize, click here
To pre-order Exodus From Hunger on Amazon.com, click here.

Related
Popular in the Community