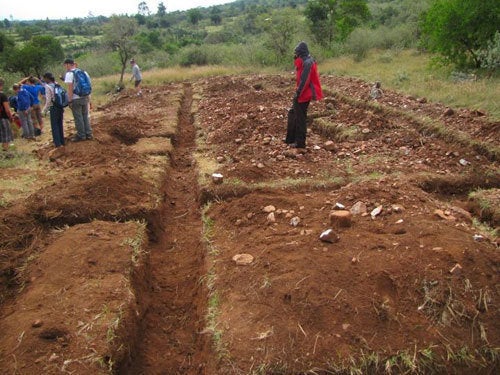 If you want proof positive about how relatively small investments in agricultural development assistance can pay huge dividends for both developing and donor countries, then keep your eyes on the prize -- the World Food Prize, that is. This award, which recognizes measurable contributions to improving the world's food supply, will be presented this week in Des Moines to the former presidents of two countries where progress in battling hunger continues to be a bright spot amid the turmoil of the current global financial and food crises. Under President Inácio Lula da Silva, Brazil cut in half its proportion of hungry people and slashed its extreme poverty rate from 12 percent to below 5 percent. Ghana has also made impressive gains in the last 15 years, for which President John Kufour is being honored: malnutrition has fallen from one-third to less than one-tenth of the population, and poverty has been cut by 50 percent since the mid-90s. Think about it. While the global economy reels and volatile food prices wreak havoc on poor people in many countries -- and while drought and conflict have put 13 million people in immediate danger of starvation in the Horn of Africa -- Brazil and Ghana continue to make impressive gains in food and economic security. So what is going right with these countries? The lesson here is pretty simple -- investing in agricultural and rural development works. President Lula's Zero Hunger program harnessed agricultural development to boost rural incomes, connect consumers to local smallholder farmers, and widen access to food for the poor. President Kufuor's economic reforms included specific changes to the country's farm sector development policy that supported tremendous growth in crop and livestock production, which in turn helped expand the national economy. It amounts to helping farmers get the technologies and the infrastructure they need to grow more and better crops and strengthening their ability to access markets and get a fair price for what they can produce. The successes of these two leaders provide a lesson for developing country governments and donors alike -- investment in agricultural development is among the best things we can do to help poor populations rise out of abject poverty and ultimately become stable, self-reliant, peaceful and productive societies. In recent years, the international community has taken positive steps toward reversing its decades-long neglect of agricultural development. In 2003, African leaders pledged to contribute 10% of their GDP to agriculture. In 2009, the major industrialized nations pledged specific amounts to support increasing the productivity of the world's smallholder farmers. And the Obama Administration launched its Feed the Future initiative, which seeks to harness the power of agriculture development to increase the harvests, nutrition and incomes of poor farming families, particularly in Africa. Feed the Future's "teach a man to fish" approach -- whose inspiration was Dr. Norman Borlaug, the renowned American agronomist and Nobel laureate who created the World Food Prize -- is centered on training agricultural scientists from developing countries, helping farmers in those countries get the latest technologies to vastly increase harvests, and supporting the infrastructure, transport and credit systems that will boost agricultural output. Unfortunately, amid the global economic crisis, donor countries are coming up short in meeting their initial pledges to these types of efforts. In the wake of the debt ceiling debate, the entire Feed the Future program is now at risk for severely reduced funding. With U.S. global leadership so vital to this effort, that would be a shame and a missed opportunity. The Brazil and Ghana examples show that it's about more than alleviating hunger -- it's about enabling farmers and other rural entrepreneurs in to stand on their own two feet and lead their countries to self-sufficiency and prosperity. To be sure, this kind of success has broad implications. And we need only look at the experiences of our 2011 World Food Prize recipients to see how investments in agricultural development can be an economic win-win for all of us. As Brazil and Ghana have addressed poverty and hunger challenges, their people and industries have begun to thrive economically, both selling and buying more goods on the world's markets. Amid the current focus on efficiency, fiscal responsibility and self-reliance, it is hard to imagine what could make more sense than for the U.S. to spend relatively small amounts of money to support economic development in the poorest countries. This year's World Food Prize recipients can certainly attest to that. We should be expanding, not cutting, these elements of our development policy.
Catherine Bertini is the 2003 World Food Prize laureate and executive director of the U.N. World Food Program from 1992-2002. Dan Glickman was U.S. secretary of agriculture from 1995-2001. They are co-chairs of The Chicago Council on Global Affairs' Global Agricultural Development Initiative. For more information visit its Website here.
REAL LIFE. REAL NEWS. REAL VOICES.
Help us tell more of the stories that matter from voices that too often remain unheard.