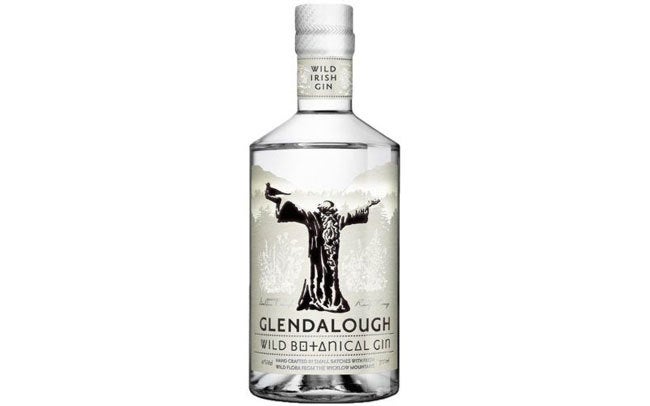 World Gin Day is the once a year celebration of the spirit that started out as a medicinal, but which is now one of the most used liquors in cocktail bars around the world. It was originally developed by Dutch physician Franciscus Sylvius in the 17th century to cure stomach problems (as well as gout and gallstones). There's no word on whether it really worked for that or not, but it did catch on in a huge way as a recreational drink. In fact, it got so popular in England that in the 18th century the government drastically raised taxes on it to slow its consumption (which didn't work and instead resulted in riots).
This World Gin Day we were fortunate to receive a bottle of Glendalough Wild Botanical Gin to review (sent to us by Glendalough Distillery). The spirit was introduced to the U.S. market on June 1 of this year, but it's already gaining a stellar reputation here in the states. Ahead of its release it picked up a Gold Medal at the San Francisco World Spirits Competition in May (akin to getting Best Picture at the Oscars).
About the Distillery
Glendalough Distillery was founded in 2011 by five friends who wanted to revive craft distilling in Ireland and pay tribute to the country's history of distilling. They started by making and selling the traditional Irish spirit, poitín, an unaged spirit made of potatoes, sugar beets or a number of other ingredients. But soon they expanded to whiskey, and then gin in 2014.
We had previously tried their whiskies, ranging from 3 ½ to 13-years old, and were incredibly impressed. Though the maturation process was their design, only the youngest whiskies were made by Glendalough, and we found them supple, aromatic and smooth with a creamy, warming finish. Needless to say we had high hopes for their gin.
Glendalough Gin
In the world of spirits, "craft" means one thing, while "artisanal" means another. When we say something is "craft," what we mean is that it's made in small batches according to very precise standards. The product, in other words, isn't compromised by a large-scale production.
But to say something is "artisanal" means something entirely different. Something is "artisanal" when ingredients are hand-picked and fussed over so much that you can be assured each one was scrutinized by the master-distillers themselves. Each stage of production is a one-off process, and so every batch is different by design.
Glendalough calls itself a craft distiller, but we think that when it comes to its gin it should be better called artisanal.
Let's start with the botanicals used (which is really the best yardstick for a gin). They took inspiration for these ingredients from their patron, the 7th century Saint Kevin, who lived as a hermit in Glendalough and foraged the land for food. Using his story as a model, every botanical in their gin is hand-foraged in the local wilds from March through October by Geraldine Kavanagh. They are then slow distilled the very next day by still-man Rowdy Rooney so that all the botanical's oils are captured. The larger ingredients are macerated and settle to the bottom of the pot still, while the smaller are bundled in bags, allowing the distillate to flow through and around them.
The result is one of the most floral gin offerings we've ever tried. Unfortunately, we've never been to County Wicklow in Ireland, but after tasting this gin we're confident we'd recognize the smell if ever we get the opportunity – the notes are that powerful.
On the nose is the smell of the forest in spring, with powerful florals and fruits. There is a bit of earth, but a damp earth under a canopy of leaves – musky but only slightly. There is definitely grass and pine, bark and juniper. The taste includes flowers, sweet and soft. There's also a hint of licorice, grass and fruit (apple perhaps), and of course juniper throughout. This is a truly complex gin, and with every sip you can pick out different tastes.
Honestly, this is one of the best gins we've ever tried.
Glendalough Wild Botanical Gin is currently available online from Ezra's, and state distribution is being added daily (currently NY, NJ, MA, RI, NH, DC, MD, DE, IL, GA and CT, but check your local stores and request it if they don't have it in stock yet).
So, Happy World Gin Day to all! We hope you try the new Glendalough Botanical Gin, and if you try it, leave a comment below telling us what you think. And if you don't try it, make sure to at least get some kind of gin in you to celebrate the storied spirit. Cheers!
REAL LIFE. REAL NEWS. REAL VOICES.
Help us tell more of the stories that matter from voices that too often remain unheard.
This post was published on the now-closed HuffPost Contributor platform. Contributors control their own work and posted freely to our site. If you need to flag this entry as abusive,
send us an email
.