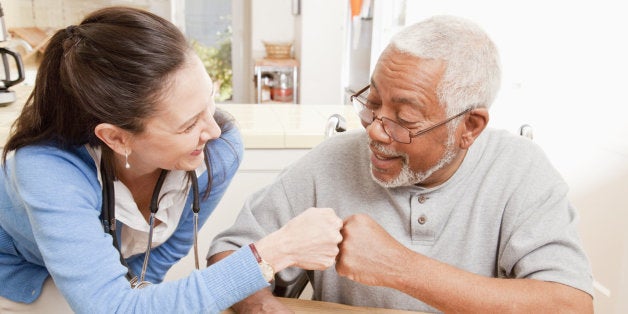 The World Health Organization will celebrate its birthday on April 7th -- World Health Day. But this year, not with cake. The traditional birthday cake will be replaced by healthier options, like fruit, and a call to action to tackle diabetes.
Diabetes ─ long perceived as a disease of the affluent ─ is on the rise everywhere and is now most common in developing countries. Its impact is felt by individuals, families, communities and national economies, yet much of its burden is avoidable.
The statistics speak for themselves. The number of people living with diabetes and its prevalence are growing in all regions of the world. In 2014, 422 million adults (or 8.5 percent of the population) had diabetes, compared with 108 million (4.7 percent) in 1980. Diabetes is rising fastest in the world's low- and middle-income countries. In 2012, diabetes caused 1.5 million deaths. Higher-than-optimal blood glucose levels caused an additional 2.2 million deaths, by increasing the risk of cardiovascular and other diseases.
Poorly controlled diabetes can cause complications including heart attacks, strokes, kidney failure, blindness, and foot ulcers than can lead to amputations. Many of these complications, and these premature deaths, could be prevented. The technologies and medicines to enable people with diabetes to live healthy lives exist, yet still do not reach those who need them.
Diabetes is a disease characterised by elevated blood glucose levels. Most people with diabetes have the type 2 form of the disease, which is largely caused by unhealthy eating and lack of physical activity. Staggeringly, today more than one in three adults is overweight and more than one in 10 is obese. Type 1 diabetes, which most commonly affects children and adolescents and requires daily insulin for survival, is currently not preventable.
At the World Health Assembly in 2013, governments committed to halt the rise of diabetes by 2025, but we are clearly not on track. Policies are needed to improve people's access to affordable, healthy foods and to opportunities for physical activity, to influence patterns of diet and physical activity across whole populations. A combination of fiscal policies, legislation, changes to the environment and raising awareness of health risks works best for promoting healthier diets and physical activity. Such measures will also benefit people living with diabetes and reduce risk of complications.
Governments have also committed, most recently in the 2030 Agenda for Sustainable Development, to reduce premature mortality from non-communicable diseases including diabetes. People with diabetes can live long and healthy lives if their disease is detected and well-managed. WHO's Global report on diabetes, released today, shows that governments around the world have begun to act, but much more concerted action is needed.
Access to essential medicines and technologies for diabetes is frighteningly inadequate in low- and middle-income countries, where most people with diabetes live. For example, blood glucose and urine glucose measurement--basic technologies necessary for diagnosis and monitoring--are generally available in less than half of low-income countries, in contrast to more than 90 percent of high-income countries. Similarly, only 23 percent of low-income countries report that insulin is generally available in publicly-funded primary-care facilities, in contrast with 96 percent of high-income countries.
Preventing deaths and complications from diabetes requires access to affordable health-care services with equipment sufficient to diagnose and monitor diabetes; patient education to promote healthy diet, physical activity and self-care; essential medicines for diabetes management, including life-saving insulin; regular screening for complications and early treatment when they are found; and a referral system across various levels of health care.
Governments also need to invest in better monitoring of diabetes, including who is getting access to the treatment they need, and who is missing out.
Together, we can halt the rise in diabetes and provide care to improve quality of life for the millions of people living with the disease. Deliberate, effective responses are needed from government; health-care providers; civil society; producers of medicines, technologies and food; from people living with diabetes; and from each of us. Everyone has a role to play.
Related