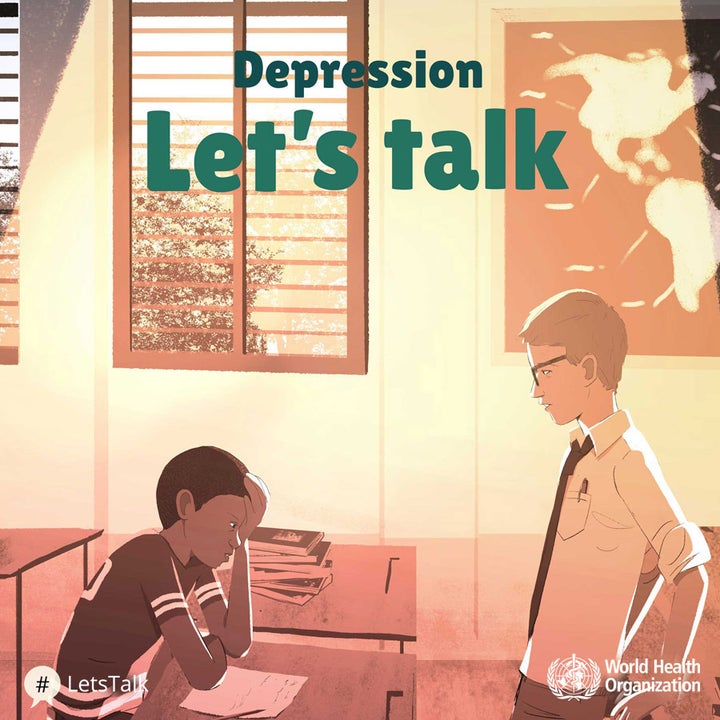 A young university student leaving home for the first time and moving to a big city began to feel increasingly worried, was not sleeping well and finding it difficult to cope. He knew that there was something wrong but was afraid to talk about the way he was feeling. His friends noticed a change in him and were able to convince him to attend the student health service to see if they could help. He was diagnosed as suffering from depression, was given the help that he needed and made a full recovery.
This type of a story of people feeling depressed but being afraid to talk is not unusual. In this case talking about the problem resulted in the person seeking the help that he needed. He is now doing well, enjoying his studies and says that he is back to his usual self.
Depression is common and can affect anybody. This is why the World Health Organisation has launched a global campaign on depression today called Depression Let's Talk. This is a worthwhile cause for every one of us to support because nobody is immune to depression.
Over 300 million people worldwide are living with depression. The prevalence of depression is rising and depression is now the leading cause of disability and ill health worldwide.
Many people living with depression do not seek help because of negative attitudes or prejudice against people with mental health difficulties.
Fear of self-disclosure about depression is sometimes compounded by a lack of political will from governments, who are often reluctant to commit funds to mental health or do not produce appropriate guidelines or legislation to protect the individual once they have disclosed their mental health difficulties. This makes it difficult for people with depression to seek the help they need to tackle this very treatable mental illness. It also makes it harder to tackle the many social and environmental factors that can cause depression.
As a doctor and mental health advocate I meet many people living with depression who want to talk about it their condition but are afraid. They are frightened that talking about depression and how it makes them feel will decrease their chances of success in life, or their chances of promotion at work. This is not right because anybody can develop depression and there are many effective treatments available. Early help is vital.
Play your part in highlighting this global campaign.
Don't hide, depression, let's talk.
Professor Gabriel Ivbijaro MBE JP
MBBS FRCGP FWACPsych MMedSci MA IDFAPA
President WFMH (World Federation for Mental Health) & Chair The World Dignity Project
Medical Director, The Wood Street Medical Centre, 6 Linford Road, Walthamstow, London E17 3LA, UK
Tel: 020 8430 7715 Mobile: 07973 175955
facebook.com/IvbijaroGabriel
http://www.huffingtonpost.com/author/gabrielivbijarogmailcom