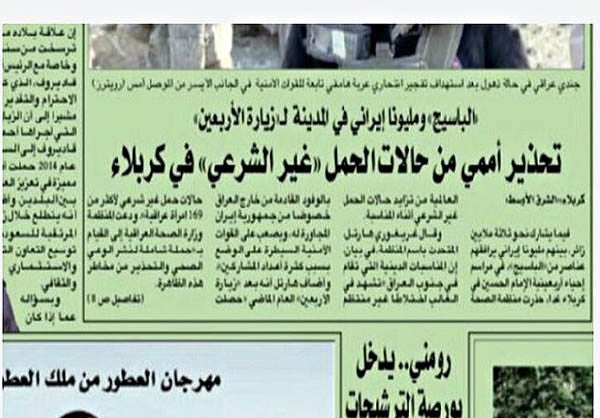 Sunday, 20 November 2016, was a normal day at Al-Sharq Al-Awsat, a well-financed daily newspaper supervised by the Royal family of Saudi Arabia. Like every new issue, the constant topics were a heavy dose of propaganda polishing the image of the despotic Saudi regime and an equal amount of attacks on countries and governments Saudi considers as enemies, particularly Iraq. But the Sunday issue was different in a very particular way. The leading story was a false statement deliberately attributed to a very respectable international organization, the World Health Organization (WHO).
Al-Sharq Al-Awsat claimed that WHO Spokesperson Gregory Hartl warns against "the rise of increasing out of wedlock pregnancies as a result of the Shia pilgrimage to Karbala (Iraq) to commemorate the martyrdom of Imam Hussein," Grandson of Prophet Muhammad. Al-Sharq Al-Awsat went further to falsely cite a non-existing WHO press release claiming that last year 169 Iraqi women became illegitimately pregnant because of the gathering that is hard to control and involving pilgrims from Iran and other countries — again attributing the statement to Mr. Hartl. The rumor about a WHO warning was concocted by an electronic website on Thursday 17 November 2016 and it was categorically denied by the WHO on its website on the next day, but Al-Sharq Al-Awsat went with the salacious material as a leading story anyway, without regard to the truth, common decency, or the feelings of several hundred millions of Shia Muslims.
The WHO issued another press release condemning the use of its name in the "unethical report" of a story it already denied two days earlier and threatened to consider taking legal action against the perpetrators. Iraqis also initiated legal action inside Iraq and began planning to go to court in London, where the paper is based. Sensing the deep trouble caused by its flagrant mendacity, Al-Sharq Al-Awsat resorted to a very transparent effort of damage control, blaming the most vulnerable members of its staff, the unnamed Iraqi staff member who allegedly wrote the story. The two main Iraqi journalists working for Al-Sharq Al-Awsat denied any involvement in the story and one of them already submitted his resignation protesting the paper's unprofessional conduct.
It is very unlikely that the story was a mistake, or even an ordinary negligence to follow standard journalistic practices, such as verifying the sources of such a potentially scandalous story like this. The defamation of Shia Muslims is a constant mantra of Saudi government and its state-religion, Wahhabism, which is the greatest source of hatred and most terror-friendly ideology in the Muslim world since its inception in the mid-1700s. Wahhabism is officially adopted and embraced by Saudi Arabia's government (Judiciary and Religious Affairs), education textbooks of all levels, and media. Demonizing the Shia and excluding them from Islam is a pillar of Wahhabism, that went too far in its radicalism and hostility against all world religions, including non-Wahhabi Muslims, forcing more than 200 leading Sunni Muslim scholars, including Egypt's Al-Azhar leadership to recently hold a conference and essentially excommunicate the Saudi Wahhabis from Sunni Islam.
It must also be mentioned that Karbala and its centrality to the collective Shia conscience has been a target of Wahhabism since the beginning of Wahhabi political existence. In 1802 the Saudi Wahhabis invaded Karbala and committed a despicable atrocity against its unarmed civilians, documented proudly by a Saudi historian in the following words:
"The Muslims [i.e. the Wahhabis] scaled the walls, entered the city by force and killed the majority of its people in the markets and in their homes. Then they destroyed the dome placed over the grave of al-Husayn by those who believe in such things… They took everything they found in town: different types of property, weapons, clothing, carpets, gold, silver, precious copies of the Qur'an, as well as much else – more than can be enumerated."
Loathsome as it is, the continued unprofessional behavior of the Saudi regime's media outlets that spread hate and use defamation against other people is one thing, and deliberately involving international organizations in their sectarian fights is another thing altogether. The WHO and other international organizations have employees and volunteers, from all nationalities, spread throughout the world and they are mostly relying on the good will and appreciation of hosting communities for their protection. Al-Sharq Al-Awsat's involving them in its lies and fabrications can literally cost lives of innocent, decent international workers who have nothing to do with the Saudi regime or its rivals.
Abbas Kadhim is a senior fellow at the Foreign Policy Institute, SAIS, Johns Hopkins University. Twitter: @DrAbbasKadhim.
Calling all HuffPost superfans!
Sign up for membership to become a founding member and help shape HuffPost's next chapter
This post was published on the now-closed HuffPost Contributor platform. Contributors control their own work and posted freely to our site. If you need to flag this entry as abusive,
send us an email
.