This week in Geneva, health ministers from governments around the world will meet at the 65th World Health Assembly (WHA) for their annual meeting to discuss health issues that affect everyone everywhere. For those of you unfamiliar with this assembly, it's a bit like a parliament of health ministers. They meet, discuss pressing health issues, put resolutions to the floor and vote. Among the resolutions they will consider is one supporting the Global Vaccine Action Plan, a road map to ensure that by the end of this decade, every child, everywhere enjoys the full benefits of immunization.
The plan is the cornerstone of work to date of the Decade of Vaccines Collaboration, sponsored by the Bill & Melinda Gates Foundation and chaired by global health leaders Ciro de Quadros, Sabin Vaccine Institute, and Pedro Alonso, Universidad de Barcelona. This impressive document is the result of an 18-month consultation involving more than 1,100 stakeholders from 142 countries. The plan sets ambitious new goals for the decade, establishes strategic objectives and identifies the actions that will support their achievement. Perhaps most importantly, it puts developing countries at the center of the plan and stresses country and community ownership of immunization programs as a key pillar for success in the decade ahead.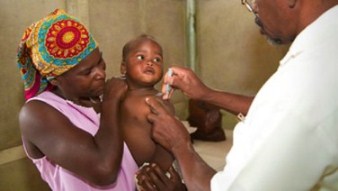 Photo Courtesy of the Bill & Melinda Gates Foundation
As a member of the DoV Collaboration's Steering Committee, I'm pleased to see the plan reaching the WHA this week. It represents a huge collective effort. But it is also important to remember that global health is full of plans for this and plans for that. The endorsement of the plan by the WHA should be viewed as the beginning, not the end of our work. Turning the document into actions that move the needle on research, vaccine access, and ultimately, child survival will require continued investment and commitment of everyone from lab scientist to front line health worker and from head of state to head of household.
As Save the Children notes in a paper published this month, we've succeeded in delivering a full package of most basic childhood vaccines to four out of five children born on the planet, but nearly 20 million children remain incompletely immunized. Children whose mothers have received no formal education are only half as likely to get vaccinated as those whose moms have a secondary education, for example, and rural children are just under half as likely to get immunized as those living in urban areas. In an era where cell phones, soft drinks and Facebook are ubiquitous in every corner of the world, we can and should work to overcome inequalities to ensure that the same can be said for life-saving vaccines.
The plan outlines clearly the ambitious but achievable goals of the Decade of Vaccines: achieving a world free of polio; meeting all global and regional disease elimination targets; meeting vaccination coverage targets in every region, country and community; developing and introducing new and improved vaccines and technologies, and exceeding the Millennium Development Goal 4 target for reducing child mortality.
We have our work cut out for us, to be sure -- and achieving these goals will require that we all do our part, and that we go beyond even Ministers of Health to engage other stakeholders and communities. Specifically:
Countries must commit to immunization as a priority, and work to strengthen their immunization systems.
Families must understand the value of vaccines, and demand immunization as both their right and responsibility.
Manufacturers must continue to innovate and deliver quality supply at affordable prices.
Donors and governments must ensure funding for immunization programs is predictable and consistent, and
We must all work together to ensure that the benefits of immunization are equitably extended to all people.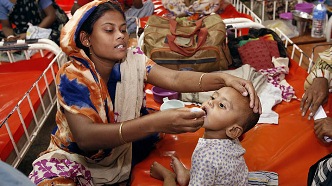 Photo Courtesy of the Bill & Melinda Gates Foundation
I'm hopeful the ministers present at the WHA will approve the Global Vaccine Action Plan this week in Geneva. But I'm even more focused on what happens when the Ministers go home and how the effort engages stakeholders beyond national governments. In a world where corporations, foundations, and non-governmental organizations can be as powerful as some governments, a winning plan for the Decade of Vaccines will require including all the players who can help to achieve this common goal. With all the players involved, and a sustained team effort, it should be a winning game plan.
Related
Popular in the Community