Iranian President Hassan Rouhani on Tuesday vowed to stay in the Iran nuclear deal shortly after President Donald Trump announced that the U.S. will withdraw from the multinational pact, a decision that ignited outcry and concern from fellow world leaders.
Rouhani, in a blistering televised address, criticized the U.S. as a country that "never adheres to its commitments" and accused its people of having "always adopted a hostile approach."
"By exiting the deal, America has officially undermined its commitment to an international treaty," he said.
Rouhani said his country will continue to work with other nations that are part of the agreement, though it will resume its nuclear activities if the deal's goals are not met.
"If we achieve the deal's goals in cooperation with other members of the deal, it will remain in place," he said.
Iranian state television also called Trump's decision to withdraw "illegal, illegitimate and undermines international agreements," Reuters reported.
"From now on, we will carry out our trade with Iran, within the possible framework, until the end, and we will not give account to anyone for this," Zeybekci said in an interview with broadcaster CNN Turk.
Israeli Prime Minister Benjamin Netanyahu, who has long opposed the deal, appeared to be one of the few international leaders to immediately applaud Trump's decision. In a short televised address on Tuesday, he said the deal with Iran was "a disaster for our region, a disaster for the peace of the world."
Key players in the race to prevent Iran from acquiring nuclear weapons have meanwhile reacted with alarm and concern to Trump's announcement.
"Together, we emphasise our continuing commitment to the JCPoA. This agreement remains important for our shared security," the statement read. 
"According to the [International Atomic Energy Agency]," an agency that has monitored and verified Iran's nuclear-related commitments, "Iran continues to abide by the restrictions set out by the JCPoA, in line with its obligations under the Treaty on the Non-Proliferation of Nuclear Weapons. The world is a safer place as a result," the statement continued.
"The JCPOA is in America's interest ― it has significantly rolled back Iran's nuclear program. And the JCPOA is a model for what diplomacy can accomplish ― its inspections and verification regime is precisely what the United States should be working to put in place with North Korea," the former president's statement said. "Indeed, at a time when we are all rooting for diplomacy with North Korea to succeed, walking away from the JCPOA risks losing a deal that accomplishes ― with Iran ― the very outcome that we are pursuing with the North Koreans."
Kerry also lamented Trump's decision in his own statement, saying it "weakens our security, breaks America's word, isolates us from our European allies, puts Israel at greater risk, empowers Iran's hardliners, and reduces our global leverage to address Tehran's misbehavior, while damaging the ability of future Administrations to make international agreements."
Macron and his fellow European co-signatories had taken turns trying to convince Trump to remain committed to the deal. In addition to reports of diplomatic wrangling between Europe and the U.S. over the past few weeks, U.K. foreign secretary Boris Johnson traveled to the U.S. Monday, hammering home his position in a media blitz. 
Both Merkel and Macron also traveled to Washington in recent weeks to have similar conversations with Trump.
Macron said France doesn't plan to leave the agreement but is happy to work with Trump in crafting a new, more comprehensive deal that addresses some of the issues that both countries feel were left out of the current version. French officials made it even more clear that they're committed to the existing deal in the lead-up to Trump's announcement.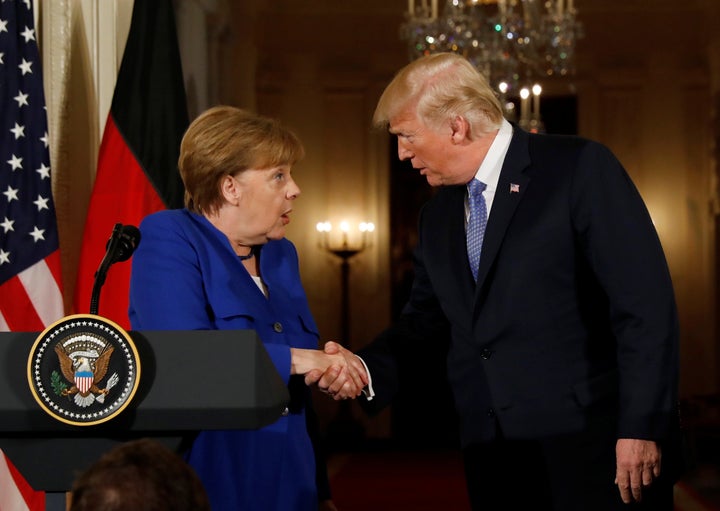 "We are determined to save this deal because this accord safeguards against nuclear proliferation and is the right way to stop Iran getting a nuclear weapon,"  French Foreign Minister Jean-Yves Le Drian said Monday.
Netanyahu pulled out the big guns last week in his push to get Trump to scrap it altogether. 
"Iran lied, big time," he said in a speech delivered in English.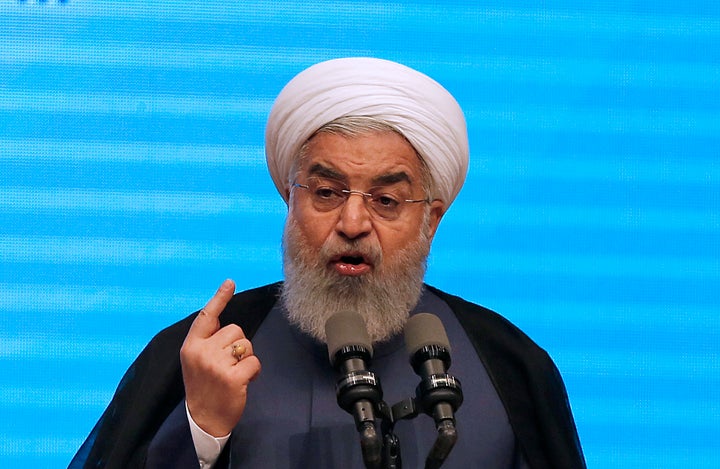 Iran has made clear that it has no intention of renegotiating or forging a new deal.
"If America leaves the nuclear deal, this will entail historic regret for it," Rouhani warned in a televised speech earlier this month. Iranian Foreign Minister Mohammad Javad Zarif suggested in April that if the U.S. pulled out of the nuclear accord, his country could also exit the deal and resume its nuclear program at a "much greater speed." Iran has no reason to continue to abide by the agreement if the economic benefits "start to diminish," he said.
Calling all HuffPost superfans!
Sign up for membership to become a founding member and help shape HuffPost's next chapter