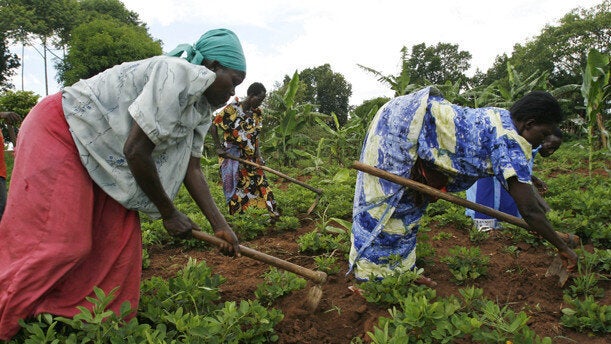 We have encouraging news out of Africa this week of World Malaria Day, as we take stock of the illness and death caused by this longtime scourge.
Eleven countries in Africa had slashed the number of confirmed malaria cases, malaria-related hospital admissions or deaths by more than 50 percent by the end of 2009. When 2010 data becomes available we expect it to show that even more countries have shown similar progress. In a region that has borne a heavy malarial burden of death and debilitating illness, part of the good news stems from the fact that approximately three-quarters of the people at risk of contracting malaria were using insecticide-treated mosquito nets by the end of 2010. With a decisive push, the goal of protecting Africa's population with bed-nets and effectively preventing the fevers and crushing headaches that are the dreaded symptoms of malaria appears within Africa's reach.
Even as we mark what may be a turning point, we know that malaria is an ancient foe we can never underestimate. Although global deaths from malaria have fallen from nearly a million a year in 2000, the disease continues to exact a great toll, killing 781,000 people across the world in 2009. More than 90 percent of these deaths occurred in Africa, where the disease accounted for about one in six child deaths.
The collective success is substantial, but is also fragile and must be sustained. The consequences of losing the focus on malaria would be deadly. Mosquito bed-nets last about three years and a failure to replace the over 300 million nets blanketing Africa over the coming three years could lead to resurgent malaria illness and deaths. Just this past year, Zambia faced a resurgence of malaria in a few provinces when mosquito nets were not replaced in time. Deaths and illness increased within months. Rapid action to address this increase has since been taken by the Zambian government, together with the World Bank, UN Foundation, Bill and Melinda Gates Foundation, Stanbic Bank, the African Leaders Malaria Alliance (ALMA), and the UN Special Envoy's Office. While funding is important, it is really the partnerships that have been built with citizens, governments, and healthcare providers as well as the increasing reliance on and use of science, technology and the body of global knowledge on what works that can accelerate progress in this area.
For instance, beyond the wide distribution of mosquito nets, ending malaria deaths will require making sure that effective diagnosis and timely treatment become available to every patient. Health authorities need to keep better track of where malaria still exists and which drugs produce the best health outcomes. We want funding to be effective, not simply throwing money at the problem.
In the wake of the financial crisis, we face difficult choices with limited resources. In Liberia, the priority is to end deaths from malaria above many other pressing needs, for both health and economic reasons. As a result, Liberia is on track to protect its entire population by year's end. Liberia is not alone. Thirty-nine African countries have united against the disease under ALMA, chaired by Tanzanian President Jakaya Kikwete. We have determined that the only way we can overcome the disease is through working together. No country is an island when it comes to malaria; mosquitoes do not respect borders.
In mobilizing the money, the bed nets, and the treatment, and in strengthening supply chains for lifesaving medicines, our bedrock guiding principle must be stronger accountability. ALMA's flagship accountability initiative is a simple tool, commonly employed in the private sector: a scorecard. Currently under development with our partners in the Roll Back Malaria Partnership, the scorecard will track progress, identify what is working, what is not, and highlight where intervention is required. We will further expand the use of new technology platforms, such as SMS and Twitter, to reach hundreds of millions of people to create positive pressure at all levels, and to encourage demand for transparency, accountability and results by citizens.
Africa's partners, including the World Bank, are committed to ending deaths from malaria. Last year the Bank pledged US$200 million to anti-malaria efforts in Africa, largely to provide bed-nets to families in the Democratic Republic of Congo, Ethiopia, Ghana, Kenya, Mozambique, Sierra Leone and Zambia. This helped to close emergency gaps. Consistent with the priorities of African countries, we expect new financing mobilized from the latest replenishment of the International Development Association, the Bank's fund for the poorest countries, to be committed to the fight against malaria, including through our work on helping African countries build stronger health systems.
So, as we take inspiration this World Malaria Day from African countries that now have malaria in retreat, we also need to recommit to finish the job. Allowing hard-won gains to be reversed cannot be an option.
Robert B. Zoellick is President of the World Bank Group; Ellen Johnson Sirleaf is President of Liberia, and the incoming Chair of the African Leaders Malaria Alliance (ALMA), which comprises African Heads of State and Government working to end malaria-related deaths in Africa.