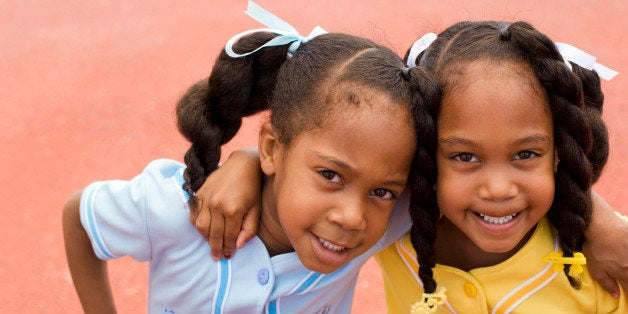 BLACK GIRLS ROCK! turns 10 this year! Congratulations & Happy Birthday girl!!
As a black woman I am so inspired by and thankful for this brand that started as an idea, and has grown into a much-needed movement for black girls and black women alike!
BLACK GIRLS ROCK! started in 2006 as a "501(c)3 non-profit youth empowerment and mentoring organization established to promote the arts for young women of color as well as encourage dialog and analysis of the ways women of color are portrayed in the media."
This is the 5th year that the BLACK GIRLS ROCK! awards show will air on BET, and it's all going down Tuesday, April 5th at 8pm. Some of the honorees this year are Rihanna, Gladys Knight, and Shonda Rhimes and it's all being hosted by the fabulous Tracee Ellis Ross.
Since the BLACK GIRLS ROCK! awards show began airing on BET in 2011 it has added a new level of awareness to the brand, what it represents as well as its mission and purpose within our community.
You see there was a need then, and maybe even more so today, to present and celebrate a powerful, independent black woman that is driven and positive. A portrayal of black women that genuinely support one another and celebrate each other's successes instead of tearing each other down.
This initiative is so important because the portrayal of black women on television is far from acceptable.
You've seen the reality shows showcasing a "glamorously ratchet" or "hood rich" ideal of us as black women. It's always b**ch this and b**ch that. Then there's so and so who's knowingly sleeping with someone else's man, and if all of that isn't enough these grown women physically fight each other for the sake of being "real"!
All in the name of dramatic television that is anything but reality.
These shows do us as black women a disservice and make us look like a stereotypical mess; the clothes are way too tight, cleavage and booty are busting out everywhere, and there are so many layers of makeup I wonder what these women really look like?!?!
In my opinion it is downright degrading, and it doesn't even begin to depict who I am as a black woman or any of the black women that I know!! Yet this is what is put in front of our young black women for them to want to aspire to.
BLACK GIRLS ROCK! gets it. This organization offers a fresh perspective and ideal of what we are really like...what we really aspire to be. We are strong, empowered creators that can do anything we put our minds to!
Yes it's an awards show and we enjoy the performances, but it's also so much more than that, and here's why:
1.BLACK GIRLS ROCK! is an experience that we can all get behind, believe in, and support!
2.BLACK GIRLS ROCK! empowers our community to challenge the status quo of how we are portrayed as in the media!
3.BLACK GIRLS ROCK! encourages our future queens to be proud of who they are and who they have the potential to be!
This is what should be celebrated and what must be celebrated more often! Our society and our future generations are in desperate need of more of this positivity!
So thank you BLACK GIRLS ROCK! for this movement, the opportunities it provides, and the platform that is now available.
As women of color let's do our part to support and advocate for more positive representations of ourselves in the media because our daughters, our nieces, our granddaughters, our future - they are all watching and taking notes. Let's show them who we really are and who they have the power to be!!
Calling all HuffPost superfans!
Sign up for membership to become a founding member and help shape HuffPost's next chapter