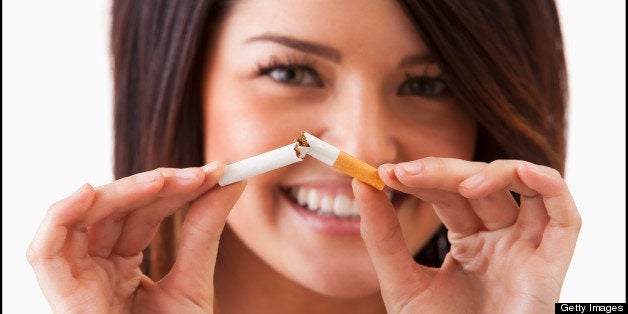 Tobacco use is the single most preventable cause of death, killing one out of 10 people people worldwide. Yet there are 1.3 billion smokers around the world. If smoking prevalence were reduced by 20-25 percent, we could prevent 100 million premature deaths by 2020. As a global community, we know how detrimental smoking is to health. Why can't we stem the growing trend of smoking among youth and in emerging markets?
We've known about the toxic effects of smoking since the 1960s. In the U.S., anti-smoking efforts such as banning TV and radio tobacco advertising, launching public awareness campaigns about the dangers of smoking and restricting smoking in public areas, have resulted in a decline in the number of smokers from 37.6 percent in 1955 to 20.8 percent in 2006. But progress toward ending tobacco has stalled. Most notably, there is a rise in smoking among youth -- especially among girls. Today more girls than boys smoke -- a reversal of rates among their parents. When you consider that most smokers begin the habit before they hit 18, it's a particularly worrisome development.
Equally alarming is the increasing trend of tobacco use in developing and middle-income countries, where 80 percent of smokers now live. The World Health Organization estimates that the prevalence of smoking among Egyptian males is nearly 40 percent. In China, more than 50 percent of men are smokers. Smoking is also a growing problem in Latin America and Africa. If current trends continue, lung cancer will be the primary cause of mortality in Latin America.
But there is more bad news. Economists predict a sustained growth in tobacco use in emerging markets in years to come. New players are replacing the traditional multinationals with China now producing 40 percent of all cigarettes consumed. Left unchecked, there will be an estimated eight million tobacco-related deaths per year by 2030 (up from the current six million).
What can be done? A big part of the solution is embodied in the theme of this year's World No-Tobacco Day -- ban tobacco advertising, promotion and sponsorship.
As a society, we know that tobacco kills. Governments need to support global, regional and national efforts to reduce tobacco use. They need to enforce effective anti-smoking policies: raise tobacco taxes, limit the sale and promotion of tobacco, and launch robust public health campaigns to raise awareness about the dangers of smoking. These measures -- and more -- are the cornerstone of the World Health Organization's Framework Convention on Tobacco Control. Ratified by more than 170 countries, it celebrates its 10th anniversary this year.
By putting forth robust efforts against tobacco use today, countries can drastically reduce long-term health costs that result from lung cancer, heart disease, upper respiratory infections and other tobacco-related illnesses. No country can afford to ignore the problem of tobacco use. Governments and the private sector must also consider the economic ramifications that result from absenteeism and loss of productivity due to illness. Innovative companies have shown benefits of well-designed workplace tobacco control programs (that include financial incentives). They need to be the norm. Beyond this, governments also need to invest in health education and smoking cessation programs as part of broader chronic disease prevention efforts.
We all have a role to play. The entertainment and advertising industries around the world need to be more conscious about how they portray smoking. They need to stop targeting youth and other vulnerable populations. The media also need to be more conscientious about covering stories on the contribution of tobacco to the burden of disease around the world. When, for instance, was the last time you saw a news article about lung cancer or the dangers of tobacco?
Government led actions supported by myriad community based groups, health professional bodies and academics have led to tobacco prevalence declining by 10 percent in OECD countries over the last decade (while it soared by 18 percent in developing countries). New products that offer nicotine without the harms of tobacco are starting to gain rapid consumer acceptance and may well lead to market driven ways of reducing the harm 1.3 billion smokers will experience.
We need to be alert to these developments and stay focused on one question: What do they mean for health?
Today we need to reach out to all tobacco users with a few simple messages. Tobacco kills. Don't start. If you smoke -- quit. Your country can't afford your habit.
Related
Popular in the Community