The ocean gives so much to us all.
From the food we eat to the air we breathe, the ocean sustains all life on our planet. For me, the ocean brings a sense of peace that I carry within, a special connection that has been the foundation of my commitment to protect and preserve ocean habitats.
In my years as an ocean advocate, I have seen a lot, and I know without a shred of doubt that our oceans are now in crisis. The evidence of this destruction is everywhere: silent killers like ocean acidification threaten to dissolve the bonds that hold ecosystems together, overfishing is causing fish stocks that we depend on to disappear and the billions of dollars generated by ocean economies each year are in danger of being lost to pollution and mismanagement.
And yet, with World Oceans Day just days away, I feel more hopeful than ever. Yes, these problems can feel overwhelming, but I find hope in human nature, in the power we have to be stronger, smarter, and greater when we work together.
Just ask the hundreds of surfers who gathered in Malibu last summer for a Peace Paddle -- a twist on the Hawaiian tradition of surfers joining together on the water -- led by surf legends Laird Hamilton and Dave Kalama. Crowds of ocean advocates joyfully paddled out a few hundred yards and joined hands to form one giant, floating symbol of peace -- so big that it broke a Guinness world record. The event not only helped raise funds to support the tireless efforts of the Natural Resources Defense Council to protect our oceans, but also served as a visible reminder of the need to work together for a more peaceful future for our seas. That is the power of people coming together.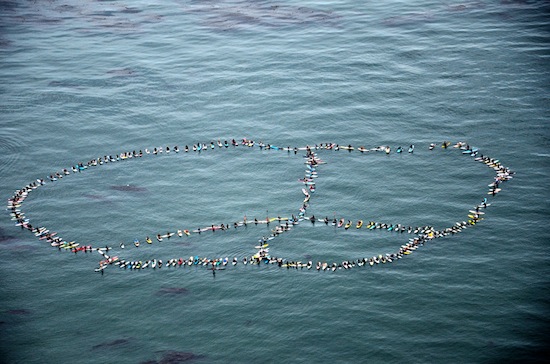 They say a picture is worth a thousand words, and I believe this picture speaks volumes about hope for a healthy ocean future.
Later this month, world leaders will come together to address ocean protection issues on an international scale, at the Rio+20 Earth Summit in Rio de Janeiro. As it approaches, I find myself reflecting on a simple human principle that makes this event possible, and that can affect real, global change: cooperation.
If I could have one wish for the ocean this year, it would be that the world would put away the empty promises and work together for ocean protection. From ending destructive fishing practices in international waters to curbing marine plastic pollution, there is no limit to what we can do if we work toward solutions together. This sounds simplistic, I know, but it is just one of those fundamental concepts that works every time.
There are millions of people around the world whose lives depend on the ocean and want to help it remain healthy. Join me in asking the world leaders at Rio+20 to reflect the opinions of ocean advocates, and to focus their energies on cooperative actions that create sustainable solutions for us all -- so that we can enjoy the wonder, beauty, and sustenance of the seas for generations to come.
REAL LIFE. REAL NEWS. REAL VOICES.
Help us tell more of the stories that matter from voices that too often remain unheard.