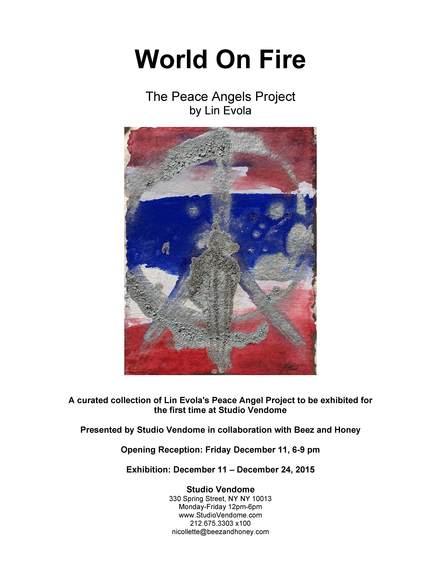 Paris
Chicago
New York
San Bernadino
Columbine
Since I wrote the Peace Angels Project, on record over 150,000 children have died from weapon violence. In the early days of the project, learned epidemiologists informed me of the expected growth of deaths. The energy professions would expound on the notion that what we focus on grows and grows with the intensity of that focus.
When asked by Cultural Affairs in Los Angeles why I want to melt down weapons, my answer was simple: because I can't melt down a lack of kindness.
We are in the process of putting up the first solo exhibition of the art of the Peace Angels Project. Poetically, the gallery, Studio Vendome, in Soho in New York City is owned by the same man who, with his family fed firemen, police officers and rescue workers on Canal Street post 9/11. Was he the only proprietor that did this? No, but I am very grateful that he and all of them did.
And here we all stand. With more deaths from terrorism and gun deaths than we could have ever predicted - without a solution in site.
So, I will be asking New York and Los Angeles for the collection of 1,000,000 each for the creation of Peace Angels monuments for both cities. With Rubenstein Public Relations, we will ask for the media's assistance. For those who want to give up weapons through law enforcement, we will melt them down and transform them into icons for peace.
The exhibition at Studio Vendome is the first public forum to begin that step.
I pledge to melt down weapons and transform them into art for the rest of my life. Should you want to participate in this method, contact us.
My heart goes out to the families who have lost their loved ones. It is up to us to shift our human consciousness. Change will not occur by focusing on violence.
Transformation occurs by transforming.
Creation is the opposite of destruction.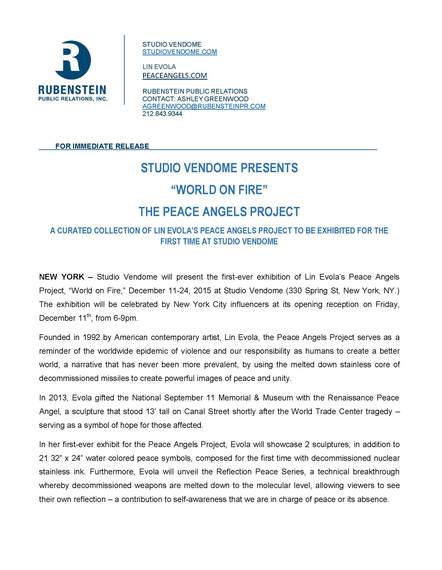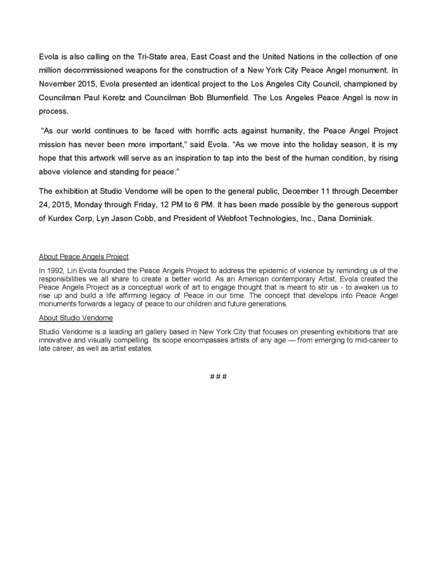 REAL LIFE. REAL NEWS. REAL VOICES.
Help us tell more of the stories that matter from voices that too often remain unheard.