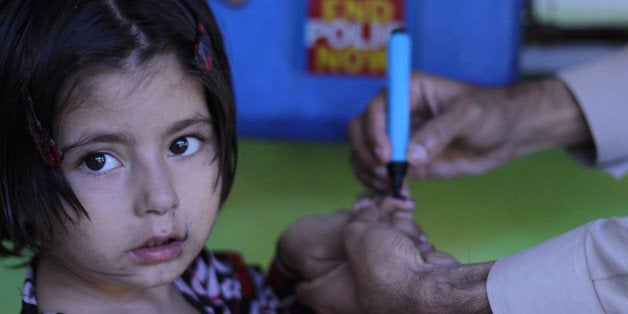 Amid a calendar jammed with scores of so-called awareness days, World Polio Day -- observed on October 24 -- is among the most significant and important of this year.
Why? Because World Polio Day 2014 provides the opportunity to reflect on how truly close we are -- at this very moment in time -- to making history by eradicating this paralyzing virus once and for all. To date, smallpox is the only human disease to be totally conquered. The world is now poised to make polio the second, although formidable challenges remain.
Since the Global Polio Eradication Initiative launched in 1988, more than 2.5 billion children worldwide have received the oral polio vaccine, causing the incidence of the disease to plummet by more than 99 percent, from about 350,000 new cases a year to fewer than 420 for all of 2013. That's tremendous progress by any definition.
Polio now remains endemic to a record-low three countries: Afghanistan, Nigeria and Pakistan. Unfortunately, those countries serve as the reservoir from which the poliovirus can - and does -- re-emerge to paralyze children in areas where it once had been stopped, as we are seeing now in several countries in Africa and the Middle East.
Certainly, 2014 is proving to be a pivotal year for the eradication effort, marked by a series of ups and downs.
In March, a huge milestone was reached when the World Health Organization's entire South East Asia Region was certified as polio-free. This included India, once considered the country beset with the most difficult obstacles to eradication. India's removal from the endemic countries list in 2012 was a critical step leading to regional certification.
However, the celebratory mood over South East Asia's victory over polio has been tempered by the situation in Pakistan, part of WHO's Eastern Mediterranean Region. As of October 8, Pakistan accounted for 187 of the 222 polio cases reported so far this year. Pakistan recorded 93 cases for all of 2013.
Pakistan's challenges include the extreme difficulty of reaching children among the many thousands of families displaced by the government's ongoing battle against terrorism. The immunization effort has been further hampered by deadly attacks on polio vaccinators by religious militants. Dozens of health workers have been killed in the past two years, many of them women.
It was a polio strain traced to Pakistan that infected 35 children in strife-torn Syria in 2013. Fortunately, the rapid immunization of more than 34 million children in response seems to have quelled the outbreak, with Syria's only case so far this year reported back in January. But the fact that the virus came from Pakistan greatly underscores the importance of stopping the disease in the endemic countries.
We also have reason for increased optimism regarding Nigeria, which had reported six polio cases this year as of October 8, down from 49 for the same date in 2013. Nigeria's total for 2013 was 53 cases. Also of significance: Nigeria's capacity to respond effectively to the recent Ebola outbreak was enhanced by the public health infrastructure developed for polio eradication, such as surveillance networks and emergency response centers. This supports the partnership's long-held contention that an important aspect of polio eradication's legacy will be the public health improvements it leaves behind once the disease is gone, setting the stage for the next major global health initiative.
In addition, a study published in 2010 estimates polio eradication, once achieved, will generate $40 to $50 billion in economic benefits within 20 to 30 years as productivity increases and health care costs decline.
So there is plenty to ponder on this World Polio Day 2014. In most of the developed world, polio is an ever receding memory. But this date reminds us that polio still strikes down innocent children, too often depriving them of any chance at a meaningful, productive future.
If you have ever visited any of the places where polio remains or has recently been a threat, you have likely witnessed firsthand the disease's human toll. I have. I'm referring to the polio survivors, the children -- and the adults infected as children -- with their withered, paralyzed limbs, eking out a grim existence on the streets with scant hope of anything better.
But at the same time -- on the same streets -- I have also experienced the humbling feeling of joy and satisfaction that washes over you when you place two drops of oral polio vaccine into a little child's mouth. You know with certainty that from that moment on, whatever the future holds for that little girl or little boy, the threat of polio is gone for good.
That certainty is something every child in the world deserves and that is why we must finish the job and end polio now.