On the far eastern fringes of Pasadena's Colorado Boulevard, beyond trendy Old Town and past the impressively façaded walls of Pasadena Community College, noteworthy buildings give way to modest shops and restaurants catering mostly to locals. In this leafy, low-key neighborhood, one doesn't expect an encounter with the handsome modern building called Shumei Hall. As part of a tranquil spiritual center, it has the lofty goal of promoting universal wellbeing with educational programs that ennoble young people through the arts, music, and environmental awareness.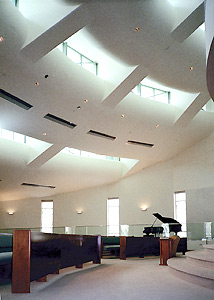 I was there for a second installment of the Shumei Arts Council's annual Clyde Montgomery Concert, named in memory of a supporter of the center's programs. One of the loveliest way-stations in the long and arduous journey classical musicians must make to secure their futures is certainly this serene performance space, its exterior skirted last Sunday by an exuberance of spring blossoms.
Cares of the day vanished as I entered Shumei Hall from a patio surrounded by a harmonious complex of buildings. Obscured clerestory windows high above bathed the space in natural light. The seating pews of the hall's semi-circular interior scaled down to a stage at the room's central axis. Risers had extended that stage last Sunday to accommodate a Petrof baby grand and various chamber-sized configurations that would later be heard in the room's near-perfect acoustics. Here was a case of an architecture mimicking its spiritual inspiration.
Young Professional Musicians
Showcased in an eclectic student recital were seventeen of the Southland's finest young instrumentalists and one singer. As in last year's concert, the musicians came from greater Los Angeles's preeminent institutions of music education: the downtown Colburn School of Performing Arts, USC's Thornton School of Music and UCLA's Music Department. The afternoon's repertoire focused on nineteenth and twentieth century fare, with one newly commissioned work added to the mix.
The only qualm I had in the full program was that just the first movements of two of the longer works could be performed. But the compensation was to be able to enjoy so many young musicians, with top-notch talent and training on full display in works that can challenge even seasoned professionals. These young artists are poised to take their places among the world's prominent musicians in short order.
UCLA Opera's Leslie Anne Cook, a mezzo soprano with a rich, burgundy-tinted voice, gave a drolly sensuous account of Rossini's "Una voce poco fa" from his Barber of Seville and an idiomatically wistful rendition of the "Violin Aria" from Offenbach's Tales of Hoffmann. Cook's work in UCLA's rough-and-ready production of Handel's Agrippina in 2010 was already strong. These performances confirmed she is now only an engagement or two away from professional roles.
Violinists Heidi Hatch and Vincent Meklis made dazzling fireworks of two Wieniawski showpieces, while pianist Christopher Goodpasture did the same for a work by Debussy actually named Fireworks. Supported by fine piano collaborations, cellists Se-Doo Park (in Fauré) and Yoshika Masuda (in Dvořák) graced the afternoon with two meltingly lyrical works. A string quartet from USC's Thornton School spun gossamer silk of Mendelssohn's lapidary fourth quartet, while a clarinet-violin-piano trio shared a plaintive side of the often-fiery Aram Khachaturian. (The complete program and artists are listed below.)
World Premiere of American Spring by Stephen Cohn
The fine performances notwithstanding, the highlight of the afternoon arrived immediately after intermission with the world premiere of a new work by the Emmy-winning, Los Angeles-based composer Stephen Cohn. It was the Shumei Arts Council's fourth commission from the composer. Entitled American Spring, this one was set for the unusual combination of string trio and marimba.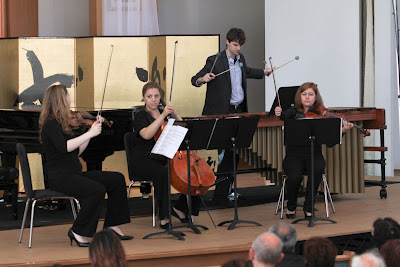 As the composer himself explained in his introductory remarks, "The title was inspired by the Arab Spring: the metaphor being that in the Middle East they fought to adopt a system of freedom and compassion from another culture and this piece of music brings together instruments from different cultures with the thought of bringing people together."
Cohn describes its structure as having four main ideas. The strings introduce a melodic, contrapuntal, quasi-minimalistic section that reappears in various guises throughout. An energetic marimba melody then joins in, using intervals and chords, later teamed with pizzicato strings in syncopated rhythms. Next comes a harmonic progression, treated with ever-denser textures, followed by a concluding rapid atonal marimba figure with poly-rhythmic elements harmonized by the strings.
Relating to the work's title, Cohn's use of strings, with their customary sustained tones and rich harmonies, suggests a European musical heritage. Angular melodic intervals of the second and fourth steps may also nod to the intellectualism of European composers like Paul Hindemith. By contrast, the marimba's percussive rhythms invoke the naturalistic, primal cultural heritage of South America and Africa where that instrument originated. How the two contrasting sonorities come to terms is key to understanding the musical essence of American Spring.
The performance was all one could ask for. The Thornton School's Benjamin Phelps proved a magician of the marimba with an archer's accuracy on double mallets in both hands, setting the pace for the strings to switch gears to his pulsing groove as soon as he joined them. The string trio -- Caitlin Kelley, violin; Anna Kolotylina, viola; Natalie Helm, cello -- from the Colburn School (L.A.'s version of NYC's Juilliard) tore into their parts with a full-bodied first section and fulfilled the composer's later requirements with stinging pizzicati and sharp rhythms, totally in sync with the marimba's mounting intensity.
Cohn's American Spring is a musical analogue to the principal of opposites coming together and achieving unity while respecting their diversity, first codified in the Hegelian "thesis-antithesis-synthesis" model. That philosophy has also served as the idealistic framework for America's progress as a nation, which in turn dovetails beautifully with the Shumei Arts Council's mission.
As I didn't review last year's Shumei commission of Cohn's Sea Change, a few words are in order. It is written for the so-called "Pierrot ensemble" of flute, clarinet, violin, cello and piano, the term referring to Arnold Schoenberg's first use of the configuration in his eponymous work.
Sea Change is at turns romantically translucent and ferociously driven. A solo flute intones a seraphic ditty with embracing impressionistic piano chords in the manner of a Ravel chamber work, but soon a rhythmic romp from the rest of the instruments follows. The pensive flute returns, joined by a violin and all instruments in what feels like a searching, curious, "I'm-late-for-a-very-important-date" state of mind. Soon the musical characters are skirting off again on a frenetic journey with building tension. A furious tutti concludes the charming work. The effect overall is that of a dreamer (the flute) caught up in an urgent agenda it hadn't quite planned on.
Composers crave first performances but second and third ones validate their creations as having taken on lives of their own. Since its world premiere at Shumei in last year's fine performance, Sea Change enjoyed a well-received Italian premiere in Rome earlier this week by the ensemble, Piccolo Academia Degli Specchi (The Little Academy Of The Hall Of Mirrors). Later this spring it will be performed in Iceland. (There's a spring in Iceland? Who knew.)
I reviewed another Cohn work a year ago last January, the excellent Winter Soul in a concert by the Eclipse Quartet; the work has since been performed to acclaim in Northern California.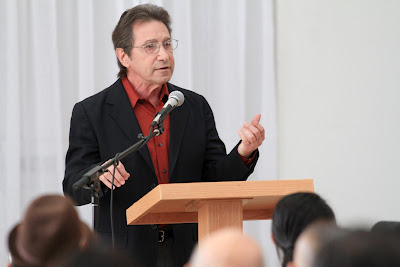 The sheer intelligence of Cohn's approach to composition eschews trendy conceptual gimmicks popular with some composers and his approach to his work respects and complements the highly-evolved talents of the young professional musicians he collaborates with at Shumei.
All three recent works by Cohn are characterized by driving, almost compulsive energy, as if they were on urgent missions to find solutions to important quests. Each resides in its own sonic and structural world, but they all adhere to the similar conceptual approach of being "abstract" but not "absolute" in musical statement. That is, while his works have program titles and narratives, these extra-musical associations are not so much literal descriptions as stimuli for musical ideas working themselves out on their own terms. The listener can use Cohn's extra-musical titles as aural guides or listen solely to the unfolding musical developments. It is this dual quality of abstract and concrete that makes Cohn's music interesting on so many levels.
This country may be at an uncertain junction on the road to its future, but the Shumei Arts Council, a handful of young musicians, and composer Stephen Cohn are pointing a most noble way forward.
Can universal wellbeing be far behind?
#####
Program at Shumei Hall, Pasadena, California -- Sunday, April 1, 2:30 p.m.
Trio for Clarinet, Violin and Piano by Aram Khachaturian (I. Andante con dolore, con molto espressione) Adam Lefkowitz, violin; Jonathan Galbreath, clarinet; Shanice Aaron, piano (Junior Chamber Music)
"Una voce poco fa" from The Barber of Seville by Gioachino Rossini
"The violin Aria" from The Tales of Hoffmann by Jacques Offenbach
Leslie Anne Cook, mezzo-soprano (UCLA) Accompanied by Nathan Maurer, piano
String Quartet No. 4 in E minor, Op. 44, No. 2 by Felix Mendelssohn
I. Allegro assai appassionato II. Scherzo: Allegro di molto III. Andante IV. Presto agitato
Vincent Meklis, violin; Heidi Hatch, violin; Diana Wade, viola; Yoshika Masuda, cello (USC Thornton School)
American Spring (World Premiere) by Stephen Cohn
Caitlin Kelley, violin; Anna Kolotylina, viola; Natalie Helm, cello (Colburn School)
Benjamin Phelps, marimba (USC Thornton School of Music)
Rondo in G minor, Op. 94 by Antonin Dvorak
Se-Doo Park, cello (Colburn School)
Accompanied by Alice Yoo (USC Thornton School of Music)
Impromptu, Op. 142 No. 2 in A flat major by Franz Schubert
Feux d' artifice Claude Debussy
Christopher Goodpasture, piano (USC Thornton School of Music)
Elegy and Romance by Gabriel Fauré
Yoshika Masuda, cello (USC Thornton School of Music)
Accompanied by Henry Gronnier
Sonata No. 5 for Two Violins - I. Allegro ma poco, by Jean-Marie Leclair
Caprice, Op. 18 No. 3 for Two Violins by Henryk Wieniawski
Caprice, Op. 18 No. 4 for Two Violins by Henryk Wieniawski
Heidi Hatch and Vincent Meklis, violin (USC Thornton School of Music)
Photos by SHINGO MURAYAMA are used by permission of the Shumei Arts Council
Above: Shumei Hall, American Spring Performance, Composer Stephen Cohn
Support HuffPost
The Stakes Have Never Been Higher
Related
Popular in the Community