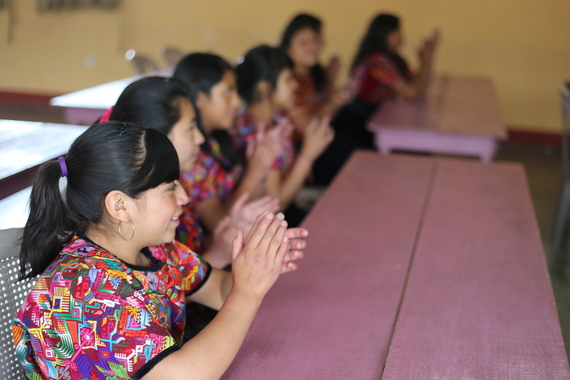 PODER!, a film based on the real-life story of two powerful indigenous girls in Guatemala, has its World Premiere at the UN's CSW on March 12th. Photo: Lisa Russell
Leading up to that, on the afternoon of, a group of 40 to 50 teen girls will gather at the Madison Square Boys and Girls Club in Brooklyn, for a sneak peek of the film, enjoy youth poetry and participate in a girls leadership workshop as part of a new screening model called the #FliptheScript Tour. The goal? To ensure PODER! won't only be a film that only advocates on behalf of girls, but instead, be true to it's message, and advocates with girls. Especially girls of color.
Creating a girls-centered distribution strategy was a logical next step in the execution of this innovative film project. (See my article "Keeping My Soul Right: Making Global Health Films on Women and Girls" for my post on the making of PODER!) While most of my global health films on women and girls are used as advocacy tools to advocate for increased awareness of an issue, increased funding or better legislation, I will be using PODER! as a tool to advocate for more leadership training to ensure girls can advocate for their own causes, their own funding and impact legislation in their own communities.
Consider the potential impact this can have on girls worldwide. PODER! was focused on one story in one community in Guatemala, where only 10 percent of Mayan girls finish primary school and over 50 percent get pregnant and have babies before they turn 18. Yet two indigenous girls, with adequate leadership training and support challenged their Mayor to create more girl-friend legislation and won! PODER! did not center its message or production process around the tragedy of being a girl in this community, but of the power girls possess when given the opportunity to harness it. Imagine the collective change worldwide that can result if that message could inspire the other 600 million girls around the world living in poverty who don't have access to education or healthcare.
Creative communities are also an important element in the #FliptheScript Tour. In the same manner that I engage international artists in my maternal health advocacy, #FliptheScript is also introducing youth artists (such as spoken-word poets, musicians and others) to help translate the film's message, engage wider audiences and inspire our girl viewers. Finally, #FliptheScript will include leadership workshops and exercises for girls - created with the input of young female artists, activists and mentors -- to ensure it resonates credibly with its targeted audience.
And that's the basis for the #FliptheScript tour.
After the premiere, #FliptheScript will be reaching out to US and international girl-centered and arts-centered youth organizations such as the nationwide Boys and Girls Clubs, the Girl Scouts of America, Urban Word NYC, the Lower Eastside Girls Club among others for participatory screenings. Leadership workshops and exercises will be facilitated by the Founder of the Queen Geniuses Girls Empowerment Conference, Regine Roy and blogger/writer of thegirlverse.com, Elizabeth "Bruja" Perez. Workshops and screenings using PODER! to spark dialogue among men and boys is also in development.
As we prepare for the world premiere of PODER!, and the launch of the #FliptheScript Tour, please join us in recognizing the power of girls by reading an excerpt from the new poem, "Power!" written by youth poet Chanel Dupree, specifically for PODER! that will be performed at the NYC all-girls launch.
"Us women
Since the beginning of time
Have been told what to do
To stay silent, barefoot, pretty and pregnant
for far too long
Society has suffocated our breathe
And blinded our dreams with ignorance disguised as "normalcy"
Our bodies and minds have been ghost to our spirit
We have been broken in half
Allowed to choose to be either human or woman
Because both of these ideas are too animal to comprehend as one
Allowing a woman to talk in this country
is like allowing the moon to smile
No one believes in it's breath and shine
I know what it's like to have an audience of
men in my family tell me that my voice caused too much traffic
That the kitchen is the specific placement for my gender
You girls
With butterfly wings for tongues
And saxophone tunes for voice
Are growing up in a time where your
hips displayed on desktops are more interesting
than your heartbeat
You are royalty
Do not let anyone, not even you, take your crown off
Smile if you want to
Lead if you want to
You were born woman
Therefore, you were born with a gift
to see the world..."
Related