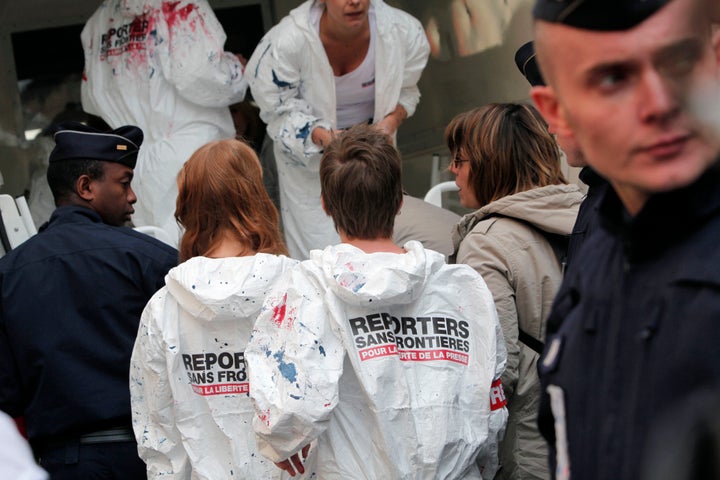 "Journalism is one of those things people take for granted," said Joel Simon, executive director of the Committee to Protect Journalists. "In whatever form -- they don't necessarily think of where that information comes from until there are attacks on those people. What people are seeing happen today in the Mideast has brought the risks of news-gathering into high relief."
Press freedom and protection in much of the world -- especially developing countries -- relies on survival, training and support. With this in mind, a handful of Western groups has come together to support regional organizations working on precisely those issues.
In particular, the Omidyar Network, a philanthropic investment firm created by eBay billionaire Pierre Omidyar and his wife, Pam, on Tuesday announced grants totaling $5 million that will focus specifically on African journalists and media.
As part of its efforts to promote government transparency, the network will be giving $1.7 million over the next two years to the African Media Initiative, a consortium of private and independent African outlets aiming to strengthen the continent's media landscape and promote transparency, rule of law and democratic governance.
The Omidyar Network grant is being made in conjunction with a group of outside donors, including the Gates Foundation and the Mo Ibrahim Foundation. Together, they will direct between $5 and $6 million to the African Media Initiative.
Alongside this contribution, the Omidyar Network announced a $2 million grant to the Media Development Loan Fund. Stephen King, the global practice head for the Omidyar Networks' government transparency programs, called the organization "a mission-driven investment fund," explaining that "Independent media outlets are starved for capital." Operational in Africa, Asia and Latin America, the fund provides low-interest loans to independent news outlets, particularly those in countries with a history of media repression.
Directly addressing the challenges facing reporters in certain part of the world, the Omidyar Network also announced a grant of up to $450,000 over three years to Sahara Reporters, an online network of underground and citizen journalists operating inside Nigeria. "They put a lens on the Nigerian government," said King, by covering "corruption, disbursement of oil revenues and graft on a massive scale. [Sahara Reporters] provides much more [information] than a newspaper or news outlet might. It's a forum where controversial stories can be aired."
While countries like Zimbabwe and Somalia still battle some of the world's most violent, repressive regimes, King explained that Nigeria's political circumstances made the country a more preferable choice for his organization to focus on. "We wanted there to be conditions where the government felt some kind of accountability [and] where there was some version of an open press. We ... prioritize those places where there's some opportunity to develop citizen engagement."
Omoyele Sowore, the founder and publisher of Sahara Reporters, described the work of his group as far-reaching. "We had 1,700 reporters on Blackberry alone who volunteered to cover the [recent Nigerian] elections for us," he said. "They took smart phone photos of police repression and election violence."
As publisher of the site, Sowore says his job is to "make sure the information keeps flowing." He coordinates sources at various levels of the government and in the country's financial industry and puts in place mechanisms to keep reporters safe and anonymous. Such methods include encrypted communications and discarding cellphones. "And we keep reporters moving around," he added.
King says the grant will provide core support to help Sahara Reporters improve its editorial skills and enhance "the look and feel of the site," with the aim of generating more revenue so its existence is not as dependent on foundational grants.
And for the "crusading, citizen media reporters who need human capital support," the Omidyar Network granted $800,000 towards the Committee to Protect Journalists, an international advocacy group based in New York. The funds will be targeted specifically towards African initiatives.
"Africa is extra difficult to cover," said CPJ Africa Advocacy Coordinator Mohammed Keita. "Communications between regions is very difficult. The infrastructure is poor, and there are different politics in each country."
Discussing the need for greater resources, Keita said that the CPJ has prioritized capacity building in African countries like South Africa and Kenya. This will include developing a network of stringers and consultants and finding permanent staff to coordinate activities with the New York office.
Keita voices certain optimism about the growth of the media in Africa. "We're seeing incredible innovation in terms of way in which journalists and citizens are informing one another," he says, but adds that in this new landscape, reporters usually "don't have any institutional support," which makes them vulnerable to government pressure.
Groups like CPJ, which work to foster a free press around the world, would not be possible without the bravery of the men and women who strive to expose the truth in all manner of repressive climates.
"In environments where governments take broad measures to restrict information, people take extraordinary measures to report it," Simon said.
Calling all HuffPost superfans!
Sign up for membership to become a founding member and help shape HuffPost's next chapter