Not so fast with newspapers' obituary say those in the know, despite the bumpy ride the industry has endured in recent years.
Its World Press Trends (WPT) 2014 report indicates that despite endless predictions about newspapers' demise, the industry's reach has continued to grow and new metrics methodologies demonstrate that newspaper content reaches more people than ever, providing new business opportunities and increased impact.
Also noteworthy is the continuous growth of digital circulations, which the report attributed to the value of high-quality journalism and a result of successful multi-platform business strategies.
The newspaper industry also generates over $160 billion of revenue globally from content sales, advertising revenues and, increasingly, other forms of diversified revenue streams.
"While circulation revenues rose globally after years of decline, advertising revenues continued to fall in 2013," was one of the findings.
The WPT pointed to a 2012 Project for Excellence in Journalism (PEJ) report that said the US newspaper industry, while still in search of a new business model, loses an estimated $7 in print ad revenue for every $1 earned in digital advertising revenue.
"Unless we crack the revenue issue, and provide sufficient funds so that newspapers can fulfill their societal role, democracy will inevitably be weakened," said Larry Kilman, WAN-IFRA's Secretary General who presented the survey to 1,000 publishers, chief editors and other senior newspaper executives at the 66th World Newspaper Congress, 21st World Editors Forum and 24th World Advertising Forum in Turin, Italy.
The role newspapers play in society cannot be underestimated and has never been more crucial, he noted.
"If newspaper companies cannot produce sufficient revenues from digital, if they cannot produce exciting, engaging offerings for both readers and advertisers, they are destined to offer mediocre products with nothing to differentiate them from the mass of faux news," he said.
Finding the sustainable business models for digital news media is not only important for businesses, but for the future health of debate in democratic society, he added.
"Regionally, 36 percent of newspapers' market value is in Asia, 34 percent in Europe, the Middle East and Africa, 21 percent in North America and 9 percent in Latin America," the report found.
Zenith Optimedia, Ipsos and comScore provided WAN-IFRA with data on advertising trends, print audience levels and digital audience behavior, respectively.
The survey includes data from over 70 countries, accounting for more than 90 per cent of the global industry's value.
As content consumers continued to shift their reading to mobile, the report tracked them to determine the numbers involved and the types of devices used.
Smartphones and tablets are delivering remarkable opportunities in audience growth, product diversification, and advertising and content revenues. It is becoming apparent that more devices mean more users for newsbrands and more consumption time. Media audiences worldwide spend more time each day using their digital devices than watching TV.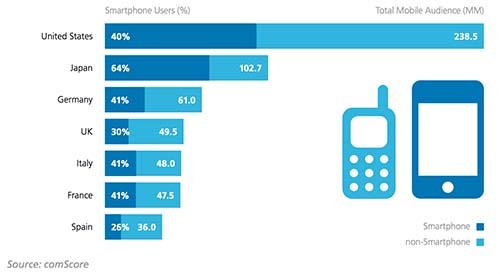 Global mobile audiences 2013 (courtesy WAN-IFRA)
Which, in turn, requires methods to ensure what's available is not all a free giveaway.
"There is growing understanding by the public that you get what you pay for, and an increasing willingness to pay for newspaper content on digital platforms," said Kilman. "With all the free offerings out there, people are still willing to pay for news that is professionally written and edited, that is independent, entertaining and engaging."
The remaining 20 were from Japan, China, India, and one from South Korea. No dailies from the Arab world, Africa, South America or Australia made it onto that particular list.
In a side note WAN-IFRA said data it compiled on the news publishing industry was provided with the assistance of a wide variety of contributors, ranging from newspaper associations to individual analysts, working in markets with varying systems of measurement.
But, it cautioned, independent audited measurements did not exist in every market and that some figures were impossible to verify independently, while others were WAN-IFRA's assessments based on historical and regional trends.
REAL LIFE. REAL NEWS. REAL VOICES.
Help us tell more of the stories that matter from voices that too often remain unheard.