The writing has been on the proverbial wall for some time, but the figures and developments mean media should be more alert to how changes are affecting their bottom lines.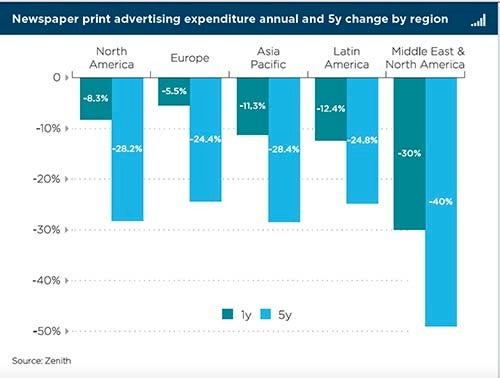 One such trend is the dip in newspaper print advertising expenditure, which in the Middle East/North Africa region plunged nearly 50% over five years as opposed to 28.2% in North America and 24.4% in Europe for the same period, against a rise in digital ad expenditures.
Global ad expenditure is clearly moving to the Internet. The past year has seen it surpass even television, which is the only other medium that's experiencing clear ad expenditure growth worldwide. Fewer and fewer ad dollars are being spent in printed newspapers, in terms of the global picture.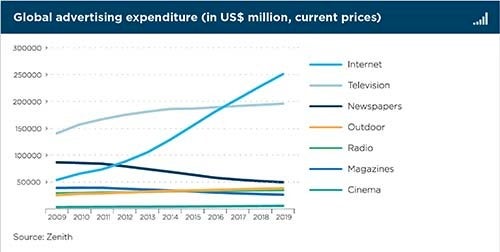 But digital advertising is no cure-all since its growth has been slow and various media actors have had to compete with giants like Google and Facebook for every piece of the pie as well as with ever-present television commercials that still sustain the airwaves, the report added.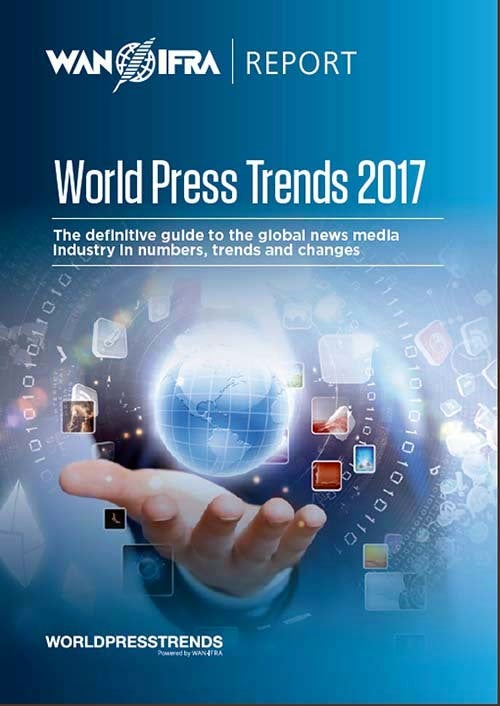 In a digest of what the report covers, WAN-IFRA director of insights Dean Roper pointed to a basic shift in the newspaper business model from 2015: reader revenue as the biggest source of income for news publishers.
Of the major takeaways, Roper listed the following three findings:
Fifty-six percent of newspapers' overall revenue came from circulation sales (print and digital) in 2016.
Reader revenue now makes up about 30 percent of total digital revenue.
However, total global newspaper revenues fell 2.1 percent in 2016 from a year earlier, and are down 7.8 percent over the last five years.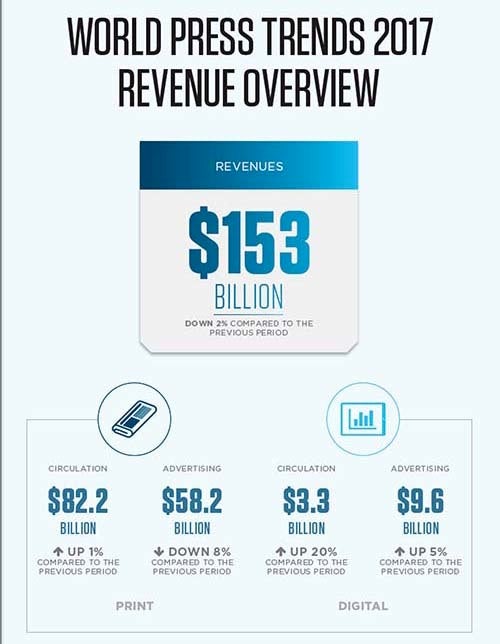 Trust, a very relevant topic following a frenzied two years of snowballing disinformation and blatant lies mostly on social media, particularly Facebook, features as the report's first chapter.
In 2016, the platform discussion gained another dimension as it became clear that news outlets deliberately publishing untrue stories were seriously influencing public opinion. In the autumn, with the US election drawing near, Facebook figures showed that fake news sources were now outperforming mainstream media in terms of user engagements for the top 20 election stories. In other words; people were turning to stories that confirmed their own political bias – disregarding any journalistic merit.
The report said the fundamental issue was Facebook's business goal to keep users in the platform's newsfeed as long as possible, which is achieved algorithmically.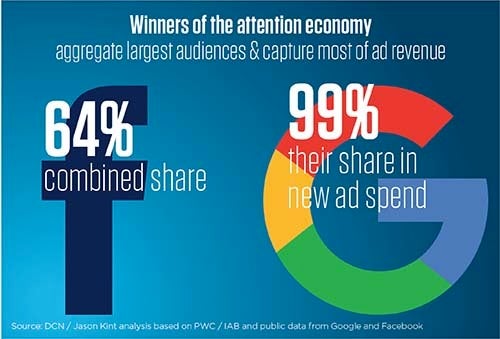 The rest is history, as we've seen in the aftermath of the election, and on many other stories.
Another trend WAN-IFRA highlights is relationships with customers and a move away from attracting eyeballs in a bid to deliver high-quality journalism.
The business model is shifting from selling eyeballs to advertisers to selling journalism to readers. Alongside this development, key metrics have moved from pure scale in favor of loyalty, retention and building community. In parallel, social media platforms continue to affect news publishers' business, competing for consumers' time.
The report said the news industry could benefit from understanding its audience, wherever it comes from, and creating relevant content to build engagement beyond the click-based attention economy.
"We're at the beginning of a new era in digital journalism, one where people's needs are at the center," it added referring to a more user-centric experience.
Looking ahead, the report noted that the news publishing industry will depend increasingly on cultivating "mutually valuable relationships" with readers, relying mainly on access to, and analysis of, user data.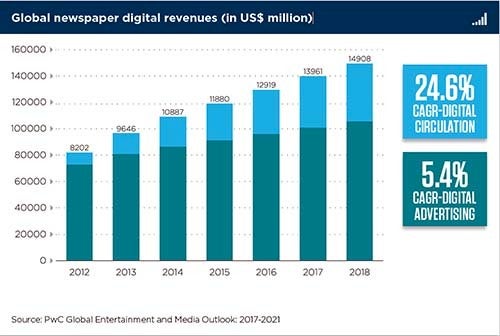 That dovetails with an interesting finding that news consumers are willing to pay for content.
While readers appreciate free online articles, editorials and other materials, the study referred to the 2017 Digital News Report by the Reuters Institute for the Study of Journalism that tracked the trend.
"As the subscription model is gaining traction more widely in the digital content economy, there are signs that consumers are increasingly willing to pay for news," it said.
An annex to the report provides detailed data tables on circulation in paid-for and free dailies on all continents. The press trends database is available online and provides the needed context for a fuller picture.
Popular in the Community