World Refugee Day (June 20) calls us to action to feed war and disaster victims who have been forced to flee their homes.
The United States must lead by increasing funding for food aid programs, not eliminate them as proposed by the Trump administration in its budget proposal.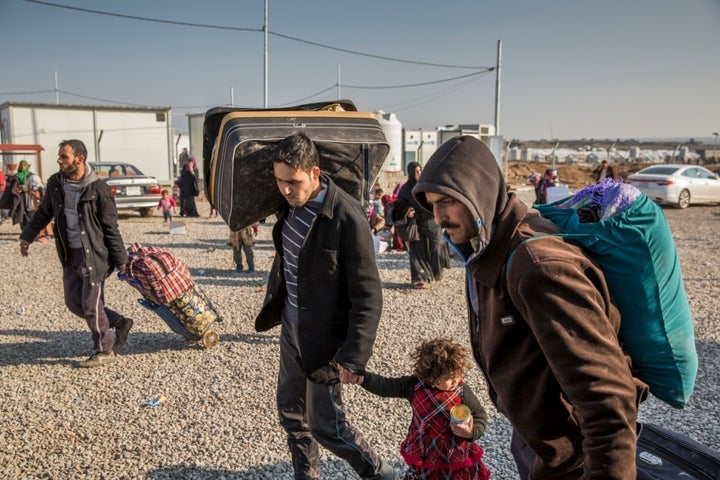 Catholic Relief Services pleads, "With nearly 65 million forcibly displaced people in the world right now—more than 20 million of them refugees—and famine-like conditions in four countries, the proposed elimination of U.S. food aid especially would create a massive gap in assistance, resulting in lives lost."
Think of the 6 million Syrians who have been internally displaced because of a civil war, or those now fleeing the battle to retake the city of Raqqa from ISIS.
Hunger is the other foe Syrian civilians face, with some 9 million needing food assistance.
But Syria is not alone in its suffering; there are 45 nations needing emergency food assistance according to the US Famine Warning System.
We see the statistics but we rarely hear about the human toll for civilians in these countries. Families in war or disaster zones lose their homes, livelihoods and food supplies.
A displaced farmer cannot grow food for their community. The whole structure of food supply breaks down with implications for years to come.
U.S. food aid programs play a critical role in helping refugees worldwide survive difficult times and build a future. But only if we fund these programs.
In Iraq, the battle to defeat ISIS in the city of Mosul has caused many civilians to be uprooted from their homes. They flee to refugee camps where they can receive humanitarian aid.
Sally Haydock of the World Food Programme (WFP) says, "The situation in western Mosul has deteriorated substantially and families are arriving at camps and mustering points terrified, tired and hungry from the journey under the blistering summer heat. WFP has prepositioned packages of ready-to-eat food along all escape routes."
At the Iraqi camps WFP has been giving small children a nutritional peanut paste called Plumpy'sup. This food can save the lives of these young displaced war victims. WFP has the Plumpy'sup ready because of advance planning with enough funding.
When humanitarian agencies have supplies they can save lives and help rebuild food security.
But if the U.S. cuts its food programs the whole structure of international aid will be disrupted severely. Children won't be able to get life-saving aid. Families will struggle with reduced rations or none at all.
WFP and other relief agencies need more funding during times of conflict and disasters, not less.
Four nations (Nigeria, Somalia, Yemen, South Sudan) are at the gravest risk of famine.
Catholic Relief Services (CRS) is providing food and agricultural support in South Sudan where 3.6 million people have been uprooted by conflict.
CRS also operates in neighboring Uganda where many South Sudanese have fled to BidiBidi, the largest refugee camp in the world.
But how can CRS carry out their work if they have no funding?
It is imperative that the United States increase its funding for food aid programs. We know that if we show strong leadership in fighting hunger, other nations are more likely to do their part. After World War II, there was incredible international cooperation because the United States made fighting hunger a priority. Food ambassador Herbert Hoover got other nations to help stop the post-war famine.
On World Refugee Day we should think of a child in a Cameroon refugee camp after being displaced by the Boko Haram terrorists.
If we fund the relief effort this displaced child can receive food to ward off malnutrition. They can have hope instead of hunger. The camp may be able to set up a school and WFP will provide meals between classes. We can give the child some sense of normalcy until the wars end and they can return home. And when they do return home food support can help reclaim the livelihoods of everyone in their community.
This child and millions of other refugees can be saved. That is how you build peace in this world. So on World Refugee Day let's commit ourselves to aiding the displaced and hungry. It can start by prioritizing hunger relief in our international budget.
Popular in the Community