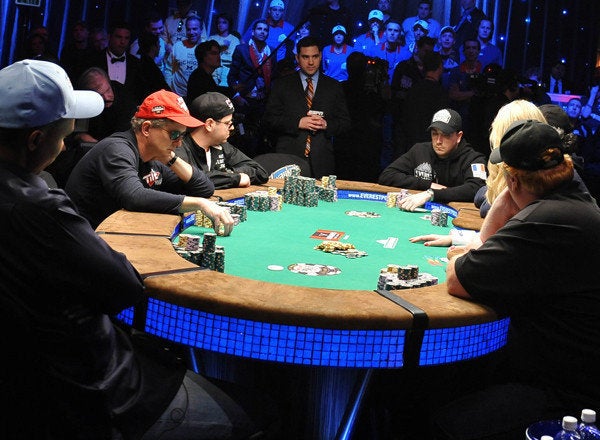 LAS VEGAS (AP) -- Two players were eliminated Saturday after more than three hours of no-limit Texas Hold 'em at the World Series of Poker, increasing guaranteed paydays for the seven players left in the tournament.
Canadian poker player Matthew Jarvis came one card from doubling his stack through Michael "The Grinder" Mizrachi but was eliminated in eighth place.
Cuong "Soi" Nguyen, the oldest finalist at 37 and the table's only amateur, was the first eliminated after gambling with an ace-king combination just before minimum bets were set to rise. He lost against Jason Senti's pocket queens.
Senti was nearly eliminated just before players took their second break of the day, but consecutive diamonds gave him a flush and brought the players far closer in chips than at the start of play.
"It's good and bad," Mizrachi told Mike "The Mouth" Matusow, after Matusow pointed out that Senti's rivered flush was worth more than $400,000 - the difference between seventh and sixth place.
After 90 hands and more than four hours on the felt, Mizrachi had a chip lead with about 53 million chips, just ahead of 23-year-old Jonathan Duhamel who started the day with a dominant lead over the rest of the field with 24-year-old John Dolan.
The chips don't have any monetary value, but are required to remain in the running for the $8.94 million top prize. Each player needs to lose all his chips to be eliminated from the tournament that started with 7,319 entrants paying $10,000 each to buy in.
But Mizrachi's win over Jarvis, Senti's aggressiveness throughout the first three hours and Cheong's consistent play early altered the dynamics of a game where community cards make all the difference.
Short on chips, Jarvis moved all-in with a pocket pair of nines, and Mizrachi called with an ace and a queen. The first three community cards brought two queens, giving Mizrachi a three-of-a-kind and leaving Jarvis few options to win the hand.
A nine on the turn turned the tables, giving Jarvis a full house and putting the table's most famous professional on the ropes, with less than a one-in-five chance of winning the hand.
A river ace gave the 29-year-old Mizrachi a better full house, sending his onstage supporters into a frenzy at the Rio All-Suite Hotel & Casino in Las Vegas.
"As soon as I got short, I realized that I'm the guy that everyone's coming after," Jarvis said afterward, tearing up in front of reporters. "I've got to put the pressure back on the big stack. You've got to play for the win - you can't put scared chips in there."
Jarvis won $1.05 million for placing eighth.
The gamble - Jarvis and Mizrachi were about even to win before the community cards were dealt - was Mizrachi's attempt to put himself in good position to cap off what would be an unprecedented series.
He is looking to win the main event after winning the series' first of 57 open tournaments, a $50,000 buy-in mixed game championship worth $1.56 million. A test of all-around poker skill, the Poker Players Championship is considered the series' most prestigious tournament behind the main event.
Just before the players broke for dinner, one Mizrachi supporter briefly chanted: "Bracelet, bracelet."
Senti, a 26-year-old poker professional, trounced Nguyen in ninth in an about-even scenario. Senti hit a queen on the flop for a three-of-a-kind, protecting his hand, when Nguyen, a medical supply company manager, hit a king on the river to make a pair.
Nguyen said he wasn't afraid to bust first because getting any further would have been "gravy."
"I wasn't afraid, because nobody expected me to get this far anyways," he said. "Hey, I lost for a raise, and I'm OK with that."
Nguyen won nearly $812,000 for his finish, but did not add to his winnings as each player was paid the ninth-place jackpot back in July.
Senti wagered all his chips four times in the first 15 hands but never found a challenger.
The tournament resumed 111 days after the nine finalists last played together.
Calling all HuffPost superfans!
Sign up for membership to become a founding member and help shape HuffPost's next chapter