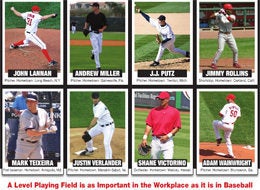 The labor community has largely put on the back burner its efforts to pass the Employee Free Choice Act -- wary that the pro-organizing provision lacked the votes to pass a filibuster and distracted by the more pressing matter of pushing health care reform.
But it hasn't dropped all its efforts -- on Wednesday, the union conglomerate, AFL-CIO, took out an ad in three major Capital Hill newspapers, tying the legislation, which would provide more avenues for workers to organize, to the beginning of the World Series.
The Major League Baseball Players Association is one of the strongest unions in the country in addition to being a member of the AFL-CIO. And as part of the ad, some of the best-known names in the game, including three players who are participating in the fall classic -- Jimmy Rollins, Mark Teixeira and Shane Victorino -- pitch the societal benefits of stronger labor organization.
"[A]ll Americans should have the same opportunity we've had -- to be able to join a union without being fired and to negotiate with their employers without being penalized," their statement reads. "Today, our country is facing some tough times. Health care costs are skyrocketing. Families are losing homes. Savings and retirement income are disappearing overnight. Now more than ever, we need a strong union movement to protect our jobs, our pensions, and our future. The Employee Free Choice Act simply guarantees a level playing field for all workers. It makes sure everyone plays by the same rules. That's as important in the workplace as it is in baseball."
The print ads ran on Wednesday in The Hill, Roll Call, and Politico. The players who signed a statement in support of EFCA are as follows: Heath Bell, Dave Bush, LaTroy Hawkins, Torii Hunter, John Lannan, Andrew Miller, J.J. Putz, Jimmy Rollins, Mark Teixeira, Justin Verlander, Shane Victorino and Adam Wainwright.
Calling all HuffPost superfans!
Sign up for membership to become a founding member and help shape HuffPost's next chapter