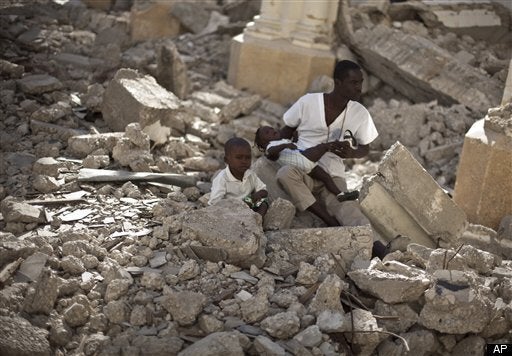 NEW YORK -- Soon after last year's devastating earthquake in Haiti, which killed over 230,000 people, leaders from around the world gathered in New York for a donors conference, pledging almost $6 billion in aid for 2010-'11.
"Today, the international community has come together, dramatically, in solidarity with Haiti and its people," United Nations Secretary-General Ban Ki-moon said in his closing remarks at the March event. "Today, we have mobilized to give Haiti and its people what they need most: hope for a new future. We have made a good start, we need now to deliver."
Nine months later, however, the results have been disappointing. Only 63.6 percent of the money pledged for 2010 was actually disbursed, according to the Office of the U.N. Special Envoy for Haiti, and some countries have reneged on their promises, sending less than 10 percent of the amount they pledged to spend on aid.
On Tuesday, President Obama urged the international community to "fulfill the pledges it has made to ensure a strong and sustained long-term effort."
The U.S. pledged $1.5 billion in reconstruction aid (on top of a billion dollars it already sent for relief aid and more than $120 million to erase Haiti's debt). But it has disbursed just $120 million of its pledge, and Congressional efforts have stalled due to concern over Haiti's leadership vacuum and political limbo.
And some of the world's major economic powerhouses have been especially stingy with their support -- China and Russia each donated about $14 million in 2010 (combined, that's less than half the $66 million from the "Hope for Haiti Now" charity fundraiser hosted by George Clooney last January).
Other countries -- Morocco, Qatar, the Organization of American States -- have donated less than four percent of what they pledged for 2010 at the conference. Embassy spokespersons for those countries did not return calls from The Huffington Post. Mexico has disbursed about 20 percent of the $10.1 million it pledged, Thailand is preparing to disburse about $2.5 million of the $10.8 million it promised and Argentina has disbursed just 46 percent of the $17.8 million it pledged. Spokesmen for Mexico and Argentina did not return calls for comment and a spokesperson at the Thai embassy confirmed the amount of its disbursement but did not elaborate further.
Reasons for the lack of follow-through to aid the poorest country in the Western Hemisphere as it grapples with one of the worst disasters in recent decades vary from widespread concern about the stability of the Haitian government to bureaucratic inertia to guilt-induced posturing.
"In the spur of the moment, you want to show solidarity," says Saundra Schimmelpfennig, former program coordinator at the American Red Cross who writes the 'Good Intentions Are Not Enough' blog on philanthropy. "But then the money doesn't come through -- it happens often enough that it's a common enough occurrence," she says, pointing out that countries also reneged on their promises of aid after the 2004 tsunami. "There was money promised then that wasn't delivered either."
Some potential donors had concerns about the Haitian government -- after a divided election last year for the legislature and presidency, the country still doesn't have a new government -- and therefore decided not to disburse money, says Jocelyn McCalla, senior adviser to Haiti's special envoy to the UN.
"There is plenty of frustration," he says, noting that French President Nicolas Sarkozy visited Haiti last year and committed to rebuilding one of the main hospitals in Port-au-Prince but "there is very little evidence you can see that it is being done."
McCalla also expressed frustration with the World Bank, which maintains a trust fund for Haiti aid and which has been criticized for assessing fees when money is withdrawn. Bill Clinton and Haitian Prime Minister Jean-Max Bellerive of the Interim Haiti Recovery Commission were locked in a dispute with the bank last August, saying that the fees charged are too high for small-scale projects -- "as much as a $50,000 bank fee to withdraw funds," reported the Miami Herald at the time.
The Haiti Reconstruction Fund's program manager, Joe Leitmann, says that the fund has kept the fees under control, emphasizing that the World Bank has agreed to a moratorium on its fees for the fiscal year (July 2010 through June 2011) and the UN has agreed to waive most of its fees. The fund has raised $267 million so far, of which $193 million has been allocated, almost 83 percent. So far, the total fees are coming in below their estimates, totaling 2% of the fund, which consists of $1.6 million to the World Bank for administering the fund and $4.5 million to the UN.
Leitmann says that the fund's money has gone to the largest housing project in Haiti, building permanent housing for 50,000 people and upgrading facilities for 150,000, in addition to green management projects, debris removal and a partial credit guarantee fund to help small and medium-size enterprises.
REAL LIFE. REAL NEWS. REAL VOICES.
Help us tell more of the stories that matter from voices that too often remain unheard.