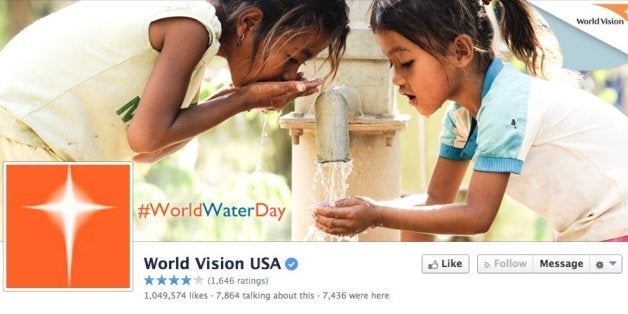 Just days after announcing that it was revising its handbook to allow the hiring of Christians who are in same-sex marriages, World Vision leaders said Wednesday that the organization had "failed to be consistent" with the Bible and had reversed its decision after a board meeting.
"The board acknowledged they made a mistake and chose to revert to our longstanding conduct policy requiring sexual abstinence for all single employees and faithfulness within the Biblical covenant of marriage between a man and a woman," said a statement signed World Vision President Richard Stearns and Jim Beré, Chairman of the World Vision U.S. Board.
World Vision, one of the largest international relief organizations, was both cheered by LGBT advocates and heavily criticized by conservative Christians when it announced its first change to allow married LGBT employees.
Reaction to its reversal played along similar lines.
"This whole situation has left me feeling frustrated, heartbroken, and lost. I don't think I've ever been more angry at the Church, particularly the evangelical culture in which I was raised and with which I for so long identified," wrote Rachel Held Evans, a popular blogger who had rallied her readers to donate to World Vision during the short period when it allowed married LGBT employees. "I confess I had not realized the true extent of the disdain evangelicals have for our LGBT people, nor had I expected World Vision to yield to that disdain by reversing its decision under pressure. Honestly, it feels like a betrayal from every side."
Meanwhile, Russell Moore, president of the Ethics and Religious Liberty Commission of the Southern Baptist Convention, who had loudly criticized the initially change in World Vision's policy, applauded the reversal.
"World Vision's right decision, as articulated in their board letter, conveys a spirit of Christlikeness and humility in tone and content," he tweeted. "World Vision has done the right thing. Now, let's all work for a holistic gospel presence, addressing both temporal and eternal needs."
World Vision's full statement is below.

Dear Friends,

Today, the World Vision U.S. board publicly reversed its recent decision to change our employment conduct policy. The board acknowledged they made a mistake and chose to revert to our longstanding conduct policy requiring sexual abstinence for all single employees and faithfulness within the Biblical covenant of marriage between a man and a woman.

We are writing to you our trusted partners and Christian leaders who have come to us in the spirit of Matthew 18 to express your concern in love and conviction. You share our desire to come together in the Body of Christ around our mission to serve the poorest of the poor. We have listened to you and want to say thank you and to humbly ask for your forgiveness.

In our board's effort to unite around the church's shared mission to serve the poor in the name of Christ, we failed to be consistent with World Vision U.S.'s commitment to the traditional understanding of Biblical marriage and our own Statement of Faith, which says, "We believe the Bible to be the inspired, the only infallible, authoritative Word of God." And we also failed to seek enough counsel from our own Christian partners. As a result, we made a change to our conduct policy that was not consistent with our Statement of Faith and our commitment to the sanctity of marriage.

We are brokenhearted over the pain and confusion we have caused many of our friends, who saw this decision as a reversal of our strong commitment to Biblical authority. We ask that you understand that this was never the board's intent. We are asking for your continued support. We commit to you that we will continue to listen to the wise counsel of Christian brothers and sisters, and we will reach out to key partners in the weeks ahead.

While World Vision U.S. stands firmly on the biblical view of marriage, we strongly affirm that all people, regardless of their sexual orientation, are created by God and are to be loved and treated with dignity and respect.

Please know that World Vision continues to serve all people in our ministry around the world. We pray that you will continue to join with us in our mission to be "an international partnership of Christians whose mission is to follow our Lord and Savior Jesus Christ in working with the poor and oppressed to promote human transformation, seek justice, and bear witness to the good news of the Kingdom of God."

Sincerely in Christ,

Richard Stearns, President

Jim Beré, Chairman of the World Vision U.S. Board
Related
Popular in the Community