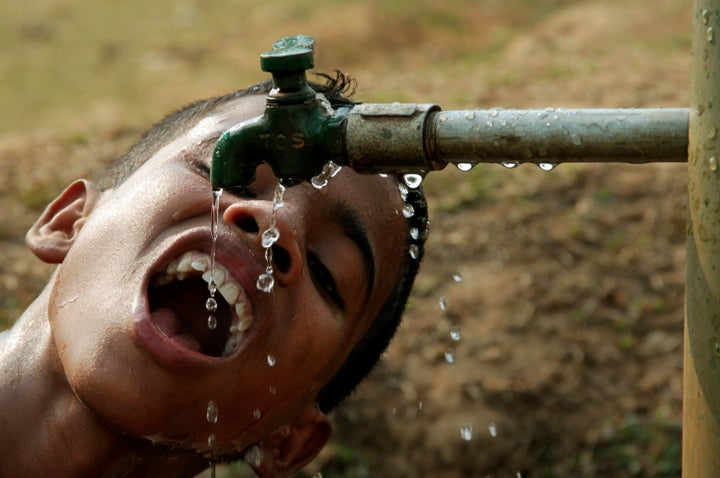 Imagine that when you woke up today, before logging online to check email or read this post you had to walk a mile or more, wait in line with as many buckets as you could carry, fill them with whatever water you can find, and haul the 50 pounds or so of water you collected back to your house, splashing on your face and up your arms with each step. It's the only water you and your family will have for the rest of the day. You'll bathe from these buckets, wash your clothes, cook your food, and drink whatever water you need to survive. It's not exactly safe to drink and one of these days, it could kill you. But if you and your family don't drink it, you'll certainly die.

Happy World Water Day.

Today, almost one in eight people on the planet won't be able to secure even a glass of safe water to drink. More than twice as many people won't be able to experience the dignity of using a toilet. For women, this mostly means waiting until the cover of night to defecate which may provide some level of privacy but of course doesn't come without personal risk. They may sound unrelated but water and toilets couldn't be more linked.

March 22 marks the 19th anniversary of World Water Day, a day designated by the United Nations to drive attention to and action against the global water and sanitation crisis. Most people reading this post are not aware of the significance of this day. It's hard to relate when you have water at the turn of the tap, the option to buy bottled water at the 7-11 down the block, and can access a toilet within 100 yards most anywhere you go.

We're here to change that.
We at Water.org envision a world where everyone can drink safe water and access a toilet. We also see a world where our collective consciousness rejects the inhumanity of it all. It's entirely possible to solve this crisis.

We've known how to make water safe and to eradicate water-related diseases in the U.S. for more than a century. Yet, today diarrhea alone is the second-leading cause of death in children under five. It kills 1.5 million children a year -- more children than malaria, AIDS, and measles combined. Imagine if, today, we discovered the cure for AIDS -- and a century later children were still dying because we couldn't figure out a way to deliver it. We need to deliver water and sanitation solutions more quickly. The time is now.

This week, you can do something to help. It's simple, and it takes less than three minutes -- Donate your voice. Because while donating dollars is critical, driving awareness is equally important. How can we fix a problem if most people don't even know it exists?

Everyone has a voice, a community, an audience, an influence. In the age of Facebook and Twitter, more than 800 million people have become producers, curators, and advocates --dictating what's trending and what's not. This week, amplify your voice. Make the fight for water and sanitation for all THE global, human cause. We've made it easy.

Go to Waterday.org and follow the one-step instructions to donate your voice. By donating your Facebook or Twitter credentials, Water.org will automatically post a fact to your account and invite your friends and followers to join you. Each day, through March 24 only, your community will automatically receive a fact or story, shared by you. This is your chance to use your platform for good and help lead the way to solving the global clean water crisis.

Support HuffPost
The Stakes Have Never Been Higher
Related
Popular in the Community