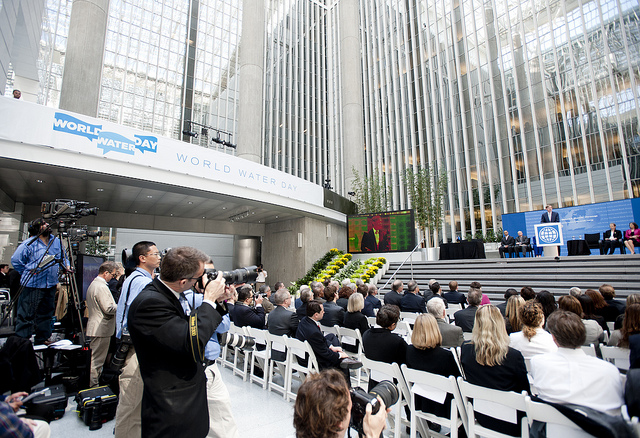 © Ryan Rayburn/World Bank
After two successful years bringing major players (including Secretary of State Hillary Clinton) in the water and sanitation sector together for World Water Day, it's a good time to think about taking those collaborative efforts outside the glass atriums of Washington DC and into the field.
Perhaps the most interesting outcome was engaging with organizations discussing ideas to really do business differently. If done, doing business differently would entail shifting away from doing actual program implementation or single, isolated projects alone, to working collaboratively on game changing the approaches on the ground. These approaches might look like collaborative consulting groups, strategic support teams or targeted investment units. Instead of implementing their own projects, these collaborative structures, would look to identify the key leverage points and the right local partners to achieve regional or municipal scale in a particular country as proof points. An example of a leverage point could be helping to foster in-country advocacy, wide-spread use of monitoring and evaluation platforms like FLOW, supporting market-based sanitation solutions or empowering local visionaries to operationalize their dreams.
There are two examples of countries poised for testing this collaborative model: Bangladesh and Liberia.
In Bangladesh, you have a visionary Dr. Dibalok Singha, Executive Director of Dushtha Shasthya Kendra (DSK) an NGO that has been working on water and sanitation issues for nearly 20 years in Bangladesh. The test for a collaborative effort would be to find the right leverage to support Dr. Dibalok's vision of improving sanitation on a city wide scale.
In Liberia the Water and Sanitation Program at the World Bank recently mapped more than 7,000 waterpoints in rural Liberia using FLOW. The challenge for a collaborative team in Liberia would be to choose a test district based on this data and find the triggers working with local government and the national government to achieve reliable access to water for everyone in a district.
This is an approach already being experimented with by Water For People and the local government in the Rulindo District of Rwanda.
It is possible to solve the water and sanitation challenge, but it won't be addressed by applying the same thinking as in years past. It will take both technological innovation and innovation in the approaches, and learning why things worked and failed. There is tremendous opportunity to take the collaborative efforts of World Water Day and apply them in the work that we all do day-to-day. Let's get to it.

Popular in the Community