NEW YORK -- At St. Joseph's church, a small but bustling Catholic congregation near downtown Brooklyn that draws a mix of Hispanic and Caribbean families, the youth group has spent two years chasing an ambitious goal.
Between prayers and pleas for their dreams to be realized, they've sold homemade tacos and enchiladas after Sunday Mass, deejayed dance parties on Valentine's Day and Cinco de Mayo, hawked chocolate bars in the winter and washed cars during the muggy summer.
The result: nearly $30,000 raised to send 10 Catholics in their late teens and 20s to Rio de Janeiro, Brazil, to attend what's expected to be one of this year's largest Christian pilgrimages. World Youth Day is a nearly weeklong Catholic celebration of faith that begins July 24 and, for many attendees, is a once-in-a-lifetime chance to catch Pope Francis during his first major international appearance.
"Here in New York, I don't get to see many young people at church every Sunday," said Kelly Calderon, 18, a St. Joseph's parishioner who is one of nearly 300 pilgrims headed to South America from the Catholic Diocese of Brooklyn. "To see youth from everywhere, I think it'll give me hope that the Catholic Church is present in all these countries, that it's alive."
At least a few hundred thousand people ranging in age from late teens to early 30s are expected to descend upon Rio, the second largest city in a nation with the world's largest Catholic population, for six packed days of prayer, teaching sessions with bishops, and cultural exchanges interspersed with evening music and dance. It all leads up to a public prayer vigil with Francis on Saturday, followed by Mass with him on Sunday.
"Everyone is hugely excited to see the new pope, but even before the new pope was elected, they had interest to go meet youth from all over the world," said Sr. Juliet Duruanyaoha, the director of religious education at the 300-member Brooklyn parish who will chaperone the pilgrimage. Along with Calderon, it will be the nun's second consecutive time at the event, which she also attended with parishioners in Madrid in 2011.
"It will increase their faith in the Catholic Church, to see that we worship one God, that we have one faith. We're praying that it will bring young people closer to God," she said.
In a sense, that's the goal of the World Youth Day, which was launched by Pope John Paul II in 1985 and held its first international gathering in Buenos Aires, Argentina, in 1987. Churches organize national gatherings, which still take place annually, but the international celebration happens every two or three years.
Though it's only a small fraction of America's 75 million Catholics, of whom about 20 percent are between 18 and 29, the United States Conference of Catholic bishops estimates that about 9,500 U.S. pilgrims will attend this year, with one of the largest groups hailing from New York City. The number is significantly less than 29,000 American pilgrims who went to Madrid three years ago. It also pales in comparison to the 15,000 U.S. Catholics who journeyed to Sydney, Australia, in 2008 and the 24,000 in Cologne, Germany, in 2005.
It's unclear exactly why fewer Americans will attend, though Catholic delegations from nations such as Canada and the Philippines also have decreased. Despite anticipating up to 2 million pilgrims, only about 350,000 people have registered so far; more are expected to arrive by the end of the pilgrimage when the pope holds public prayers.
One likely factor is money. The high cost of travel to Brazil and the shorter time span between World Youth Days -- two years instead of the usual three -- means churches had to raise money for pilgrims in less time. Another factor may be safety concerns. A prominent Canadian priest who is leading his nation's contingent, the Rev. Thomas Rosica, said in a recent report that he suspected high costs coupled with mounting protests in Brazil over government spending on events like the 2014 World Cup and the 2016 Summer Olympics, are partially to blame.
National and local officials in Brazil have pledged $60 million to cover security, logistics and transportation for the event, but the Church's request for more government aid was denied. Brazilian reports have estimated that the event will cost up to $159 million in total.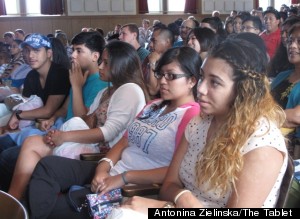 Kelly Calderon, right, joins members of her youth group for a Diocese of Brooklyn pre-World Youth Day meeting and Mass at the Immaculate Conception Center in Queens, New York.
Christopher Bellitto, a church historian at Kean University in Union, N.J., said that despite lower attendance -- Madrid celebrations had 450,000 registrations and attracted more than a million Catholics by the week's end who came to see then-Pope Benedict -- this year's location and the presence of Pope Francis on the world stage could ensure that the event will still make its mark.
"It's going to be quite a coming out party, a homecoming of sorts for the first Latin American pope. World Youth Day has become a bit of a pep rally for Catholicism," he said.
At previous gatherings, Benedict spoke out against the idea of World Youth Day being a secular rally or rock concert, as it's often described, though the idea of reinvigorating Catholic faith is very much part of the event and may be even more the case in Brazil. A Pew Research Center report released Thursday showed that while 92 percent of Brazilians were Catholic in 1970, the decline of the church's hold and the growth of Protestantism has led to 65 percent, or 123 million, of Brazilians being Catholic today. From 2000 to 2010, the Catholic population decreased by 2 million while the number of Protestants rose from 26 million to 42 million with them now making up 22 percent of the nation.
During the first few months of his papacy, Francis strongly encouraged Catholics to evangelize, and has made broad overtures to lapsed Catholics, atheists and people of other faiths. In polls, he's received high ratings from Catholics and non-Catholics alike for his non-traditional style and personality. Both those factors could work in the church's favor during his first visit to Brazil as pope, said Bellitto.
Already, the pope has said he will forgo the traditional enclosed popemobile during the festivities and instead ride in the same open-topped car he uses to greet crowds in St. Peter's Square. During his first papal visit to South America, he'll also travel about 120 miles from Rio to Aparecida to visit a Marian shrine, speak to residents of a Rio slum and visit patients at two hospitals that serve people with AIDS, the poor and juvenile prisoners.
"Pope Francis, like Pope John Paul II, is an extrovert, which will help when he's on the stage like in Brazil. There's may be more energy this year simply because Francis is, in a sense, pitching on home turf. And we've seen how this pope likes to surprise," he said. "He's certainly not always bound by tradition. What will he do that's unexpected?"
But even as papal politics and global church concerns loom, for pilgrims such as Calderon, the Brooklyn parishioner who is attending with her youth group, World Youth Day is simply a chance for spiritual reflection and bonding.
"We leave Sunday and I can't wait. It's amazing how you meet people from everywhere, and they are all open to sharing their faith," Calderon said. "At first, you're nervous, there's so much going on, and it can get messy and confusing. But when you see the pope, there's a calmness and an excitement at the same time. You can feel the love."
Related
Before You Go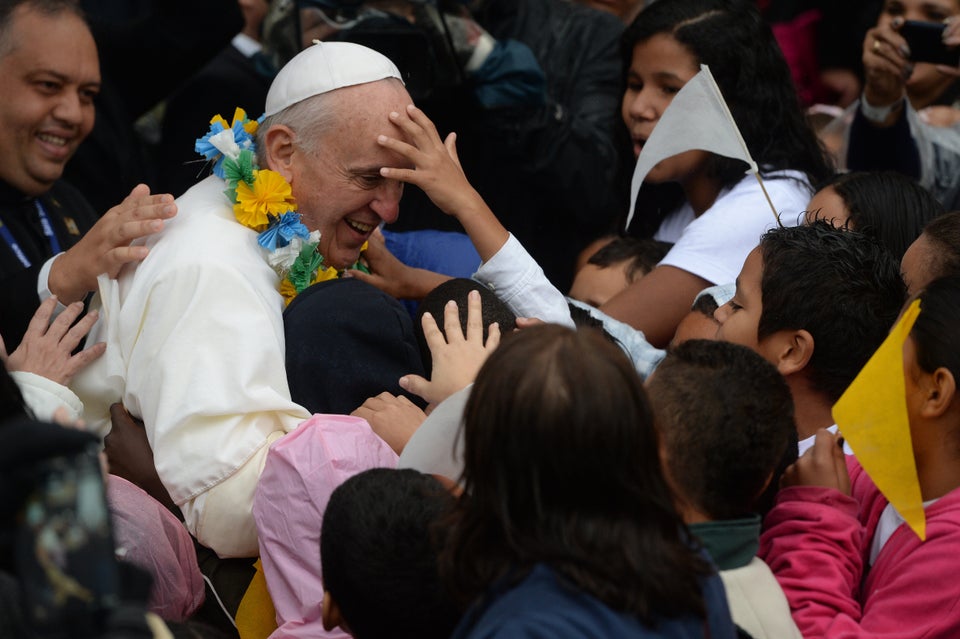 Pope Francis With The People
Popular in the Community