Last fall, teen philanthropist Isaac J. Kassin was awarded our James Jay Dudley Luce Foundation's coveted Luce Leader 2012 Award for his work in philanthropy, including his signature fund within our foundation. Accepting the award at a gala at the law firm of Skadden Arps, 17-year old Isaac made an impassioned speech with his nieces and nephews at his side on the need for giving back that was so on-target and mature, it left the audience stunned.
At the reception, my friend Jumaane Williams of Brooklyn presented Isaac with a proclamation from the New York City Council for his efforts in philanthropy, and Congressmember Carolyn B. Maloney, and New York City Mayor Michael Bloomberg sent letters of support. At the event, Isaac showcased a new initiative campaign he began this past summer, while at a pre-university business program at The Wharton School of Business with his two friends Amay Bhojani and Seal-Bin Han.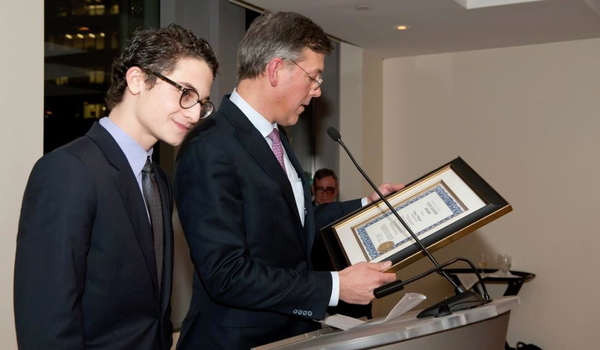 Isaac J. Kassin cited for leadership award at J. Luce Foundation event. Photo courtesy Isaac Kassin.
The mission of the J. Luce Foundation is supporting young global leadership, and their success in accomplishing this goal is illustrated in the philanthropic accomplishments of the student-run organization called The World Youth Initiative, founded by three students under the auspices and mentorship of the Foundation. Amay Bhojani, Seal-Bin Han, and Isaac J. Kassin founded this organization with a clear vision of the youth of today standing at the forefront of the battle to improve living standards in developing countries. Co-Founder Seal-Bin Han explains:
We like to say that The World Youth Initiative is a response to today's problems, by tomorrow's leaders. What we are trying to accomplish is the constructive empowerment of diverse youth from around the world, who come from different backgrounds, through the undertaking of projects that target prevalent issues in their countries. Through these projects, youth involved in the World Youth Initiative can gain crucial skills in leadership, communication, and management, while subsequently contributing to the global community.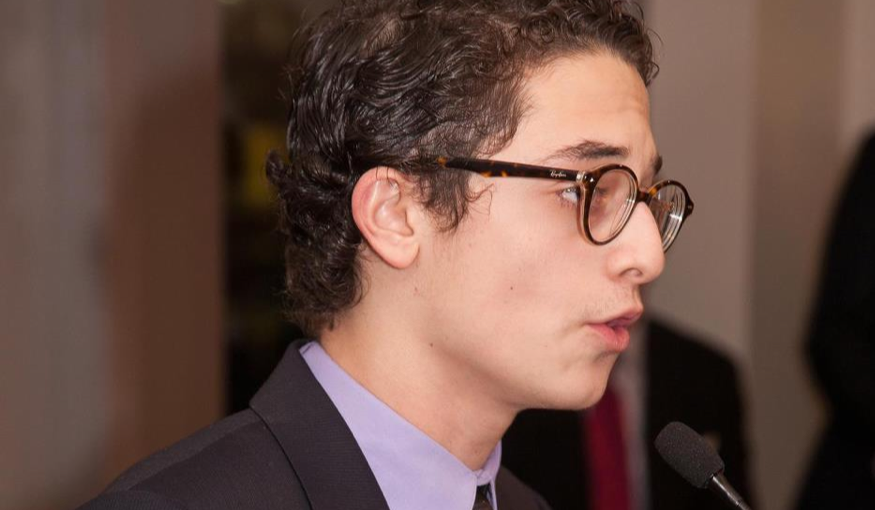 Isaac J. Kassin speaking on philanthropy at Skadden Arp. Photo courtesy Isaac J. Kassin.
The projects range from a variety of causes, including microfinance, sustainable housing, and environmental conservation, among others. One of the many cool projects which financing is currently underway is the deliverance of a medical-supply and school-supply filled ambulance to a poor town in Haiti. Although these far-ranging projects that finance organizations like Orphans International Worldwide (OIWW) and Ronald McDonald House Charities illustrate WYI's success, the initiative's achievement is also measurable by the number of other young leaders they are actively training to become involved in philanthropy themselves.
I have passed the torch to the next generation - and this profound student-run organization has passed it even further. To this day, from the first event Isaac hosted with his friends, to The World Youth Initiative (WYI) projects that are currently being worked on today, young students have empowered over fifty children around the world, raised over $50,000 dollars for global non-profits, and impacted over ten countries.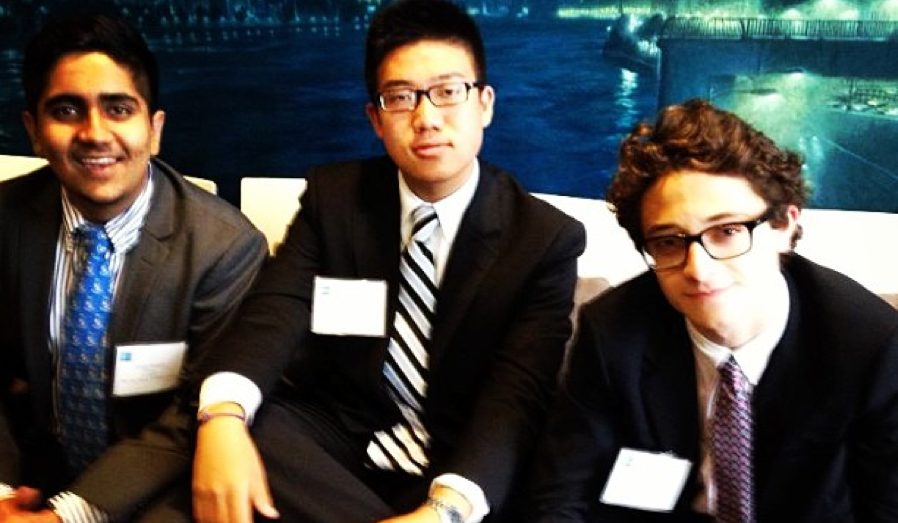 World Youth Initiative founders Amay Bhojani, Seal-Bin Han, and Isaac Kassin. Photo: Isaac Kassin.
In addition, WYI continues to spread awareness about vital issues and the importance of altruism through the publication of articles in The Stewardship Report, the publication of a charity book (The Alphabet Kids Go to The Planetarium), and massive school wide presentations given by WYI members.
Dubai representative and co-founder Amay Bhojani explains the scale of the WYI:
Currently, we have around twenty regional branch managers who have begun their own philanthropic initiatives in their communities. Eleven of them are scattered around the U.S., while nine of them are in foreign countries. And they are all inspired to bring change. Think about that for a moment. It's incredible.

We are experiencing a true movement. When youth see youth doing good, while enjoying the process, they are galvanized into action. When students form into groups of mutual interests and carry out activities with their peers on a charitable level, then their hobbies become inherently charitable and vice versa. It's truly remarkable.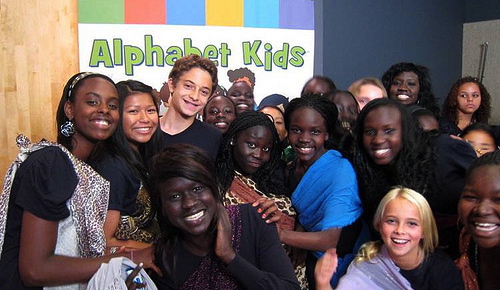 Isaac J. Kassin with the multicultural chorus at an "Alphabet Kids" event. Photo: J. Luce Foundation.
What has been financing this incredible organization? Sporting events, musical and theatrical concerts and shows, auctions and bake sales, mini-festivals, and social gatherings have been helping. However, the trick is all in the business model. Co-founder Isaac J. Kassin explains:
Kids run this place. That's our magic sauce, our secret formula. You see, we live in a world where the need for youth to speak up and voice their thoughts is growing exponentially. We no longer live in a world of ageism. Kids are the future.

We are successful because kids are making all the decisions. Kids are organizing the events. Kids are managing the fundraising. Kids are making the presentations. We have teenagers authoring the business plans, and middle school kids putting together the venture strategies. If you come into our business meetings, you won't see uptight uninterested individuals. You'll see individuals with bed-times, individuals with high-school drama, and individuals who are university matriculates, who all have one thing in common: a passionate desire to bring change.

It's all about kids here. They do what they love, and love it for the reasons they choose. That's how you breed success. Allow the dreamers to dream, and give the impassioned independence, and their fervor will do the rest. That's innovation.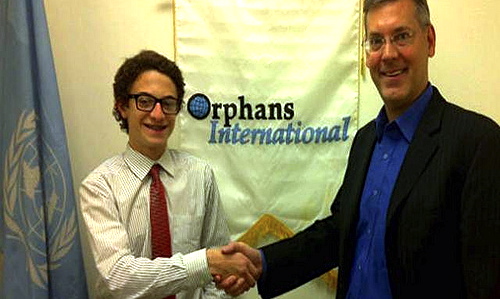 Isaac J. Kassin with author in 2011. Photo: J. Luce Foundation.
How old are these "kids" running this organization? Well, the oldest are the eighteen-year-old founders, but the youngest... this is where it gets interesting. Thirteen year-old Stephanie Franco describes her personal thoughts on charity work while working under The World Youth Initiative:
It feels good to help people who need help. And it's cool knowing I can help. I mean, I'm thirteen so I'm very little but people let me do it because they see I really care and I want to. What makes it fun and easy to do is that I can give back in any way that I want.
Stephanie has personally raised thousands of dollars for those less fortunate. But it gets better. Under WYI, Stephanie Franco, along with her twin brother Jack Franco and her also thirteen-year-old cousin David Hedaya, co-founded The Charity Crew, a Brooklyn community organization that encourages children in elementary school to take initiative and learn about the importance of giving back.
Jack, David, and their friend Michael Catton have recently initiated the "Helping Our Community" Campaign, where they hope to triple their funds within months, and expand their brand amongst the community. As the head marketer and expansion strategist of The Charity Crew, David pitches ongoing projects to prospective donors and investors, while Jack, the financial officer of The Charity Crew, finds the most efficient and profitable way to conduct charity projects and manage donations. Currently, there are approximately two-dozen members in The Charity Crew all under the age of fourteen, who have raised over $10,000 together.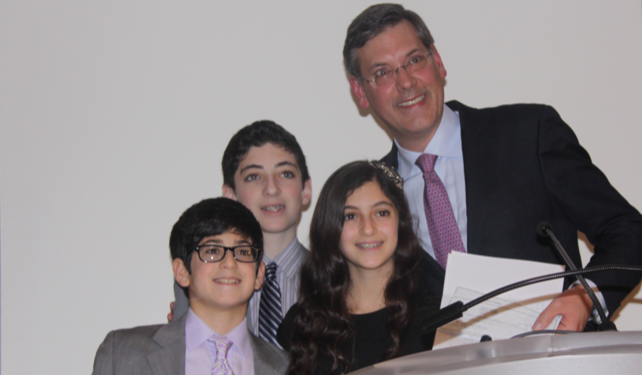 The Charity Crew assembles: David, Jack and Stephanie. Photo courtesy Isaac J. Kassin.
When we spotlight upcoming leaders, we look for young individuals of high moral character with strong convictions and the ability to communicate their ideas effectively with a sense of organization and administration. Amay, Bin, and Isaac, Stephanie, Jack, and David, and all the other inspiring kids in the WYI family, have all of the qualities and more.
Although we all come from different backgrounds, we are united in our dedication to new approaches to philanthropy. I am old enough and wise enough to realize that WYI is the future - and I am proud of the role our foundation has had, however small, in mentoring these young leaders towards that day.

Related
Popular in the Community