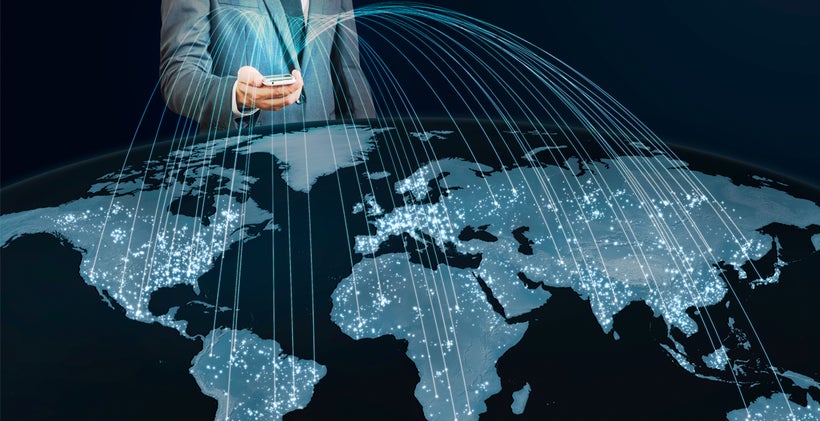 Whether you want to send cash to a relative or close friend that has moved to a new country, pay for an apartment or tuition fees overseas, or support a foreign startup, transferring funds internationally can become a real headache. Traditional brick-and-mortar financial institutions can charge significant eye-watering fees at both ends of the transaction, but luckily, they are not the only market players.
There are plenty of faster, cheaper and reliable companies providing similar money transfer services funded through a plastic card or a bank account, but at better terms and conditions: well-proven old guard members like Western Union, P2P foreign transfer services like TransferWise, new promising Fintech startups like TransferGo, and many others.
The cost of making a money transfer to another country depends on two key points: service fees, including charges for processing international cross-border payments, and foreign exchange rates applied to the chosen currency route. The main question that you should ask when choosing the most profitable market deal is "What exact amount of money my recipient will get after deducting all those charges?"
A reliable and user-friendly service will offer its users an online calculator allowing figuring out actual currency exchange rates and all fees that may be applied to the transaction. Plus, there are also special service aggregators like Fxcompared.com and Remittanceprices.worldbank.org that sort money transfer deals basing on their fees and actual exchange rates. As a result, you can find several suitable offers in less than a minute.
Shopping Around for the Best Deal
If you are planning to send money to a private person or a company located in a foreign country, using banks is not a good idea taking into consideration their double charges and numerous hidden fees. Who doesn't want to get the most for their money? Here is a list of alternative offers from large and small companies providing the opportunity to send funds internationally 24/7 from the comfort of your own home:
Western Union
Everyone knows good old Western Union! With its 160-year history of connecting people, this top-of-mind financial brand has become a synonym for money transfers. The capped amount for a single transaction is $500.00; the average delivery time is three business days. If you are planning to send more money, you can make a payment through their Online FX service.
Western Union doesn't offer low-fee high-saving foreign transfers; its advantages are reliability, accessibility and fast cash pick-up. If you decide to send $100.00 from USA to a bank account in UK and fund your transaction via a bank account, you will need to pay $2.99, if you make a payment via a plastic card, then the fee is $5.00. If you want to send $100.00 for cash pickup and fund your transaction with a plastic card, the company will charge $12.00, for transfers funded via a bank account the charge is $10.00.
PayPal
PayPal, a well-established and reputable financial organization, allows users to send funds from their website account balance, plastic card, or account in a bank. The company operates in 202 countries all over the world and supports 25 currencies. If you want to send money from your American account to an account that has been registered in another country and fund the payment through your account in a bank or website balance, the fee is 0.3% -2% depending on the target country. If your payment is funded through a plastic card or PayPal Credit, the company charges 3.4%-3.9% + a fixed fee depending on your currency, for example $0.30 for USD.
The maximum sending limit is $10,000. Both parties should have a PayPal account to be able to send and receive funds. The received amount can be redirected to a bank account or used to make purchases online. The drawback of the service is their messy website that lacks a clear path to the fee structure and documentation requirements. Plus, PayPal can always freeze your account for fraud investigation if they detect any distrustful or doubtful activity.
TransferWise
Established in 2011, this P2P money transfer company is rapidly becoming a market leader. TransferWise supports 504 different currencies routes and applies super-low charges for sending money internationally. The money transfer fee is based on the currency pair: sending USD to EUR will cost you 1%; the minimum fee is $3. The commission for sending GBP to EUR is 0.5%; the minimum fee is 2 GBP. The average delivery time is 1-4 banking days.
TransferWise uses the P2P payment system to match participants basing on their chosen currency pairs. As a result, the money doesn't leave the outgoing country and the company doesn't charge any cross-border fees. This business approach makes TransferWise a good choice for small and mid-sized money transfers to other continents and countries. The largest amount that an individual can send is fixed at $49,999 per day and $200,000 per year.
CurrencyFair
Headquartered in Ireland, CurrencyFair is considered as the second largest P2P marketplace after TransferWise. Currently, the company supports 18 different currencies and allows funding a website account sending money from a bank account. Irish customers have an advantage – they can make EUR deposits from their debit cards (up to 2,500 EUR). There are no sending amount limits, but the company may ask you to send them additional documents to prove your trustworthiness. It takes 1-2 days to complete a transaction.
With CurrencyFair, one can find a matching partner immediately or wait for a favorable offer using the Exchange option. The service fee depends on the selected transfer method: for example, the company charges 0.15% when participants match each other.  If you can't find a satisfactory offer, then CurrencyFair will match with you. In that case, your service fee will be higher – 0.4% -0.5%. Plus, you will also need to pay a money transfer fee: for example, if you send USD/GPB to EUR, it will cost you €3.00, EUR/GPB to USD – $4.00.
TransferGo
TransferGo is a Lithuanian Fintech startup aimed to offer cheaper and faster international money transfers for people who works abroad. The company uses an advanced "local in – local out" payment infrastructure that supposes that your money doesn't need to cross your national borders. The sender deposits funds via a debit card or a bank transfer, and TransferWise then makes a payment to the recipient's local bank account.
TransferGo operates in 44 countries, with the focus on European markets. You will need to pay a 0.6%–1.5% fee for currency conversion, plus a transfer fee that may vary according to the sender's country: transferring money from a UK account will cost you 0.99 GBP, from a Eurozone account – 0.99 EUR. Besides the favorable rates, the company also offers a super-fast next business day delivery.
World First
World First is a UK-based company providing money transfer and foreign currency exchange services to individuals and businesses. It's a great solution for people who want to send large sums internationally – there are no fees for sending over $10,000. If you want to transfer less money abroad, the fee is $10. Plus, all UK clients can also get the most beneficial exchange rates using the company's special option called Best Exchange Rate Guarantee.
Worldcore
Wordcore is a useful low-rate service for people who regularly send money abroad to their families. Just order your family a prepaid debit card available in USD, EUR, and GBP. Thus, you will save them the trouble of going to a bank and doing paperwork – they can use the card whenever they want to withdraw cash at ATMs or make purchases offline and online. The opening card fee is $20, the tot up fee is $0.99 per transaction.
When you need to send money to your family, just load the card directly from your website account. There are no fees for opening a Worldcore account or for its monthly maintenance. The service offers to transfer money to your account via a wire payment (0%), a third-party bank account (1.75%), or digital currencies (3%-4.75%).
Everybody has faced a problem of sending money abroad. Don't rush to the nearest bank – its poor currency exchange rates and numerous charges may cost you a fortune. The international money transfer market is not reserved for banks only: there is a vast array of financial services and CE brokers offering more favorable sending strategies and fee combinations. Making proper studies, you can find the most suitable deal for your particular circumstances.
Calling all HuffPost superfans!
Sign up for membership to become a founding member and help shape HuffPost's next chapter
This post was published on the now-closed HuffPost Contributor platform. Contributors control their own work and posted freely to our site. If you need to flag this entry as abusive,
send us an email
.