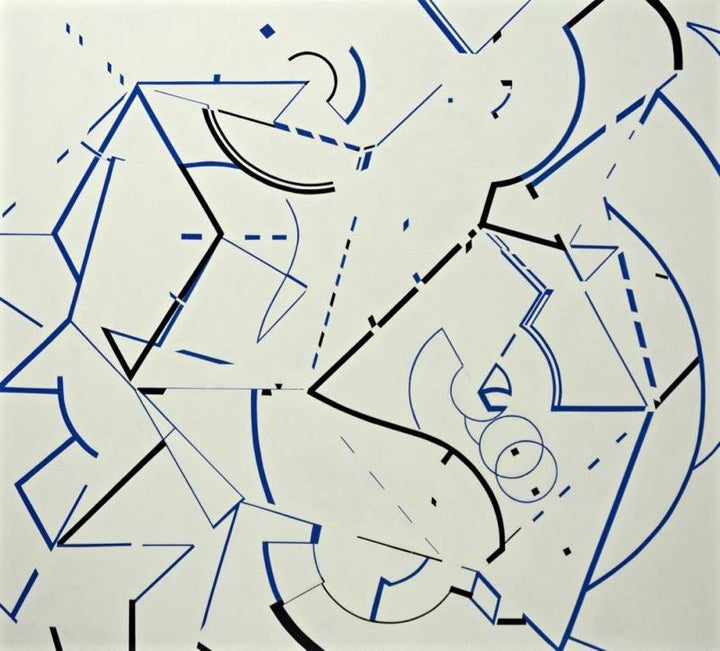 This geometrician painter brushes through systemic line-scapes turning predictability on its head. Grids, circles, shapes and ellipsis appear to come out of the spontaneous flow of her practice and play against each other like musical notes. On large scale canvases she sets up her beautifully applied colors of liquid dense blue and opaque white, then strategically she casts her cunning fishing rod to create space between lines in abstract interaction, reacting off of the possibilities which unfold. They are seemingly hypnotic in portrayal and dance through the air in an animated invention.
Fintz explains her process for this series: "Two things collide and then I extract things from it that create an ambiguity of location so even though they're very architectural like in an isometric system--there are actually two isometric systems-- they are creating something that's subjective actually rather baroque in some way, because there are lots of curves, there's lots of dynamism, but they don't really allow you to pin down where you are, so in that sense they're about the continuum. The white space is a continuum and the reason I felt intuitively to return to white, is that my father died. Because I felt like I didn't want to work with color. Because I'm a colorist. So, there was something about just needing to work with clarity. You know, I have all that color stuff going on and I just was working with line and went back to my drawing skills and my drawing love. They're kind of also mysterious, you know? Because they're not easy to figure out and I don't think we'll ever figure them out. We'll keep going around and around and looking at what was going on and if you were familiar with geometry you probably could find places where you could discover methodology. I try to pull you into a larger way of moving across space in a new way. So it's a lot about discovery, there's a lot of intuition in it. Even though it's based on systems it's really intuitive in the way I'm putting it together."
According to Carter Ratcliffs' essay in the Garvey Simon catalog for this series
"The term "Worldline Schreiber" came to Fintz in a vivid and influential dream, although she had no previous awareness of it. The German, "schreiber" translates to "writer" in English. In these paintings, the artist uses purposeful, geometric mark-making to reveal a narrative of space, matter and time. "Worldline" is a term most often associated with time travel in both physics and literature. In Einstein's theory of relativity, time and space are mixed together: we cannot think of them separately. A "worldline" is a path of an object in 4-dimensional space-time, tracing the history of its location in space at each instant in time. In science fiction and mathematical fantasy, the term is described as a filament with a spiritual component that follows an individual from birth throughout a lifetime, getting increasingly more complex as relationships entangle and time passes."
Fintz's spiritual bent is apparent, as she contemplates the paths of life, meditating on all the routes one can take when coming from the center, side, above, below and everywhere a direction can be navigated. As life often catches us off guard, with unexpected circumstances, these themes deliver all the different directions we navigate by choice, chance and sometimes by default.
Transcription by Allison Simon
Popular in the Community