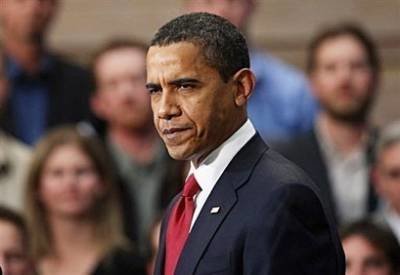 A March 8 WorldNetDaily article by Aaron Klein asserts that Wikipedia editors "has been deleting within minutes any mention of eligibility issues surrounding Barack Obama's presidency, with administrators kicking off anyone who writes about the subject" -- curiously failing to mention that Wikipedia has an entire page dedicated to Obama citizenship conspiracies. Klein related the experience of "Wikipedia user 'Jerusalem21'" in trying to add the information to Obama's page.
What you won't learn from Klein's article: "Jerusalem21" may very well be Klein himself.
As the posting history of "Jerusalem21" demonstrates, the only other Wikipedia article "Jerusalem21" has ever edited as of this writing is the one on ... Aaron Klein. Indeed, "Jerusalem21" created the article on Klein and added numerous links and pictures. This alone strongly suggests that "Jerusalem21" is either Klein or someone close to him acting on his behalf, if not his direction.
Don't take our word for it. Here are a couple comments from the discussion area for Klein's Wiki page and its puffery-laden claims:
-- "We might surmise that the subject is once again editing his own article."
-- "This article in its current state is absolute garbage. It reads as a total puff piece and was obviously heavily influenced by Klein himself and cronies/sockpuppets at WND."
Full disclosure: I've previously attempted to add factual information about Klein to his page that I've previously reported at ConWebWatch -- for instance, his sympathies for far-right Israelis and examples of his bad reporting -- only to see much of it deleted shortly thereafter by "Jerusalem21."
Ironically, it appears that Klein is guilty of doing the exact same thing to my edits that he's accusing Wikipedia editors of doing to the edits by "Jerusalem21."
Now it's Klein's turn to disclose. Is he "Jerusalem21," or is that person acting on Klein's orders?
It's not the first time Klein has been involved in manufacturing a controversy around Obama. Klein was responsible (along with right-wing radio host John Batchelor) for the interview of Hamas official Ahmed Yousef which was portrayed as an endorsement of Obama. Klein has yet to disclose what possible motivation a Hamas political adviser would have to not just chat up a pair of right-wingers who support Israel and oppose Hamas, but to actually further the agenda of those right-wingers.
Also during the 2008 presidential campaign, Klein demonstrated an aversion to reporting actions by John McCain that, when done by Obama, drew swift attacks from him. For instance, Klein repeatedly bashed Obama's alleged ties to Rashid Khalidi -- whom he described as "a harsh critic of Israel and apologist for Palestinian terror" -- but was mum about McCain's ties to Khalidi until after the Huffington Post reported it -- and then Klein served as McCain's press agent by minimizing the link.
Klein got the attention he craved from his manufactured controversy: Matt Drudge linked to it, and it was the talk of the right-wing blogosphere all day. But will Klein tell the truth to his readers about his apparent sock-puppetry?
(Elements of this item were first posted at ConWebWatch.)
Popular in the Community