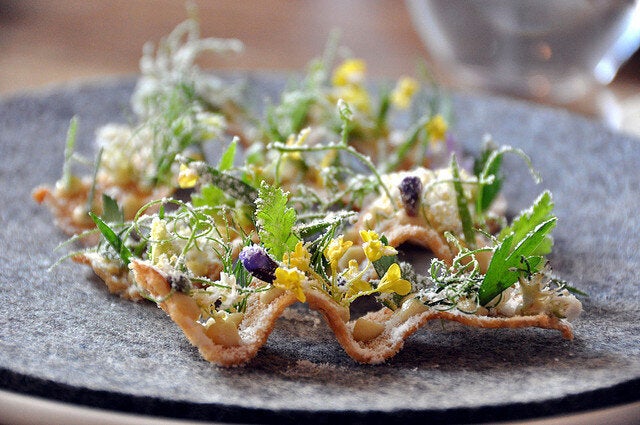 The top North American restaurant went to Per Se, which placed at number six. Thomas Keller's New York fine dining palace beat out his Napa Valley restaurant, French Laundry, which placed at 43. Also on the top ten was Chicago's Alinea (7) and New York's Eleven Madison Park (10). Other notable American placements included Manresa (48) located outside of San Francisco, which returned to the list this year, and Momofuku Ssam Bar (37), Daniel (25) and Le Bernardin (19), all from New York City.
As is the case with all food ranking lists, the World's 50 Best has it share of detractors, though few other publications attempt to rank such a global list. The ranking has only been around for a decade. In the past 10 years, the list has zipped to one of the most recognizable restaurant ranking systems. While Michelin offers a comprehensive city-wide guide around the world, and Zagat covers most of the U.S., neither company attempts to rank the entire world in one list. Still there are plenty of discrepancies between Michelin and the World's 50 Best. Noma, for example, has two -- not three -- Michelin stars.
In the past ten years, the World's 50 Best list has continued to gain traction, and is now one of the few arenas where chefs from all over the world converge together. It can be hard to rank restaurants over such a wide span, so here is how the organization breaks it down:
The awards are decided by over 800 international restaurant industry experts, though there is no predetermined set of criteria, but rather just a simple computation of votes. The judges are divided into 27 different world regions, in which a chairman for each region appoints 30 jurors, including journalists, chefs and restaurateurs and food lovers. Each juror can vote for seven restaurants, and only four are allowed to be from the juror's region.
Two awards were announced in advance of the Top 50 list. The title of Best Female Chef went to Elena Arzak, who is the fourth generation of her family to head Arzak restaurant in San Sebastián, Spain. The restaurant ranked eighth on the 2012 list. Thomas Keller received the Lifetime Achievement award. The magazine described Keller as "a true colossus of the gastronomic world."
Check out the Top 50 winners below:
50. Nahm, Bangkok
49. Geranium, Denmark
48. Manresa, California
47. Bras, France
46. Il Canto, Italy
45. Villa Joya, Portugal
44. Amber, China
43. The French Laundry, California
42. Hof Van Cleve, Belgium
41. Mathias Dahlgren, Sweden
40. Quique Dacosta, Spain
39. Waku Ghin, Singapore
38. Biko, Mexico
37. Momofuku Ssam Bar, New York
36. Pujol, Mexico
35. Astrid Y Gaston, Peru
34. Faviken, Sweden
33. De Librije, Netherlands
32. Le Calandre, Italy
31. Asador Etxebarri, Spain
30. Schloss Schauenstein, Switzerland
29. Quay, Sydney, Australia
28. Nihonryori RyuGin, Japan
27. Narisawa, Tokyo, Japan
26. Iggy's, Singapore: Best Restaurant In Asia
25. Daniel, New York
24. Mirazur, France
23.Vendome, Germany
22. Aqua, Germany
21. Oud Sluis, Netherlands
20. Frantzén/Lindeberg, Sweden
19. Le Bernardin, New York, New York
18. L'Astrance, France
17. Pierre Gagnaire, France
16. L'Arpege, France
15. Le Chateaubriand, France
14. The Ledbury, United Kingdom: Highest Climber
13. The Fat Duck, United Kingdom
12. L'Atelier De Joel Robuchon, France
11. Steirereck, Austria