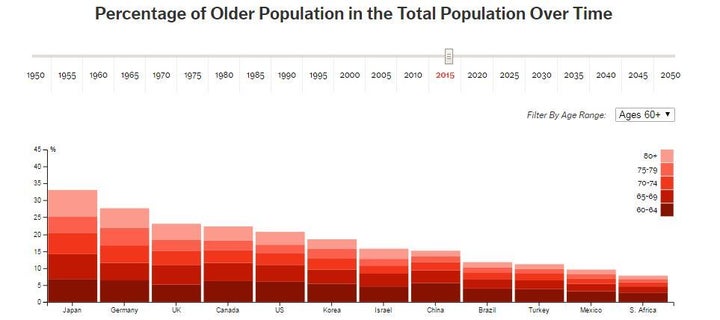 You've probably seen some of the studies and statistical projections from the World Bank, the U.S. Census Bureau, and other organizations that depict the massive global growth of the age-60-plus population that will happen over next generation...
The rough math is that by 2050 the world's population of people age 60 and up will more than double and in some nations it will nearly triple. Putting it another way, a little over 30 years from now, for every one person age 60-plus currently in your neighborhood or city (or, for that matter, your workplace) there will be two, or more. And the implications — for nations, communities and individuals; public-sector institutions and private-sector businesses; employers and employees alike — are as profound as they are borderless.
Normally, when you think of big, "macro," global issues like this one – climate change is one example – a lot of the energy around the subject is sucked up by ongoing debates as to whether the "thing" in question even exists, or about how it's defined, or on how various people believe it will (or won't) play out in the real world. But this subject is different: There are no world's aging population "deniers," or even skeptics. Look around, you won't find anyone who says "Nope, I'm not buying it."
In a world where consensus is an increasingly rare commodity, there exists sweeping consensus on a simple (but powerful) truth: the world is getting older – fast and just about everywhere.
So, with that in mind, the world didn't need another study documenting the explosive growth of the global 60-plus population -- The World Bank and US Census Bureau and lots of other smart organizations have got that covered. But what about the action on the ground, in the here and now? How ready are some of the world's key nations for the challenges (and opportunities) their societies face as a result of this demographic revolution?
The AARP ARC Report examines the preparedness levels of 12 nations -- Brazil, Canada, China, Germany, Israel, Japan, Korea, Mexico, South Africa, Turkey, the United Kingdom, and the United States -- for the profound challenges their societies and economies face as the number of people age-60-and-up in their populations more than doubles over the next generation and examines each nation in four key sectors: 1) Community & Social Infrastructure, 2) Productive Opportunity & Economic Output, 3) Healthcare & Wellness, and 4) Technological Engagement, noting constructive progress, areas of potential concern, and key developments.
While the ARC Report does not seek to rank or grade the nations it assesses, for each of the four sectors, it places each nation in one of three categories: leaders, movers (e.g., those making notable progress), or laggards. For those used to U.S. predominance in studies of this kind, ARC rates the U.S. a leader in only one sector (technological engagement) and rates it a laggard in healthcare & wellness, along with South Africa and Brazil.
While national variations in ARC's findings are numerous, a number of commonalities emerged:
-- Women have it tougher than men in just about every nation. They disproportionately care for children and older family members while simultaneously, if they are able, earning a living. Also, because women who are able to work often earn less in their working lives than men, the financial constraints they face in old age are commensurately more difficult.
-- Older people everywhere would prefer to "age in place," rather than relocate to some sort of old-folks facility, but doing so yields its own challenges, especially around isolation and mobility, at both individual and society-wide levels.
-- The Internet and digital connectivity has, predictably, yielded a broad variety of resources for both employment and communications, but in many countries older people do not have access to the 'Net.
-- Some striking numbers: in Turkey and Mexico about 90 percent of people 65-plus have never used the Internet; in China it's more than 85 percent; in Brazil it's more than 75 percent, even in the U.S. more than 30 percent of people 65-plus are not online.
While the ARC Report is candid in its assessment of the formidable challenges presented by aging populations —especially as related to housing, mobility, isolation, finance, and healthcare — it also identifies a compelling set of positive developments.
Pairing Existing Resources (in New Ways) to Address Disparate Challenges
Something that I find interesting (and kind of inspiring) is that some of the most innovative and effective developments identified in ARC leverage existing resources to address often seemingly unconnected challenges. That's not what we normally hear. Most often, the presumed solution for a big challenge is to build this, or buy that, or spend more on something else, e.g., "If only we had X solution, we could address Y challenge." But when it comes to aging populations sometimes a simpler approach yields excellent results.
For example, take a look at Israel's Here We Live program which offers university students reduced tuition costs and low-cost housing if they move into a spare room in an older person's home and spend at least five hours each week with them. On one hand you've got students who a) need a place to live and b) generally don't have a lot of money, and on the other you've got older people who may be isolated and facing the negative outcomes isolation can sometimes yield. The Here We Live program "mashes up" these two disparate challenges and, in doing so, creates new solutions – for each constituency. Calling something a "win-win" may be a little clichéd, but it seems deserved here. And all it took was an ability to see the connection between the two challenges.
Another equally interesting development is Japan's Watch Over service in which, for a small monthly fee, Japanese postal carriers, as part of their mail delivery routes, check on elderly patients and relay information on their well-being to family members using an iPad. Here the model seems to be take an existing infrastructure resource – i.e., a nationwide postal-delivery network – and a separate (again, seemingly unconnected) challenge – in this case, isolated seniors – and put them together. It works. The cost is low and the barriers to entry few.
Here in the U.S. where we sometimes hear news of the US Postal Service's struggles for revenue and, some would say, continued relevance in a wired age, might a Watch Over-style service, or some manifestation of it, be something to consider? Whatever your views, it's an interesting example of some of the creative -- you might even say "common sense" -- ways societies around the world are adapting to the challenges posed by aging populations and doing it with existing resources.
It's notable that both the Here We Live and Watch Over programs started out on a local/regional basis -- a good idea need not be deployed on a national basis to be relevant. In fact, as these now-broadened programs show, there's a lot to be said for starting small and expanding from there.
The challenges presented by aging populations may be a global issue but it's interesting (although maybe not surprising) that some of the very best approaches for addressing them start in our own neighborhoods.
Jo Ann Jenkins is CEO of AARP. The AARP Aging Readiness and Competitiveness (ARC) Report can be accessed here.
Related
Popular in the Community