In 1963, Elizabeth Taylor followed Richard Burton to a sleepy little port on Mexico's west coast where he was starring, along with Deborah Kerr and Ava Gardner, in a John Huston-directed film called Night of the Iguana.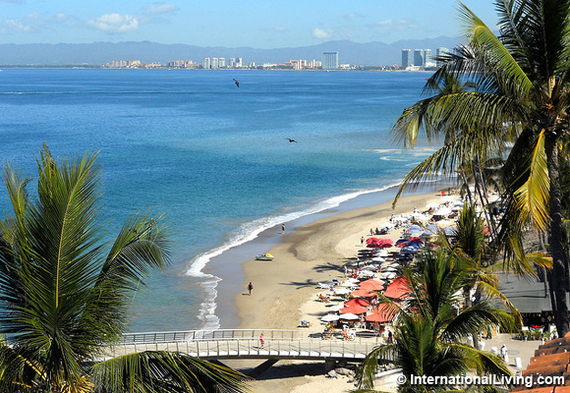 For his movie set, John Huston chose Mismaloya, a small village just south of Puerto Vallarta in the Mexican state of Jalisco, for its resemblance to a crumbling coastal village of the 1940s. Elizabeth Taylor took up residence in nearby Puerto Vallarta, which in the 1960s already had a small community of both Mexican and expat artists and writers, drawn by the weather, natural beauty, and relative isolation.
As the spotlight of celebrity shone on the stars and their love affair, the Mexican government soon realized the tourist gem it had on its hands. Fast forward through the construction of an international airport and land reforms that encouraged private ownership and development, and Puerto Vallarta has today grown into one of the most vibrant and modern vacation and residential destinations in Mexico.
Development stretches north and south all around the crescent-shaped Bay of Banderas, the largest bay in Mexico and the eighth-largest in the world. The Sierra Madre mountains provide a stunning backdrop as they drop right to the water's edge in some spot, resplendent in all their green-jungle glory.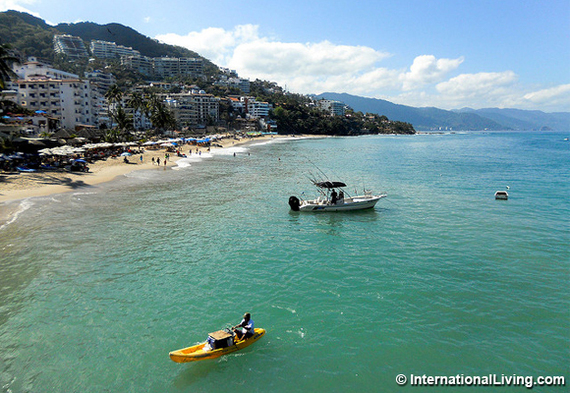 If you're thinking of retiring overseas or buying a vacation home or just getting away from the winter doldrums back home--and you're looking for a culturally rich seaside city, with absolutely gorgeous beaches, there's no better place than Puerto Vallarta. In fact, there are few cities in the world where you'll find this combination.
(It's a bonus that there are more than three dozen direct ... and relatively short ... flights and charters from Puerto Vallarta to destinations in the U.S. and Canada.)
For these reasons ... the stunning beauty, excellent flight connections, an extraordinary culinary scene, modern shopping, and great infrastructure ... you'll find a good number of English-speaking expats here. They say they don't lack for anything, especially fun activities.
"You can bird watch, you can be involved in the garden club or the botanical gardens," one expat tells us. "You can be involved in ecology things. You can do as much charity work as you want ... you can sit on the beach and drink beer. You can go for long walks on the malecon. It's almost overwhelming. When you live here you really have to kind of pick and choose or you can overdo it."
And it's not just expats moving into the Vallarta area. Mexican nationals are coming here, too, for work and/or to buy vacation and retirement homes. (It's a big draw for locals from Guadalajara, Mexico's second largest city and just a few hours away by car.)
Let's take a tour of the city's most popular neighborhoods...
Just south of the Ameca River and the border with the state of Nayarit is the international airport, serving nearly three million domestic and international passengers a year. Go south from there to the Hotel Zone and the many name-brand hotels (and affordable efficiency apartments for rent), clustered around the Maritime Terminal where large cruise ships dock. Puerto Vallarta is the third most-active cruise ship destination in Mexico. Many of the fishing, sightseeing, diving, and snorkeling boats that ply the bay are based here, too.
Continue south to Puerto Vallarta's Centro or Old Town district, with the iconic church of Our Lady of Guadalupe, dedicated to Mexico's patron saint. The city's famous malecon with its interesting modern sculptures runs along the shore, lined with shops, bars, restaurants, and more.
When you get to the Rio Cuale, pop down the steps to Isla Cuale, a large island in the river that's been repurposed as an entertainment district. Here's where you'll find a bronze statue of John Huston who not only directed Night of the Iguana, but also built two vacation homes on the bay. His family, including daughter Angelica Huston, launched the Puerto Vallarta Film Festival in his honor.
Across the Rio Cuale to the south is the Zona Romantica and one of the most popular beaches in Puerto Vallarta, Los Muertos--not called "Beach of the Dead" because it's dangerous, but because of a legendary pirate battle that left it littered with bodies. Today, though, the only bodies littering the beach are sunbathers and patrons of the rows of oceanfront restaurants and bars.
The Zona Romantica, home to one of Mexico's most popular gay, lesbian, and transgender scenes, contributes to Puerto Vallarta's status as one of the top gay tourist destinations in Latin America.
It's also one of the most popular areas for expat residents. As one says, "It's totally a walking neighborhood. We have a central vegetable market with a meat market, too. Some stores bring in bulk items from Costco (yes, there is a Costco in Vallarta!) and break them down for those of us too lazy to go to Costco. Sometimes we joke that we haven't been across the river in a month because we don't have to ... everything we need is within about three blocks of where we live."
Keep heading south to even more idyllic beaches and associated neighborhoods, including Conchas Chinas, Venados, Punta Negra, Gamelas, Mismaloya, and the famous Los Arcos, the most recognizable geological feature of the Bay of Banderas.
Other neighborhoods popular with expats include Fluvial, between the airport and the Hotel Zone and not on the beach but close ... where you'll find a mix of condos and standalone homes. Marina Vallarta, developed in the 1980s, is just west of the airport. From a home or condo here, you can walk to shopping, restaurants, or the local golf course, and gaze upon beautiful yachts from your balcony.
Nuevo Vallarta, about 15 minutes north of the airport, is one of many planned residential resort communities. Increasingly popular for its modern amenities (and less big-city traffic than downtown Puerto Vallarta) the population of Nuevo Vallarta has exploded since development began there in earnest in the 1990s.
There are fairway homes and condos, beachfront homes and condos, and canal-side opportunities. You'll find many of the newest resorts, spas, and golf courses here, too. If golf or access to the ocean is important to you, Nuevo Vallarta is a good option.
Go farther north along this stretch of the Bay of Banderas coast to the towns of Bucerias and Cruz de Huanacaxtle, also very popular with expats.
What's daily life like? You won't give up a thing when you live in Vallarta or along the Riviera Nayarit. We've already mentioned the shopping -- along with Costco, Sam's Club and Walmart, you'll find all the Mexican-brand big-box stores, too.
And you'll find excellent healthcare facilities, including several top-notch hospitals, laboratories, rehabilitation centers, and clinics. AmeriMed, San Javier, and Medasist are some of the most popular.
Expat Pamela Thompson-Webb, who helps foreigners navigate local health care options through HealthCare Resources Puerto Vallarta, says, "We have brand new hospitals and fabulous physicians. They place stents, they do microsurgery, you name it ... Obviously someone has to pay for the equipment, but it's much less than prices in the U.S. Outpatient services are unbelievably less expensive. Many people travel here for dental work or to have a colonoscopy or such because the prices are low but really state-of-the-art."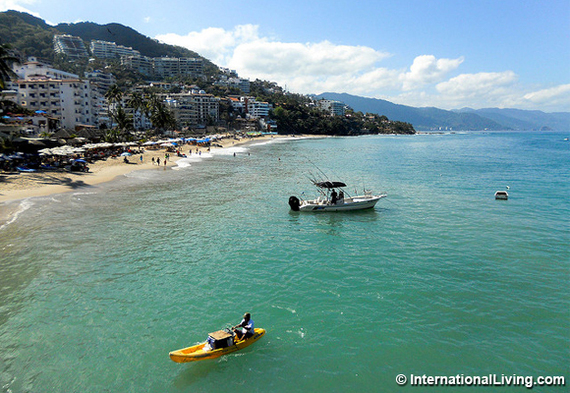 Real estate options and prices: Naturally, a long-standing tourist and expat draw such as this will also have an active real estate sales and rental market.
It's easy enough to find reasonably priced rentals. In the popular Zona Romantica, for instance, you can expect to pay $1,000 to $1,500 a month and up for a long-term furnished apartment just a few blocks from the beach. You'll pay about that same amount to rent a vacation property for one week in the high season. If you choose to buy, you'll find considerable options in all price ranges, but with beachfront prices at a premium. Look farther inland for the bargains.

What about the cost of living? Like elsewhere in the world, your cost of living will totally depend on your lifestyle. If you frequent upscale restaurants and nightclubs and have expensive hobbies like golf (which you can enjoy to your heart's content in this part of Mexico) you'll spend more, of course. But expats say that for all this city has to offer, it's remarkably affordable.
"I think you could live on $2,000 a month," says Pam Thompson-Webb. "It depends on how much your rent is and if you live here year round and are going to run your air conditioner all the time and you want to go out to eat a lot ... There are a lot of things you can do here that don't cost a lot of money. To walk the malecon or just enjoy the beach ... those kinds of things are free."

Are there some challenges? Yes, of course. The city is served by a modern waste treatment plant, but requirements for homes and businesses to actually connect to the municipal system are hard to enforce. And there is little control over inland runoff that affects the several rivers that drain into the bay. So pollution count in some places occasionally reaches high levels, especially during rainy season.
And there have been some growing pains. Over the years, building booms have brought workers from far and wide to work in construction and associated services. While agriculture and manufacturing are important industries, nearly 50 percent of the workforce is in the tourism sector. During economic downturns and annual tourism low seasons, the economy can be seriously impacted.
Another drawback for some can be the tropical climate. While most would say that winter months -- during the tourism high season from roughly December through March -- are a great time to enjoy average daily temperatures of 86 F in the daytime, and 70 F at nighttime (with an average humidity of 68 percent), summer months can be tougher to deal with as daytime temperature often hover in the 90s and with higher humidity.
The rainy season extends from mid June through mid October, with most of the rain in August and September, usually concentrated in large, intense downpours. Hurricanes can occur but are uncommon, as the headlands on the south side of the bay generally protect the city from the worst of most Pacific storms.
Most who live here, however, will tell you that the climate is one the biggest draws, and that a few months of heat is a small price to pay for perfect beach and swimsuit weather during the winter.
Definitely this is one of Mexico's most beautiful regions ... and for expats it comes with all the comforts of home and it's close to home. And right now (in June of 2016 with the dollar buying you an extraordinarily high 18.5 pesos) it delivers over and over when it comes to bang for your buck.
If you're looking for affordable Pacific Coast living with all the amenities of a world-class city, there's no better place...
This article comes to us courtesy of InternationalLiving.com, the world's leading authority on how to live, work, invest, travel, and retire better overseas.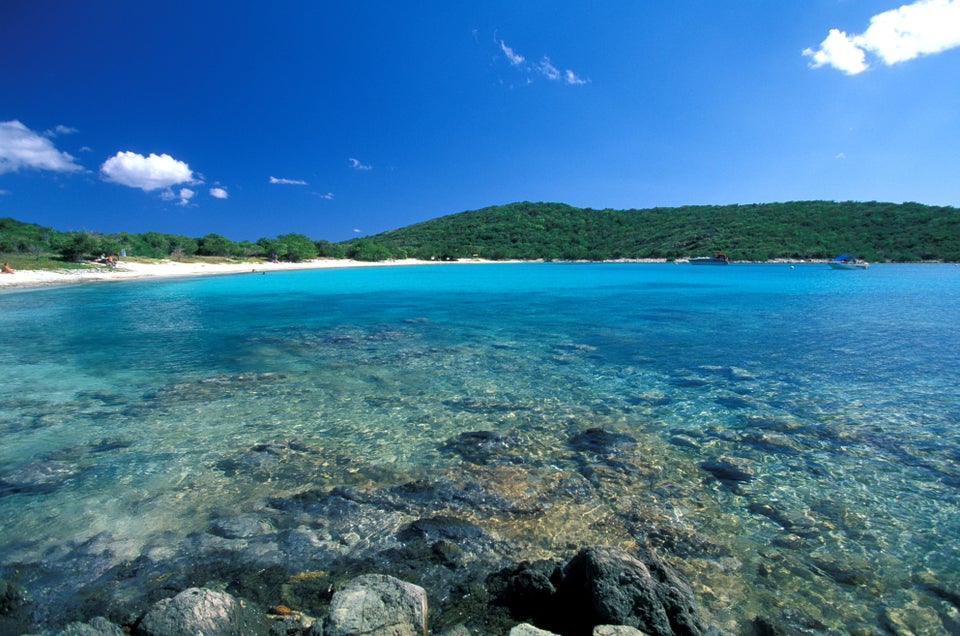 6 Warm-Weather Getaways