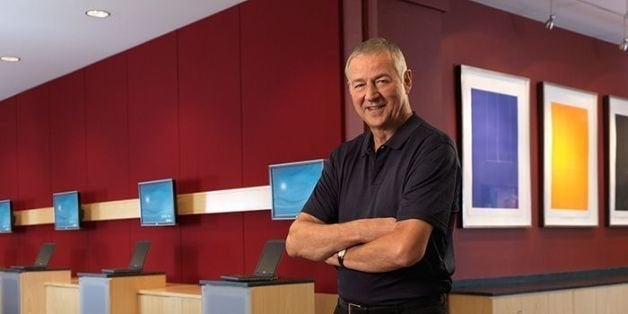 Back at the height of the recession, SAS CEO Jim Goodnight made what was considered an astonishing announcement to his worldwide workforce of 11,000 employees: While other companies might be slashing jobs left and right that year, SAS would absolutely not have any layoffs in 2009. His words were met with a collective sigh of relief from the rank-and-file, but what he said next stunned no one familiar with Goodnight's management style or the philosophy by which he runs his company.
"Now let's just get back to work."
The man is, after all, first and foremost a businessman. His management policies were born not necessarily from a place of benevolence, but because they made good business sense. And it is precisely those policies that have helped his company succeed and him become the 58th richest American, with a net worth of about $7.2 billion.
So how did that "no layoffs" thing work out for him, occurring in the midst of a crippling recession and a recovery that still feels like one in name only to many workers? SAS ended 2009 with a 2.2 percent increase in revenues over the previous year's. Actually, since its inception in 1976, SAS has seen consecutive revenue growth every year. Today it employs more than 13,000.
For Goodnight, the "no layoffs" edict was a no-brainer, business-as-usual kind of decision. Goodnight, who co-founded the North Carolina-based business analytics software giant and has kept it privately held and debt-free, believes employees are the company's greatest asset. He not only treats them well with a competitive salary and benefits package and has designed a work campus that fosters a work-life balance, he empowers them "to do the job they were hired to do." And again, says Goodnight, it's because treating employees well just makes good business sense. The proof is in the turnover pudding: SAS has the lowest voluntary turnover rate of any company in the tech sector -- a mere 3 percent a year with the industry average at times reaching a whopping 22 percent. Employee turnover is a killer for companies because of the high expense associated with the recruitment, hiring and screening, and training of replacement workers.
While some of SAS's campus perks -- like day care, subsidized food, and on-site health care -- are certainly lures, what really keeps SAS's employees there, said Goodnight, is that the work is challenging and interesting. They don't get bored; they feel engaged. And yes, they feel empowered.
Once you hire someone and give them the tools to do the job, it's best to just let them do it, Goodnight believes. It's almost too simple for words, which is good because he is a man of few of them -- at least when it comes to talking to the media. While he is actively engaged in philanthropic endeavors, he may be the richest man you've never heard of.
But people have certainly heard of his company and how its workers are treated. SAS gets more than 200 qualified applications for every job posting it makes, said a company spokesman. They remove the posting within a week because otherwise, they'd be inundated.
And Goodnight has very definite ideas about how a company should be run. For one, he expects employees to have a life. One big component of that is flex time -- it's the rule, not the exception for which you grovel. "I expect parents to be with their kids on the first day of school" or to take off work to attend important school functions, he told The Huffington Post. "I know they will get the job done. I trust them to do that." He's big on having employees who are trustworthy. He also gets that some of his workers are caregivers not just to children, but to aging parents as well. Someone who is stressed out and feeling torn among the many claims on their time isn't going to do their best work if you chain them to a desk from 9 to 5 instead of measuring their productivity by what they accomplish; it's why flex time is the standard and the company offers assistance to care-givers as part of its benefits package.
He also thinks people need private offices instead of cubicle farms -- better to think and create in, he says. Goodnight also likes a flat line management structure because he thinks multiple management layers just get in the way of innovation; he abhors bureaucracy. And when he does promote workers, he picks people to advance based on how well they promote the work of others instead of themselves. That's the mark of a leader, he says, whereas patting yourself on the back and hogging credit just isn't. "We want our managers to be coaches, not dictators," he said.
It really is just common sense, he says. Treat people well, keep them challenged with interesting work, respect them and their contributions and they will do their best work for you. Isn't that how it should be everywhere? You'd think so, but it isn't.
Goodnight, 71 and married for 46 years to the same woman, is said to be a very approachable guy. People can -- and do -- come to him directly with their ideas. The 6"5 tall lanky native North Carolinian roams the Cary campus most days without a tie on -- "I put one on if I have a meeting with a customer," he says -- and notes that one of his favorite things to do is ask someone he's sharing the elevator with "So, what are you working on?"
It's kind of his way of taking the workforce temperature. And it's pretty clear that it's soaring high.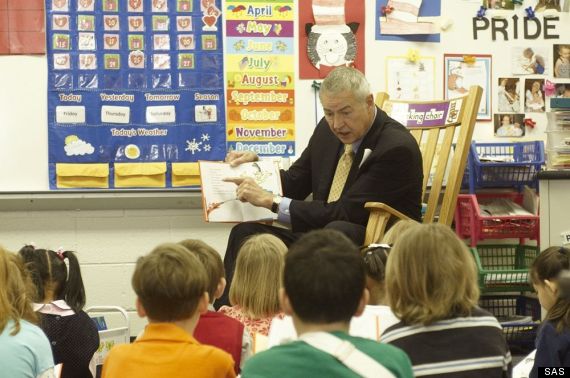 Popular in the Community