Bait to Plate in Barbados
Head to Barbados for an unbeatable combination of food and exploration with Colony Club hotel's Bait to Plate excursion. Travelers seeking an intimate and hands-on culinary experience can embark on the educational, complimentary fishing tour. It takes up to four guests out on a private boat with the hotel chef to spot marine life, learn about reef conservation and discover the secret to finding the tastiest fish on the island. Upon returning to the hotel, the chef's team will fillet and grill the day's local catch right at your table -- served Bajan style with rice, salad and plenty of pepper sauce.
 
Vegging out at Castiglion del Bosco in Tuscany
Talk about "eat, pray, love!" Foodies, aspiring chefs and jetsetters flock to Castiglion del Bosco, a sprawling 4,000-acre Tuscan resort and villa estate owned by Massimo Ferragamo. The best part? It boasts one of the region's finest cooking schools -- dedicated to the preservation and revival of authentic Tuscan home cooking methods and specialties. The La Canonica Cooking School at Castiglion del Bosco introduces guests to the "Forgotten Flavours and Tastes" of Tuscan cuisine. Every delicious lesson starts with the students going out into the resort's organic vegetable garden to harvest the ingredients they'll use for their meal. It can range from more than 180 varieties of fruit, vegetables and aromatic herbs for a flavorful, full sensory cooking experience.
 
Oysters Right from the Bay in Northern California
It's Northern California tradition to eat fresh oysters at a nostalgic and simple fish shack, but only Nick's Cove and Cottages, about 90 minutes north of San Francisco, combines that experience with luxury accommodations. The only hotel with waterfront cottages on the famous Tomales Bay, Nick's Cove has a cozy hunting-lodge-chic aesthetic featuring wood-burning stoves and large soaking clawfoot tubs. But we're here for the oysters. Upon arrival, the property's now-famous BBQ'd version are delivered to every guest. And the indoor-outdoor restaurant, The Croft, serves up a delectable assortment sourced directly from the waters whose sweeping view is taking your breath away as you dine. Round out your meal with Fried Drake's Bay Oysters with jalapeno oil, Tomales Bay Clam Chowder, and Dungeness Crab Mac & Cheese.
 
Getting Schooled In A Taste Of The Maldives Islands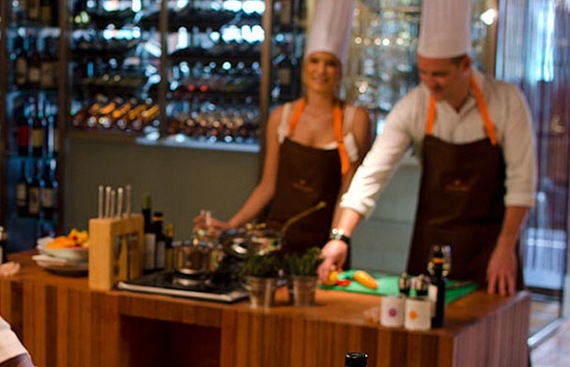 There are plenty of sights to see and beaches to conquer at One&Only Reethi Rah, but how often do you get a crash course at a luxe cooking school while on vacation? Located on a private island, this extraordinary all-villa resort set in the North Male Atoll of The Maldives features a culinary learning extravaganza. Guests can enroll and choose to try a variety of international cooking techniques and styles, including Indian, Arabian, Italian, Chinese and Thai. Really want to immerse yourself in the culture of your paradise? The most appropriate choice would be to master traditional Maldivian cuisine. It's a delicious amalgam of Arabic, Indian, Sri Lankan and East Asian flavors, with an emphasis on locally caught fish and coconut milk curries.
 
Tortilla Tutorial in Guatemala
Located in the plush Guatelaman highlands overlooking Lake Aittlán, Casa Palopó offers guests a local-inspired, hands-on culinary experience... literally. A native tortillera from one of the neighboring Mayan towns is brought in to teach guests how to hand-make Guatamala's staple cuisine: corn tortillas. The tortillera brings along a large comal -- a flat griddle that's been used since Aztec times -- that's been in her family for generations and that she sets up on the outdoor terrace. While she and guests prepare up to 100 tortillas, the staff from Casa Palopo's restaurant, 6.8 Palopo, sets up an enticing spread of guacamole, queso fresco and butter-smooth frijoles.
 
Michelin-Level Training in Lausanne, Switzerland -- For Kids!

Picture a luxury European resort on the shores of Lake Geneva, sweeping views of the Swiss Alps and a restaurant by Anne-Sophie Pic, the only female two-Michelin-starred chef in France. The grand experience at Beau-Rivage Palace gets even better -- while you actually dine in the restaurant, your little ones can learn how to give you a hand in the kitchen. The fantastic kids' cooking class programs include pastry lessons and letting the budding chef learn how to craft the perfect Swiss chocolate cake. The one-hour long classes are available to children ages 6 and up, but we're guessing the parents will benefit from these, too.
 
Crave-able Culinary Classes in Cusco
Located in one of the world's top destinations for gastronomy, the history-rich JW Marriott El Convento Cusco is perfect for travelers seeking a hands-on culinary experience. An interactive cooking class hosted by Pirqa Restaurant's Executive Chef will teach you how to cook with native ingredients such as Peru's more than 3,000 varieties of potatoes, the infamous yellow chili pepper, and Andean trout. From causa rellena to ceviche to lomo saltado, guests enjoy each course fresh off the line at an exclusive chef's table set up right in the kitchen. Wash it down with traditional Pisco Sours during a mixology class at the hotel's Qespi Bar, home to a variety of infused piscos including passion fruit, coconut, chili pepper and more.
 
No Lion About A Clean Meal In Curaçao
For a rewardingly fresh meal, visit the Dutch Caribbean island Curaçao to hunt the invasive coral reef fish, Pacific lionfish. Ocean Encounters, a local dive operator with several locations throughout the island including one at the luxurious Santa Barbara Beach & Golf Resort, takes groups beneath the island's deep blue waters for its LionFish Scuba Dive (LSD) Experience. The group is given a short presentation on the predator's anatomy and the effect on local reefs, before making a 50-minute dive to assist the divemaster in spearfishing lionfish. After the hunt, the catch is cleaned before the group and prepared for dock-side sashimi, followed by a traditional island-style lionfish fry in town.
 
Wine-filled Weekend in St. Helena, California
The boutique Wydown Hotel in downtown St. Helena is celebrating new guest perks, including one especially stellar wine/food experience. Celebrating a special occasion? The Wine Weekend Package is the ultimate way to spend a weekend in true wine country style. The property-wide buyout option includes 12 guest room accommodations for up to 22 guests, and use of the Atrium and Living Room. Guests will also be able to book a private wine tasting class in the hotel with a wine educator from a nearby winery. You'll be introduced to world-class wines of the Napa Valley and get acquainted with the know-how to taste throughout the Valley. To cap off this chic wine-centric getaway, a private dinner will be held in the famous Wine Cellar private dining room at the renowned PRESS restaurant, which boasts the largest restaurant collection of Napa Valley wines in the world.
 
Fungi Fever in Florence
Love truffle anything? Foodies and culture-lovers alike will delight in this hands-on truffle hunting and cooking experience from Fiesole, Italy's 5-star Il Salviatino. Guests can join a certified truffle hunter and his dog to review the basics of this coveted ingredient before embarking on an experience that explores the secret world of the Tuscan truffle. This delicious adventure includes a hands-on truffle hunt, introduction to cleaning and cooking techniques, and a well-earned reward: a truffle-filled lunch feast. The experience can be arranged individually or as part of a package.
 
Visit nowitcounts.com, the new destination for Americans 50+ covering financial, health, beauty, style, travel, news, entertainment and sports.
Calling all HuffPost superfans!
Sign up for membership to become a founding member and help shape HuffPost's next chapter