Dave Engledow is creating an unconventional scrapbook for his daughter, Alice Bee.
When the little girl -- now a toddler -- grows up she'll have a complete photographic record of herself in highly precarious situations. But most likely, the images will bring up memories that are sweet, not scary -- because Alice stars in "World's Best Father," a tongue-in-cheek photo series meant to poke fun at the type of father Engledow does not want to be.
"The very first shot that my wife and I did with Alice, when she was probably 8 or 12 weeks old, was just intended to be a single image. I wanted to make fun of myself [as a] new father -- sleep deprived and kind of clueless," Engledow told The Huffington Post over the phone. The main prop he used in the photo -- a mug that says "World's Best Father" -- ultimately became a running gag in his pictures.
"The character I portray in this series is intended to be a parody of the father I hope I never become -- distracted, self-absorbed, neglectful, clueless, or even occasionally overbearing," Engledow elaborates on Kickstarter, where he's raising money to turn the images into a calendar.
And while the situations may look perilous, he says, "the cardinal rule is always to make sure that Alice is never actually in any danger" during photoshoots. Engledow and Alice normally pose separately, and he Photoshops the images together into a final product.
The Maryland-based dad -- who says he is "strictly an amateur" (although he has a degree in photojournalism) -- explains that he manipulates the images digitally so they'll look more cartoonish.
"I want the style to alert people to the fact right away that this is supposed to be funny. That's why I ham it up a little bit in the shots ... because I want people to get right away this is a joke, it's not real."
A goal of the project has been to create images that are relatable for moms and dads and non-parents too.
"I hear a lot of people complaining about the plethora of baby pictures that get posted on Facebook, so I was trying to do something that would also keep my friends interested in following Alice growing up," he tells HuffPost.
"But really," he adds, "all along, this has been a project that's for Alice. I want to be able to have something that I can give to her that she'll look back on and treasure."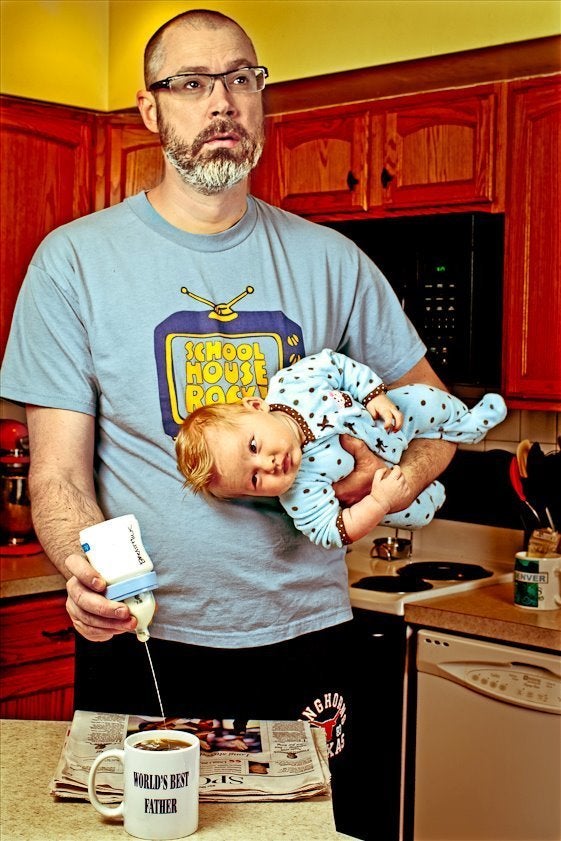 World's Best Father Photo Series
Related