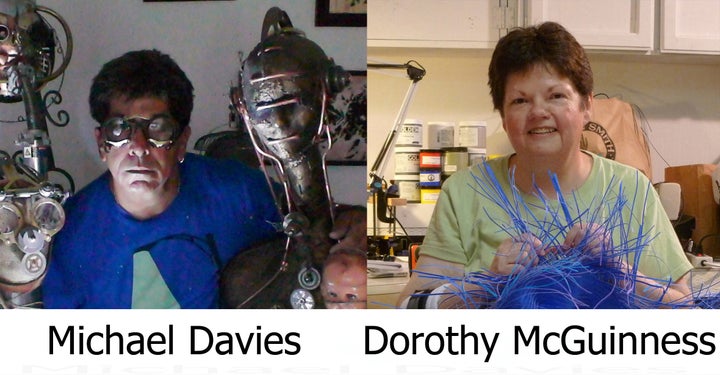 Each year, the 25 Best Galleries In America vote on online art from around the world.
This year the American Art Awards (www.AmericanArtAwards.com) had winners from 40 countries including Argentina, Australia, Austria, Belgium, Bulgaria, Canada, England, Finland, France, Germany, Great Britain, Greece, Hungary, Iceland, India, Iran, Israel, Italy, Japan, Lebanon, Lithuania, Macedonia, Malaysia, Netherlands, New Zealand, Northern Ireland, Norway, Philippines, Poland, Romania, Russia, Serbia, South Africa, South Korea, Spain, Sweden, Thailand, UK, USA, and Wales.
In CATEGORY 50, SCULPTURE - NON-REPRESENTATIONAL:
Galleries voted Michael Davies's sculptures 1st and 4th Place. Tying for 1st was Dorothy McGuinness. Alex Kveton took 2nd Place. Jenik Cook, a previous multi-winner for paintings, did extremely well here taking 3rd, 5th and 6th Place. Tying for 6th was Amanda Austin and also Paul Loughlin.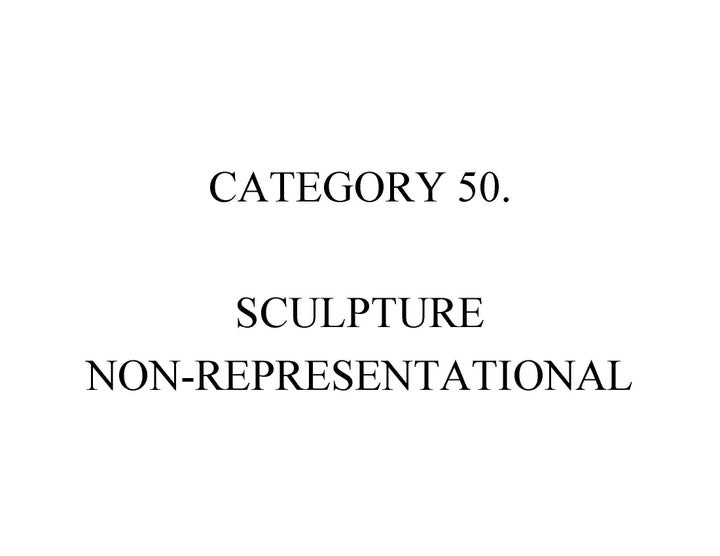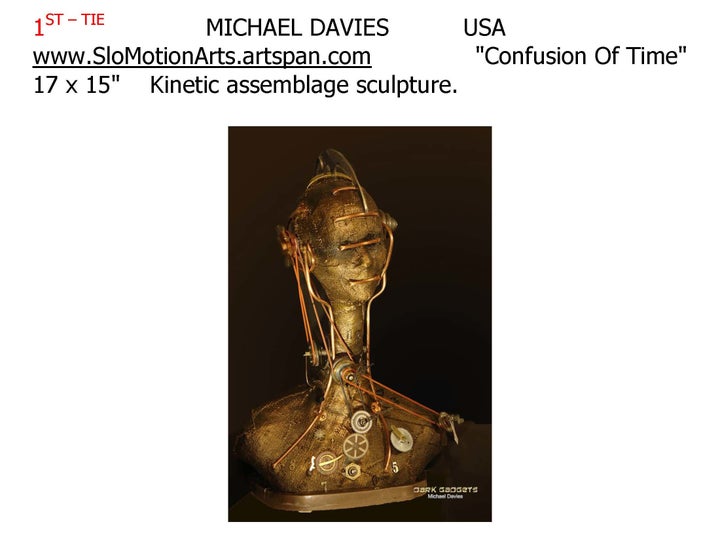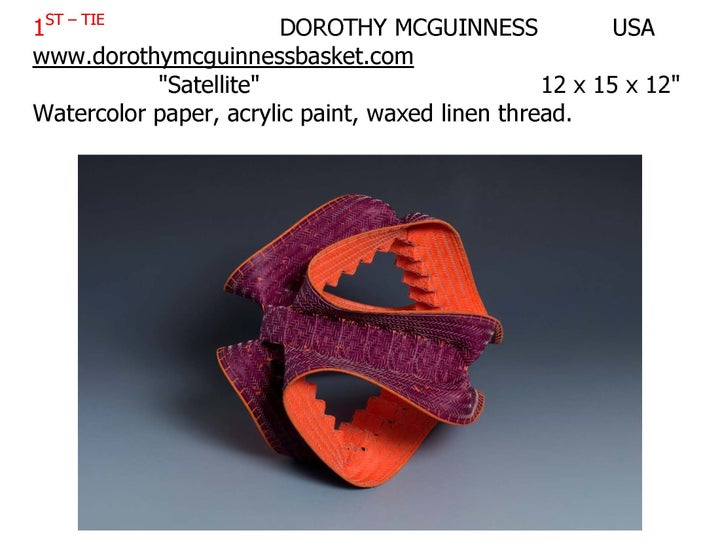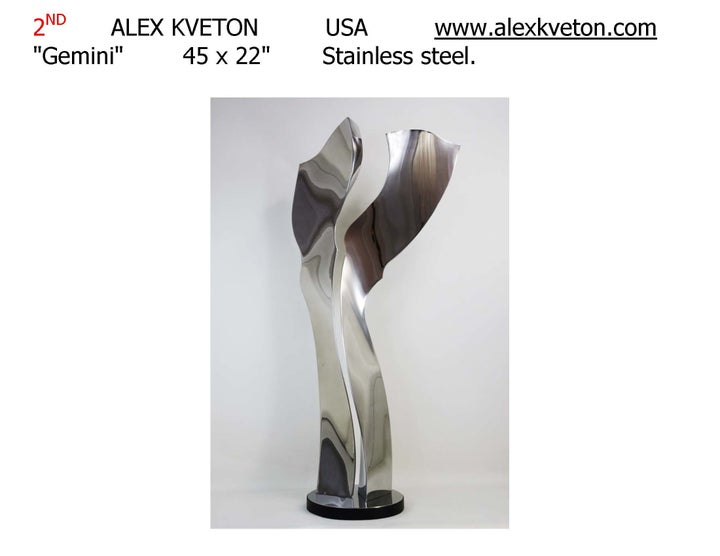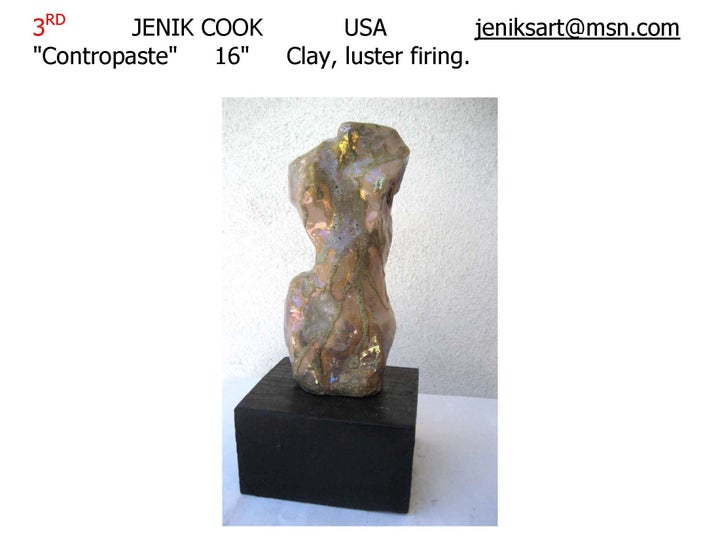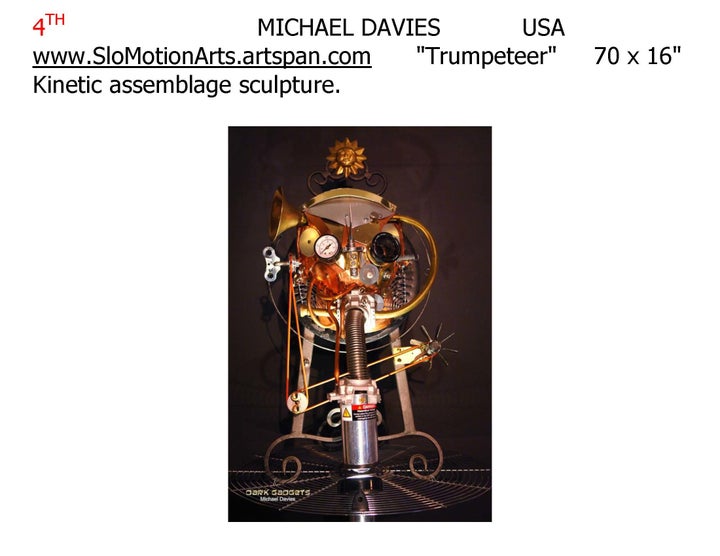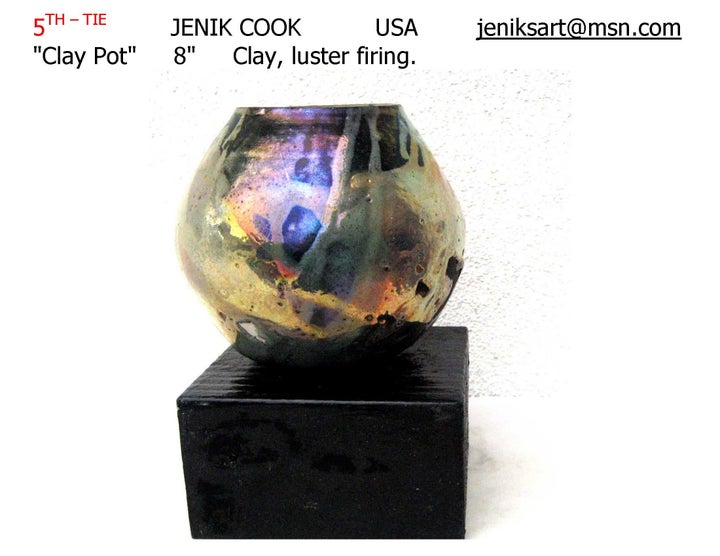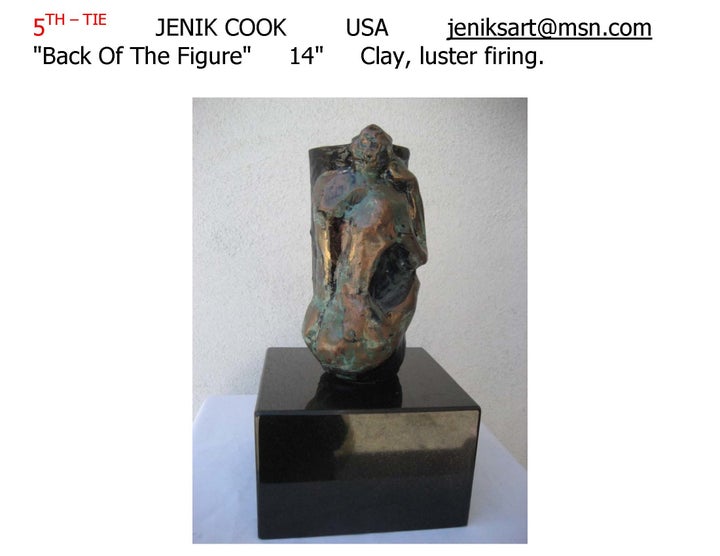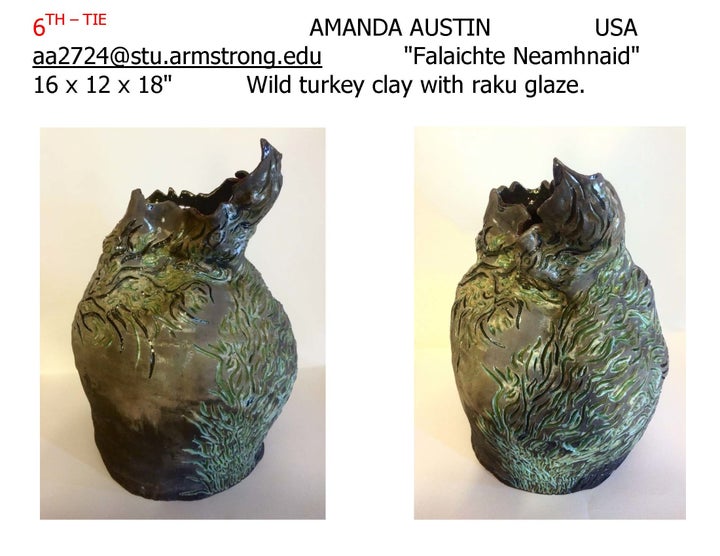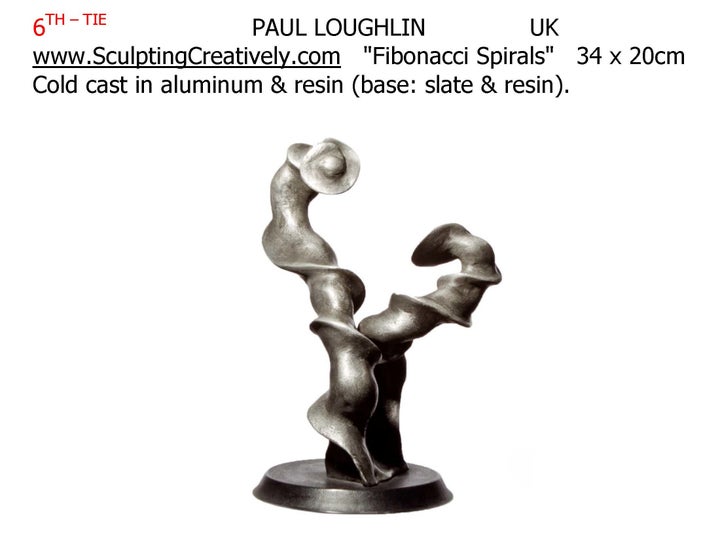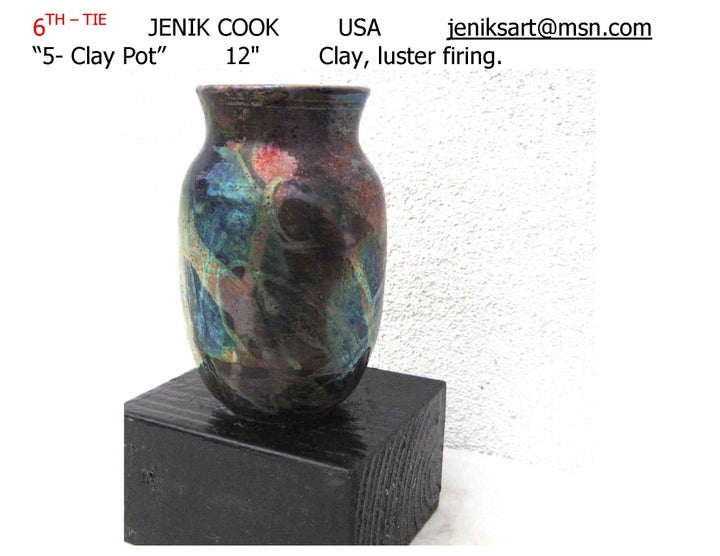 2016 AMERICAN ART AWARDS WINNING ARTISTS FOR CATEGORY 50. SCULPTURE - NON-REPRESENTATIONAL:
3RD PLACE: JENIK COOK, USA, jeniksart@msn.com, "Contropaste" 16" Clay, luster firing.
5TH – TIE: JENIK COOK, USA, jeniksart@msn.com, "Clay Pot" 8" Clay, luster firing.
5TH – TIE: JENIK COOK, USA, jeniksart@msn.com, "Back Of The Figure" 14" Clay, luster firing.
6TH – TIE: AMANDA AUSTIN, USA, aa2724@stu.armstrong.edu, "Falaichte Neamhnaid" 16 x 12 x 18" Wild turkey clay with raku glaze.
6TH – TIE: PAUL LOUGHLIN, UK, www.SculptingCreatively.com, "Fibonacci Spirals" 34 x 20cm Cold cast in aluminum & resin (base: slate & resin).
6TH – TIE: JENIK COOK, USA, jeniksart@msn.com, "5- Clay Pot" 12" Clay, luster firing.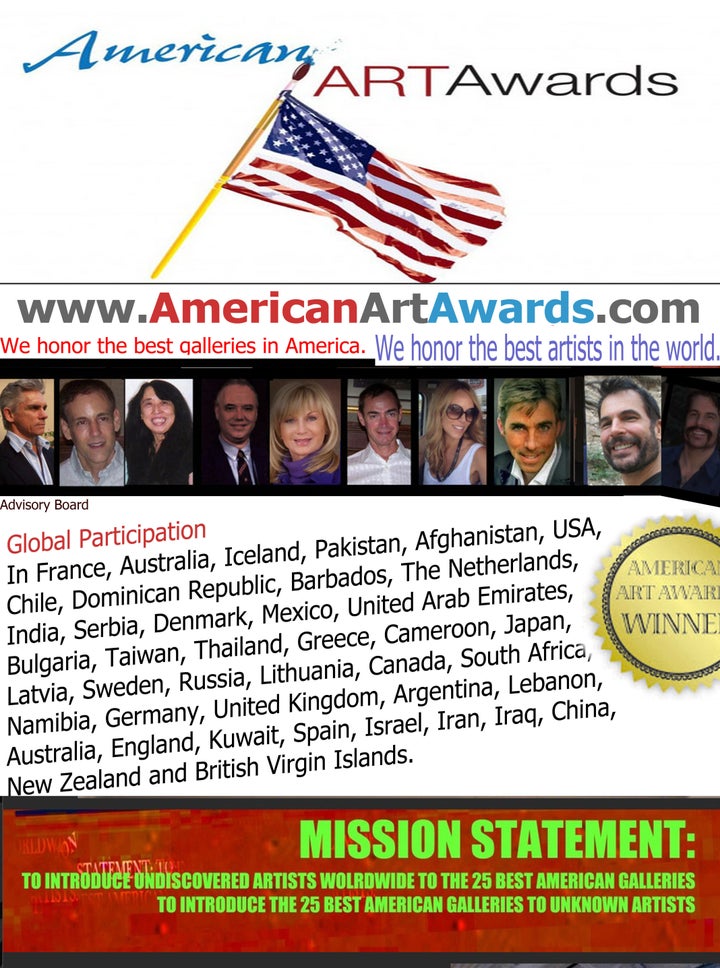 BIO ON 1ST PLACE WINNER MICHAEL DAVIES:
Art became Michael's passion at an early age. His mother, a piano teacher, interested in art, noticed that drawing was what kept his attention. So she decided to nurture this, giving Michael a large book containing the work of Salvador Dali which had a profound effect on him. With his mother being a musician and his father a former jazz singer, Michael was genetically destined to a life in the arts.
After a short try at college, Michael is largely self-taught, taking the time to learn the many media he'd been working in. This has given him the freedom to explore all the possibilities.
He has worked in acrylics, lino block printing, colored pencil, luthier, and several forms of sculpture including assemblage.
Michael's subject matter has included landscape and seascape, still life, abstract in both painting and sculpture, and portraiture with both human and animal subjects. His practice is to make the style fit the feel of the piece and the story it will tell.

BIO ON 1ST PLACE WINNER DOROTHY MCGUINNESS:
I took my first basket making class in 1987. Traditional American and Native American styles have influenced my work. Using many traditional and native materials such as cedar and cherry bark, sweet grass and spruce roots, I studied basket weaving techniques that have been handed down through the centuries. I studied extensively with Jiro Yonezawa, a Japanese basket maker and teacher and I discovered my medium of choice in 2000, when I took a workshop with Jackie Abrams using watercolor paper as a basket weaving material. I now work exclusively in diagonal twills creating contemporary sculptural baskets. What most attracts me to using paper and paint for weaving is the ability to play with color and pattern. I enjoy exploring the interplay of weaving, color and patterns in new sculptural pieces and I continue to experiment with various weaving methods and techniques.
I have participated in numerous local, national and international shows and have won various national and international awards. In 2007 I participated in the Fiber Arts Certificate Program at the University of Washington Professional and Continuing Education School. I also participated in the EDGE professional development program sponsored by Artist Trust in Seattle, Washington. I was born in 1961 in Western Washington and I currently reside in Everett, Washington.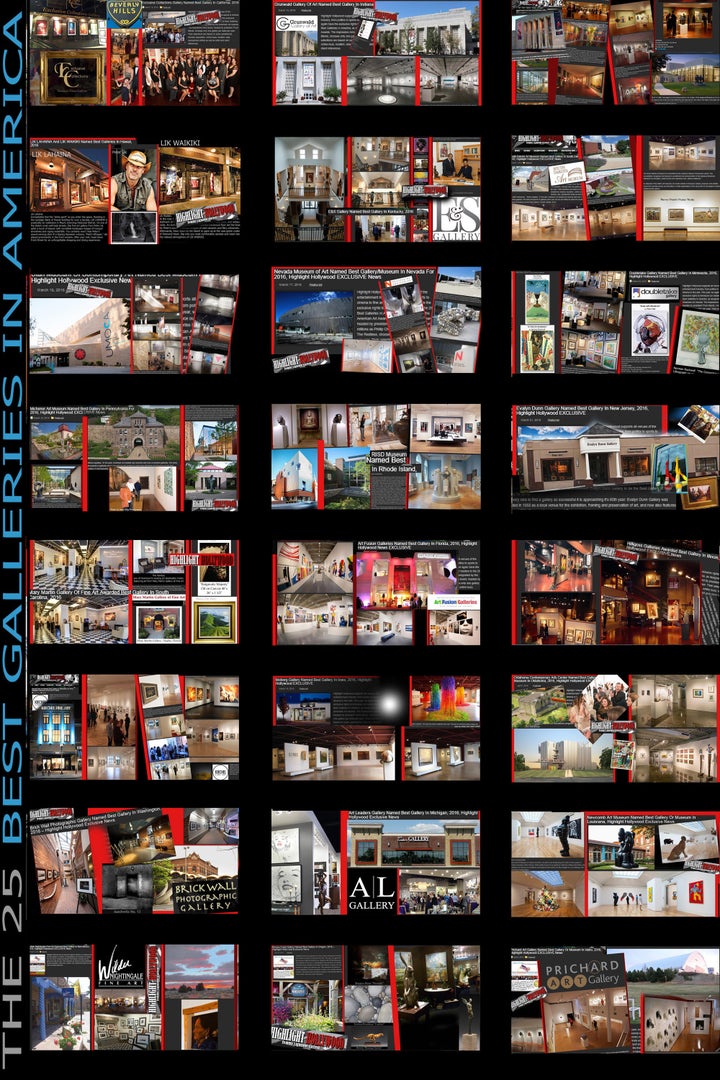 BELOW ARE THE 25 BEST GALLERIES AND MUSEUMS IN AMERICA, 2016, WHO VOTED ON ALL ONLINE ART SUBMISSIONS:
BEST IN CALIFORNIA -- EXCLUSIVE COLLECTIONS GALLERY.
"... professionalism, reputation, gallery space, red carpet events, trajectory, artist roster and clientele... Beverly Hills location... Laguna Beach location... two San Diego locations..."
BEST IN PENNSYLVANIA -- JAMES A. MICHENER ART MUSEUM.
"... 40,000 square feet... world-class group of paintings... 2,800 objects... attract annually more than 135,000 visitors..."
BEST IN ILLINOIS -- HILLIGOSS GALLERIES.
"20 years... Chicago's Premier Art Gallery. The two-story 8,500 square foot gallery... original paintings by the world's finest living artists, as well as fine prints by historic and 20th century masters."
BEST IN UTAH -- UTAH MUSEUM OF CONTEMPORARY ART.
"...epitome of a contemporary museum... an award-winning aesthetic force and community leader since it was established 85 years ago... four-time recipient of funding from the Andy Warhol Foundation..."
BEST IN IOWA -- MOBERG GALLERY.
"... exceptional eye for contemporary masterpieces... procured work for museums, corporate collections, private collections... sets the standard for modern art in the Midwest."
BEST IN RHODE ISLAND -- RISD MUSEUM.
"140 years... 100,000 objects... Impressionist paintings, 20th- and 21st-century design, Gorham silver, 12th-century Buddha... Cézanne, Degas, Matisse, Manet, Picasso, Rothko, Sargent, Turner, van Gogh, Warhol..."
BEST IN COLORADO -- COLORADO SPRINGS FINE ART CENTER.
"132,000 sq. ft... one of the only multi-discipline arts institutions... For nearly 100 years, the top cultural attraction of the Pikes Peak region... world's finest art... "
BEST IN SOUTH DAKOTA -- SOUTH DAKOTA ART MUSEUM.
"Since 1970... artistic legacy of South Dakota in all its diversity. Harvey Dunn, Native American art, Marghab Linens... 7,000 objects in its collection..."
BEST IN NEBRASKA -- KIECHEL FINE ART.
"...few have the roster and esteem as Keichel... discerning eye... three story four gallery showplace... many of the top Midwestern Contemporary artists... "
BEST IN LOUISIANA -- NEWCOMB ART MUSEUM.
"... founded in 1886... pays tribute to its heritage through shows that recognize the contributions of women to the fields of art and design...."
BEST IN SOUTH CAROLINA -- MARY MARTIN GALLERY OF FINE ART.
"...museum quality art ... number one tourist destination in America... on par with Beverly Hill's Rodeo Drive and NY's Fifth Avenue..."
BEST IN KENTUCKY -- E&S GALLERY.
"... professionalism, reputation, gallery space, exhibitions, artist roster and clientele ... 11,000 square foot gallery... African American art with an unmatched selection of artists, medium, subject matter, and genres... "
BEST IN INDIANA -- GRUNWALD GALLERY OF ART.
"... thirty exhibits annually... collaborate with scientists and scholars to produce exhibits that interpret visual art in a broader scientific or humanities context... "
BEST IN HAWAII -- LIK LAHAINA, LIKE WAIKIKI.
"Peter Lik has 13 exceptional gallery locations throughout the word and is the most successful photographer in the world... sold upwards of $500 million... Lik's works make up four of the top 20 most expensive photographs ever sold."
BEST IN NEVADA -- NEVADA MUSEUM OF ART.
"...four-story structure... 2,500 works of 19th through 21st-century art... inspiring dialogue about the impact of human activity on natural environments..."
BEST IN NEW JERSEY -- EVALYN DUNN GALLERY.
"It is very rare to find a gallery so successful that it is approaching it's 60th year... also features the finest 20th Century American and European art..."
BEST IN FLORIDA -- ART FUSION GALLERIES.
"8,000 square foot... in the heart of Miami's Wynwood Art District... preeminent gallery in Miami for integrating the best of Emerging to Mid-Career Contemporary artists... represents over 1,000... "
BEST IN MINNESOTA -- DOUBLETAKE GALLERY.
"...enormous international Internet presence, with millions of hits... LeRoy Neiman, Salvador Dali, Peter Max, Frederick Hart, Erte, Norman Rockwell... fine art consignment and brokerage service... "
BEST IN IDAHO -- PRICHARD ART GALLERY.
"...premier venue for the state of Idaho... critically engaged, forward thinking arts space... freedom-oriented... encourages experimentation... emerging as well as established artists... "
BEST IN OKLAHOMA -- OKLAHOMA CONTEMPORARY ARTS CENTER.
"...Nonprofit organization... encourages artistic expression... Oklahoma's top artists... $26 million capital campaign... spectacular new facility just south of downtown OK..."
BEST IN NEW MEXICO -- WILDER NIGHTINGALE GALLERY.
"22 years... eclectic works ranging from contemporary abstracts to traditional Taos landscapes... Leading artist such as BJ Briner, Tom Noble, Rory Wagner, Margaret Nes and Stephen Day..."
BEST IN MICHIGAN -- ART LEADERS GALLERY.
"10,000 square foot show room... over 24 years they have earned an impeccable reputation and are one of the leading residential and corporate art dealers in the state."
BEST IN OREGON -- BRONZE COAST GALLERY.
"24th year... one of the Oregon Coast's premiere fine art galleries... specializing in limited edition bronze sculpture... popular tourist attraction... award-winning regional, national and international artists..."
BEST IN WASHINGTON -- BRICK WALL PHOTOGRAPHIC GALLERY.
""...only Spokane gallery dedicated entirely to photography... some of the finest photography in America... nature, landscapes, as well as contemporary compositions by students and educators..."
BEST IN MAINE -- FARNSWORTH ART MUSEUM.
"20,000 square feet... 15,000 works. For nearly seventy years, they have exhibited a nationally recognized collection of art from America's greatest artists..."
Related
Popular in the Community