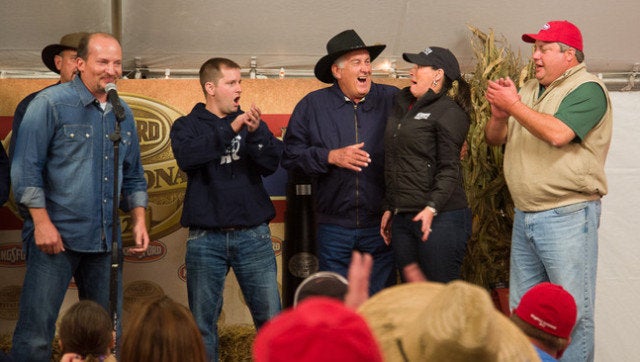 The teams were judged on the usual four categories reviewed in events sanctioned by the Kansas City Barbeque Society (KCBS): Pork, pork ribs, chicken, beef brisket. For this event, a one-bite free-for-all limited to five ingredients category was added as a tiebreaker, with a $5,000 prize.
The previous day, Kingsford had the teams cook a "One Bite Challenge", a small dish that could be eaten with one or two bites using anything they wanted, but contained no more than five ingredients. The winner was awarded a $5,000 check. The limit of five ingredients was easily skirted by using things like a bottled sauce and spice mixes as one ingredient.
And the winner was
based in Nesbitt, MS, just a few miles south of Memphis. She got there by winning the huge
competition, where she has won the whole hog category an unheard of three years in a row. She teamed with her husband, Pete, and their business partner, John Wheeler, all owners of the
. She won all categories except chicken. Anybody want to argue who the top pitmaster in the world is?
Justin McGlaun and his wife Kate of Lucky's Q from Denver, IA. His invite came because he won the
. This is a series of regional elimination contests which paid $50,000 to the winner of the finals, held in Bentonville, AR. It was his marvelous chicken first place entry that kept the overall winner from a clean sweep. His team finished tied for second.
Far more important than the innovative scoring system was the fact that the judges were very experienced and knowledgeable from different regions of the nation. They were:
The goals of the Kingsford people were mostly met. I think Cookston can fairly claim to be World Champion.