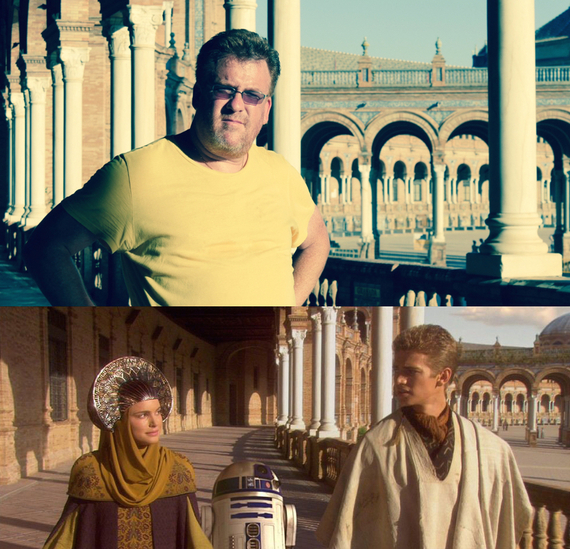 Before I tell you the world's best travel tip -- and I will, I promise -- I need to give you some context.
In the summer of 2014, my family (wife, two kids ages 9 and 13 and me, age, 48) went to Edinburgh, London and Paris for two weeks. In the months leading up to the trip, my wife and I spent much time debating:*
Which European cities should we go to?
How long should we spend in each city?
Should we schedule our days so we don't miss the important stuff?
Should we plan less and let ourselves just get lost?
What kind of hotel should we stay in?
Where should the hotel be? Center of town? Closer to some attraction?
What kind of day trips should we take?
Should we hire a guide? Or go it ourselves?
What if we don't get to so and so (castle/church/ruin)?
Should we rent a car?
If we rent a car, what route should we take to get to our destination?
Should we take the train? Pay extra for 1st class?
What if the kids don't like the food?
To answer each of these questions, we both -- independently -- spent countless hours on the internet looking at maps, reading Trip Advisor, clicking on pictures of various attractions, and reading the history of what we intended to see.
Before I had even gotten on the airplane, I was already familiar with the here-to-for unknown, yet dazzling Edinburgh Military Tattoo -- a glorious multi-day outdoor event sent beside Edinburgh Castle, in which the marching bands from various European countries perform.
I also watched the Panda cam from the Edinburgh Zoo, looked at pictures and clips from 2013's Edinburgh Fringe Festival, read the history of Edinburgh Castle and had carefully mapped out our driving route -- past which Lochs -- to visit the Oban Scotch distillery, six hours west of Edinburgh.
I did the same rigorous research, looking, examining, reading for London and Paris as well.
Anyway, cut to the Edinburgh Military Tattoo. A 10,000 person stadium had been built for the 5-day event. Giant multi-colored lights lit up the front of 500 year old Edinburgh Castle. Members of Britain's Royal Family were in their box. A thousand Scottish bagpipers played. And, I remember whispering to myself: "Yup. Looks just like the pictures."
It was at that moment I realized that the next time I travel ½ way around the world to see something glorious, majestic, ancient, breathtaking, historical, a market, a church, a vineyard, a beach, ruins, or even a gelato shop, things have got to change! But how, damn-it? How?
How can I see the world, without seeing it before I get there?
Once I realized the problem, it only took me a few seconds to figure out the answer. And so now, as promised, here is the world's best travel tip:
Ask your wife to make all the travel plans!
Yes, I recognize that some people may not have wives. So, for those of you who don't have a wife, I suggest you ask your husband, boyfriend, girlfriend, etc. to make the travel plans.
One, there was no fighting in the lead up to the trip!
And two, once you arrive to wherever you are going, every day there after is Hanukkah -- at least it was in my case. For you it might be Christmas, Kwanza or whatever holiday you celebrate where someone surprises you with a gift.
Three days ago, my family and I returned home from a two-week trip to Spain and every day was a magnificent joyous surprise. When I woke up, I had no idea what I was going to see or do. The magic of travel and experiencing a different culture, a different city with a unique history and physical layout had been gloriously returned to me -- by my wonderful wife! (Note: Your wife may differ.)
So, if you want to have a magical surprise filled travel experience like I did, here are my tips:
Get a wife or other suitable travel partner who loves you very much and wants to do something wonderful for you. Even if you don't deserve it.
Before you leave the U.S., call your wireless carrier and sign up for a European usage plan with plenty of data.
Once you arrive at a location, take out your phone and take a few minutes to look up on the internet and read about where you are. Share this knowledge with the person who planned the trip.
As you make your way from one location to another, offer to be the navigator -- your partner will LOVE this -- it takes the burden off them. Navigating is easy using the GPS enabled map program on your phone. This is why you need that European data usage plan. You do NOT want to pay roaming charges.
No matter what activity you do, whether you love it or not, tell your partner: THANK YOU! And thank them a lot. Over and over. Several times every day.
In closing, I want to add one more important detail. Because you have gotten out of the way as it pertains to planning, your partner will in turn plan additional surprises for you along the way -- to ensure that the trip didn't just consist of the things they wanted to do. Here's just a few of my surprises:
Twisted Sister at Barcelona Rock-Fest. The Bull Fights and the real Holy Grail in Valencia. A visit to a boutique vineyard that makes awesome Cava -- Spain's unique sparkling wine. A day of cooking lessons and making paella in a woman's home on the beach in Marbella. A trip to the Plaza de Espana in Seville to recreate a shot from Star Wars: Episode 1. Oh, and everything else that happened over the 15 days of our fantastic trip.
Follow Jon Hotchkiss on Twitter. He writes funny things, is a 14 Time Emmy loser and is the star of the new series, Pizza With Writers.
* I use the word "debating" now intentionally because it's less inflammatory than "fighting", which more accurately describes the planning that went into Europe 2014.