Scientists in Australia have announced the discovery of what's believed to be the world's largest dinosaur footprint, measuring 5 feet, 7 inches long ― meaning it's practically as long as the average American man is tall.
The massive print, left by a long-necked sauropod, was uncovered along a Walmadany beach in the Kimberley region of Western Australia, researchers at the University of Queensland said in a study published Friday.
"Probably the next biggest footprints are just over a meter," Dr. Steve Salisbury, a paleontologist and lead author of the peer-reviewed study, told Australia's ABC News.
To better emphasize the print's size, a photo shared by Salisbury on Twitter shows a man identified as Richard Hunter lying next to the print while holding a 15.7-inch scale bar.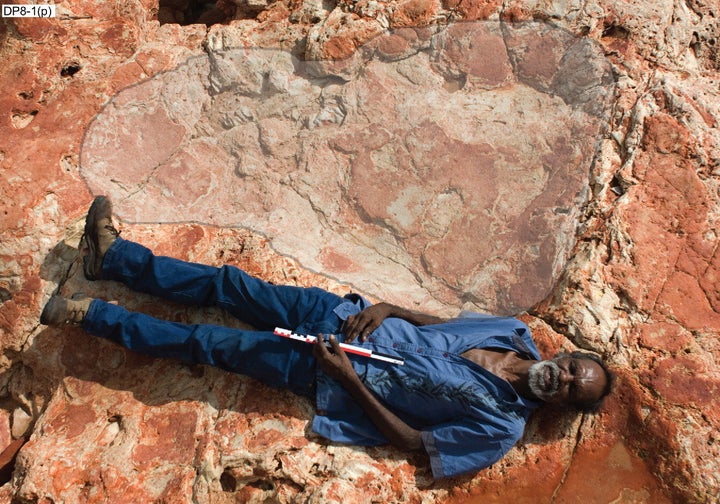 In comparison, a dinosaur print measuring about 42 inches (3 feet, 6 inches) in length was found in Mongolia's Gobi Desert last year. It was thought to be the largest of its kind at the time.
That's big, but still 27 inches shorter than the print found in what Salisbury calls "Australia's Jurassic Park."
"This area preserves one of the most diverse dinosaur track faunas anywhere in the world. Nowhere else has this many of dinosaurs represented by tracks than Walmadany does," he said in a video released by the university.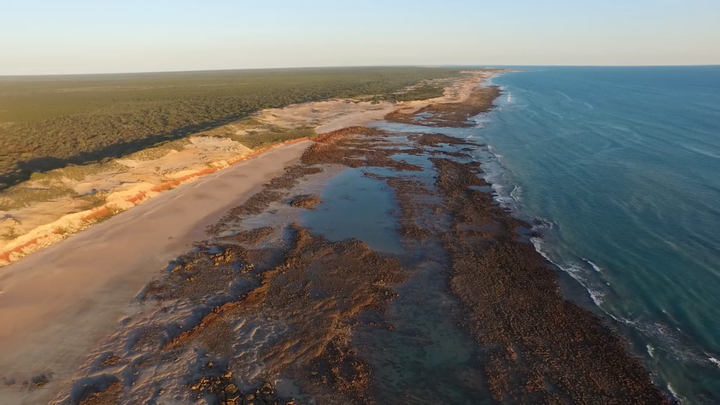 Between 2011 and 2016, the researchers examined thousands of tracks along the coastal site ― 150 of which Salisbury said can be "confidently" assigned among 21 specific track types that represent four main groups of dinosaurs.
"Some of them are so big we didn't really notice them for some time because they're sort of beyond your search image for a dinosaur track," he told ABC News.
Many of the tracks are tricky to find because they are only exposed when the tide recedes, the researchers noted in their report ― meaning the scientists would have to wait for ideal beach conditions and in some cases even search for the prints by drone.
Though Salisbury's team reported spending more than 400 hours surveying the rocky terrain, they said there's likely a wealth of treasures yet to be found in the area, which at one point was nearly developed into a gas processing facility.
"Although every effort was made to locate as many tracksites and tracks in the study area as possible, it is expected that some were not exposed at the time of our surveys," the study says. "We also know that at least some of the tracksites that we documented in 2011 were buried by shifting sands following the 2011–2012 cyclone season, and it is not known when they will be exposed again (if ever)."
Tina Fey, Alec Baldwin, Tom Hanks, Tracy Morgan, Maggie Gyllenhaal, Michael Moore, Padma Lakshmi and a whole host of other stars are teaming up for Stand for Rights: A Benefit for the ACLU. Donate now and join us at 7 p.m. Eastern on Friday, March 31 on Facebook Live. #standforrights2017
Calling all HuffPost superfans!
Sign up for membership to become a founding member and help shape HuffPost's next chapter
BEFORE YOU GO